Real Estate News
Canadian Home Sales Soar to New Heights in December to Cap off Record Year
Despite the unprecedented challenges Canadians faced in 2020, it ended up being a record-breaking year for home sales, with December setting new records amid surging demand in the Greater Toronto and Vancouver areas.
The national housing agency released its December housing stats on Friday, which revealed that Canadian home sales jumped 7.2% in December from November (another record-breaking month), setting a new all-time record for residential transactions amid what is typically a slower period for real estate.
The industry group said actual sales, not seasonally adjusted, rose 47.2% year-over-year in December, marking the largest year-over-year increase in monthly sales in 11 years.
It was a new record for the month of December by a margin of more than 12,000 transactions, and, for the sixth straight month, sales activity was up in almost all Canadian housing markets compared to the same month in 2019.
READ: Canadian Housing Market Already On Pace to Have Record Year in 2021: RBC
On the other hand, seasonally adjusted activity was running at an annualized pace of 714,516 units in December 2020 — the first time on record that monthly sales at seasonally adjusted annual rates have ever topped the 700,000 mark.
Two of Canada's largest — and most expensive — housing markets led the month-over-month increase in national sales activity, with gains of more than 20% seen in the GTA and Greater Vancouver.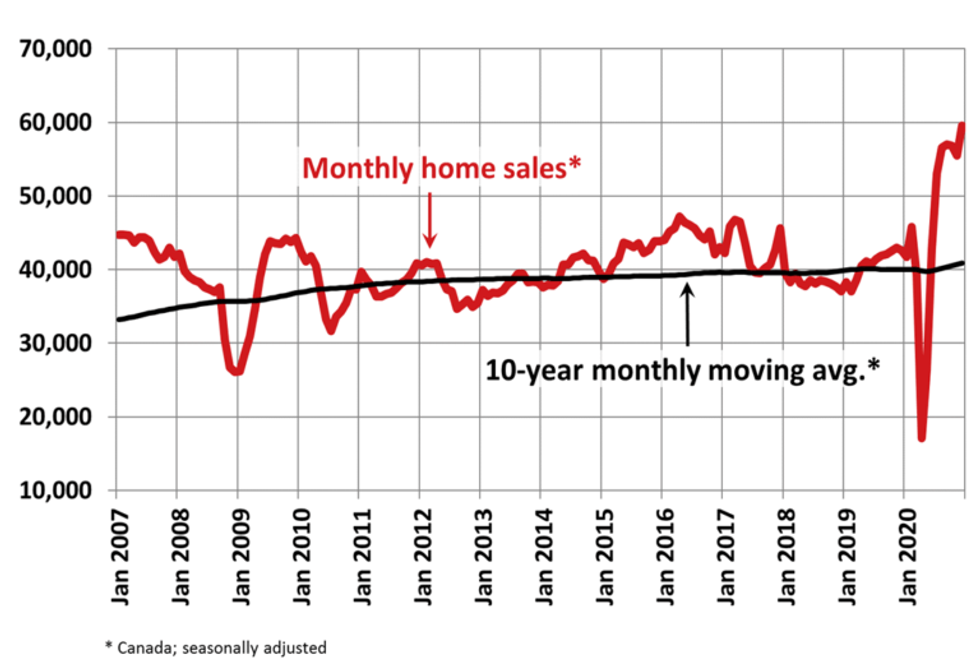 The record-breaking December capped off what CREA is calling a "record year" for Canadian real estate, with 551,392 homes trading hands despite the pandemic. This was an increase of 12.6% from 2019 and 2.3% above the previous record set back in 2016.
"Despite all the challenges, 2020 was a record year for Canadian resale housing activity," Costa Poulopoulos, chair of CREA, said in a statement, adding that the momentum was continuing into 2021.
Highest home sales activity ever recorded in December caps off record-breaking 2020. More details https://t.co/IMVUlHgQdM #CREAStats pic.twitter.com/rXjP0CQ04r

— CREA | ACI (@CREA_ACI) January 15, 2021
Shaun Cathcart, CREA's Senior Economist, noted that the number of homes listed for sale in Canada on New Years Day was the lowest on record, with fewer than 100,000 residential listings on all Canadian MLS Systems — the lowest ever based on records going back three decades — pointing to further supply tightness in 2021.
"So we have record-high demand and record-low supply to start the year. How that plays out in the sales and price data will depend on how many homes become available to buy in the months ahead," said Cathcart.
Regionally, the markets with the largest year-over-year price gains – up more than 30% – were in smaller Ontario towns and cottage communities outside of Toronto, including Quinte & District, Simcoe & District, Woodstock-Ingersoll, and the Lakelands region of Ontario cottage country.
Year-over-year price increases in the 25-30% range were seen in Bancroft and Area, Grey Bruce Owen Sound, Kawartha Lakes, North Bay, Northumberland Hills, and Tillsonburg District. This was followed by year-over-year price gains in the range of 20-25% in Barrie, Hamilton, Niagara, Brantford, Cambridge, Huron Perth, Kitchener-Waterloo, London & St. Thomas, Southern Georgian Bay, and Ottawa.
Prices were up in the 15-20% range compared to last December in Oakville-Milton, Peterborough and the Kawarthas, Montreal, and Greater Moncton.
The actual (not seasonally adjusted) national average home price was a record $607,280 in December, up 17.1% from the same month last year. CREA says excluding Greater Vancouver and the GTA, two of the most active and expensive markets, lowers the national average price by almost $130,000.