It appears that not even a pandemic could bring the Canadian housing market to a standstill, as 2020 is shaping up to be a "record year" for home sales in Canada.
Despite a "historically low" descriptor, where supply was concerned, Canadian homebuyers have still been active, with November home sales smashing records after well over 11,000 homes exchanged hands, according to new statistics released by the Canadian Real Estate Association (CREA).
---
Last month, Canadian home sales fell 1.6% from October, slipping for the second consecutive month amid fewer transactions in major urban markets, notably in Toronto, Vancouver, Montreal, and Ottawa, CREA said on Tuesday. However, despite the small decline, CREA says monthly activity is still running "well above most of history."
CREA said actual sales, not seasonally adjusted, rose 32.1% from a year earlier in November, setting a new record for that month by a margin of well over 11,000 transactions. At the same time, the group's Home Price Index was up 11.6% from last November and up 1.2% from October.
So far this year, some 511,449 homes have traded hands over Canadian MLS Systems, up 10.5% from the first 11 months of 2019, marking the second-highest January to November sales figure on record, trailing 2016 by only 0.3% at this point.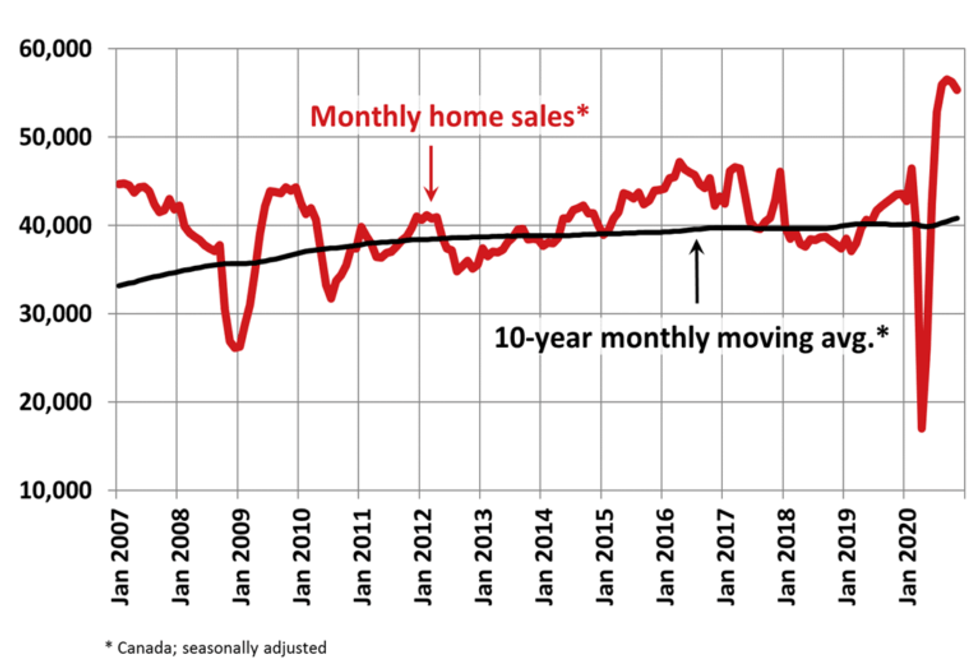 READ: Townhouses Have Hot Run in Major Canadian Markets in 2020
For the fifth straight month, year-over-year sales activity was up in almost all Canadian housing markets compared to in November 2019. Among the few markets that were down on a year-over-year basis, CREA says it is likely the handful from Ontario reflect a supply issue rather than a demand issue. For example, last month, the number of newly listed homes declined by 1.6%, led by fewer new listings in the Greater Toronto Area (GTA) and Ottawa.
With sales and new supply down by the same percentages in November, the national sales-to-new listings ratio was unchanged at 74.8% -- which CREA says is still among the highest levels on record for the measure.
The actual (not seasonally adjusted) national average home price was just over $603,000 in November, up 13.8% from the same month last year. CREA says the national average price is heavily influenced by sales in Greater Vancouver and the GTA, two of Canada's most active and expensive housing markets. Excluding these two markets from calculations cuts almost $122,000 from the national average price.
"If I had to sum up the Canadian housing story in 2020, I would say it's gone from weakness because of COVID to strength despite COVID," said Shaun Cathcart, CREA's Senior Economist.
Cathcart says it will be a "photo finish," but, it's now looking like 2020 will be a record year for home sales in Canada despite historically low supply.
"We're almost in 2021, and market conditions nationally are the tightest they have ever been and sales activity continues to set records. Much like this virus, I don't see it all turning into a pumpkin on New Year's Eve, but at least vaccination is a light at the end of the tunnel," says Cathcart.
He noted that with immigration and population growth ramping back up and mortgage rates remaining low, finding a place to call home is more important than ever.
"On top of that, the COVID-related shake-up to so much of daily life will likely continue to result in more people choosing to pull up stakes and move around. If anything, our forecast for another annual sales record in 2021 may be on the low side."
Real Estate News