Toronto
Real Estate News
Market Watch: December Data Hints at the Condo Sector's Revival
While 2020 presented as a whirlwind where Toronto real estate was concerned, the year ended on a high note, closing as the third-best year on record for home sales in the Greater Toronto Area (GTA).
And though, in early November, we cautioned downtown condo investors that it was not — then — the moment to strike, but rather to watch and wait, patience proves itself a virtue.
Indeed, the condo market — hardest hit amid the market changes caused by COVID-19 — looks to be well on its way to recovery.
According to the Toronto Regional Real Estate Board's (TRREB) December data, through the GTA, the condo market saw 2,193 sales, making up 30.5% of the month's total. What's more, sales were up a whopping 75.4% year-over-year.
READ: December Caps Off 2020 as Third Best Year on Record for GTA Home Sales
Notably, where region-specific numbers are concerned, year-over-year sales increased 74.5% in the 905 and 75.9% in the 416. This is opposite to what has been seen through most of the pandemic months in 2020, where the majority of condo sales were happening outside of Toronto proper. In November, for example, Toronto condo sales barely budged, rising only 0.8% y-o-y. Meanwhile, the 905 saw sales increase 23.3%.
For further perspective, here are the monthly year-over-year condo sales for Toronto (specifically the '416') in 2020:
January +9.7%
February +26.2%
March +4.2%
April -69.9%
May -58%
June = -13.6%
July = 4.7%
August = 9.2%
September = 7%
October = -8.5%
November = -+0.8%
December = +75.9%
The year in condo sales started off hot, dropped off a cliff due to the pandemic, started to grow in the summer (due almost exclusively to the 'delayed-spring' effect), and had an okay fall. December, typically a slow month, spiked to unforeseen heights.
However, despite the significant jump in condo sales, prices haven't caught up just yet. With an average price of $600,840 in December, condo prices were down 2% from December 2019. That's a drop of -4.7% in the 416, alongside a rise of 6.3% in the 905 region.
In November, too, the 905 condo market outperformed Toronto in price, rising 4.8% to an average of $533,984, compared to a 3% decrease in the city that dropped its average to $640,208.

"While the housing market as a whole recovered strongly in 2020, there was a dichotomy between the single-family market segments and the condominium apartment segment. The supply of single-family homes remained constrained resulting in strong competition between buyers and double-digit price increases. In contrast, growth in condo listings far-outstripped growth in sales," said Jason Mercer, TRREB Chief Market Analyst.
"Increased choice for condo buyers ultimately led to more bargaining power and a year-over-year dip in average condo selling prices during the last few months of the year."
Where year-to-date (or, with it being December, year-at-large) data is concerned, GTA condos saw a 7.1% increase in prices — a balance of 10.2% in the 905 and 6.3% in the 416 specifically. Meanwhile, overall sales were down -5.5%; the 905 saw a decrease of -2.6%, while the 416 saw a -6.7% drop through 2020.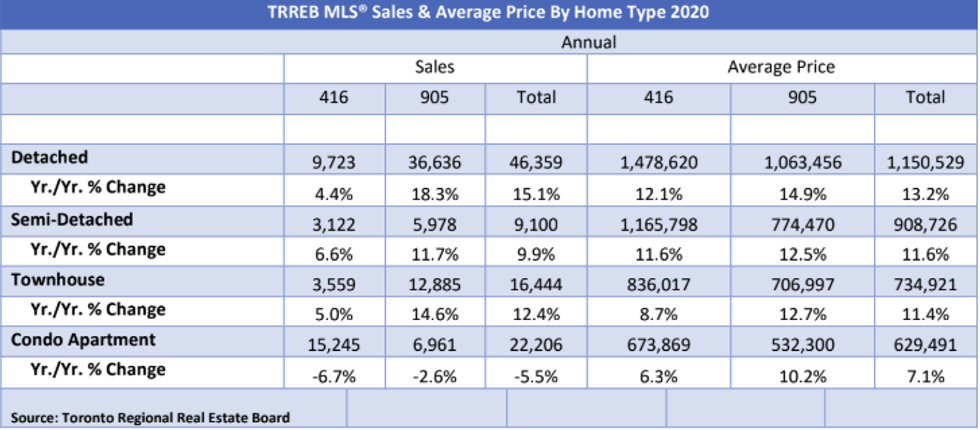 In TRREB's Q3-2020 condominium market and rental market reports, the overall average condominium apartment selling price climbed 8.3% year-over-year in the third quarter to $633,484. The condominium and apartment segment experienced the second-best Q3 on record — in terms of sales — and the best third quarter on record for average selling price.
Looking ahead, John DiMichele, TRREB CEO, says "the next 12 months will be critical as we chart our path through recovery. In particular, the impact of resumption in immigration and the re-opening of the economy will be key."
Overall, Toronto-area realtors reported over 95,000 home sales in 2020, while the average selling price reached a new record of nearly $930,000.
With files from Ainsley Smith.