The record-pace of activity in the Greater Toronto Area (GTA) housing market continued in November.
---
In particular, single-family detached homes in regions surrounding Toronto drove the bulk of the growth last month, while the condo market became more balanced thanks to greater inventory levels and subsequently lower sales prices.
According to the Toronto Regional Real Estate Board's (TRREB) November housing market report, resale activity in the GTA is showing no signs of slowing down, after having another record-setting month, during which a total of 8,766 sales were made. This constitutes a 24.3% jump from the 7,054 sales recorded in November 2019.
November's numbers showed that year-over-year growth in sales was strongest for single-family homes in the GTA regions surrounding the City of Toronto, however, annual single-family growth rates still remained robust in the '416' area code as well.
"Homebuyers continued to take advantage of very low borrowing costs in November, especially those looking to buy some form of single-family home," said Lisa Patel, TRREB President. "Competition between buyers for ground-oriented homes has been extremely strong in many neighbourhoods throughout the GTA, which has continued to support double-digit annual rates of price growth,"
READ: Average Toronto Home Prices Forecast to Rise Another 6% in 2021
TRREB's latest data showed that market conditions tightened in many single-family market segments in November, resulting in double-digit year-over-year increases in average selling prices for detached houses, semi-detached houses and townhouses.
Last month, detached house prices, which rose 15.2% to an average of $1.2 million in the GTA, saw a 19.2% increase in the 905 communities surrounding the 416-area (compared to an 8.7% increase in the City of Toronto to an average of $1.48 million.
Across the GTA, the aggregate average selling price -- for detached, semi-detached, townhomes and condos -- climbed 13.3% year-over-year to $955,615 last month, a $110,000 annual increase.
The 905 condo market also outperformed Toronto in price, rising 4.8% to an average of $533,984, compared to a 3% drop in the city to $640,208.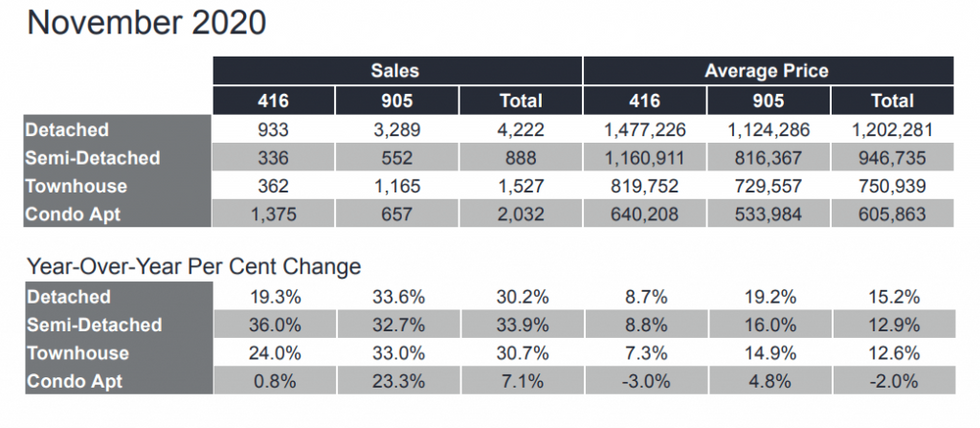 Sales & Average Price By Major Home Type November 2020/TRREB
What's more, sales of detached homes were up 30% across the GTA in November: 33.6% in the 905 areas and 19.3% in Toronto, while sales of semi-detached homes in the GTA were up 33.9%: 32.7% in the 905 and 36% in the 416.
On the flip side, condo apartment sales slowed in November, showing only a 7.1% annual increase, most of it in the 905 where sales increased 23.3%, compared to just a 0.8% increase in the City of Toronto. Condo prices, however, saw their first decline since April.
READ: Year-Over-Year Condo Prices in Toronto Decline for the First Time Since April
In contrast to the single-family market segments, TRREB says buyers continued to benefit from much more choice in the condominium apartment market compared to last year, particularly here in Toronto.
The number of new condominium apartment listings in November was almost double than what was reported in November of last year. More options in the condo apartment market translated into a small year-over-year decline in the average condominium apartment selling price in the 416 area.
"The condominium apartment market is certainly more balanced than in previous years, with some buyers benefitting from lower selling prices compared to last year," said Jason Mercer, TRREB Chief Market Analyst.
However, Mercer believes this may be somewhat of a "short-term phenomenon."
"Once we move into the post-COVID period, we will start to see a resumption of population growth, both from immigration and a return of non-permanent residents. This will lead to an increase in demand for condominium apartments in the ownership and rental markets."
Homes