Toronto condo prices saw a year-over-year decline of 3% in November, according to the Toronto Regional Real Estate Board (TRREB).
TRREB's November market report, released Thursday, showed the small drop in the average condominium apartment selling price for the '416' area code. Since the onset of the pandemic in March, April is the only other month to have seen a decline in year-over-year condo prices (-4.0%) in the 416. Though October only managed a gain of less than 1%.
---
Meanwhile, the month saw market conditions tightened in many single-family market segments, resulting in double-digit year-over-year increases in detached houses', semi-detached houses' and townhouses' selling prices.
"The condominium apartment market is certainly more balanced than in previous years, with some buyers benefitting from lower selling prices compared to last year," said Jason Mercer, TRREB Chief Market Analyst.
"However, this may be somewhat of a short-term phenomenon. Once we move into the post-COVID period, we will start to see a resumption of population growth, both from immigration and a return of non-permanent residents. This will lead to an increase in demand for condominium apartments in the ownership and rental markets."
READ: For Downtown Condo Investors, Now is the Time to Watch and Wait
In TRREB's Q3-2020 condominium market and rental market reports, the overall average condominium apartment selling price was shown to have climbed 8.3% year-over-year in the third quarter to $633,484. The condominium and apartment segment experienced the second-best Q3 on record — in terms of sales — and the best third quarter on record for average selling price.
But in October, RE/MAX predicted condo sales would drop in the months ahead. That said, one exception they point to is the local condo market. They predicted that COVID-19, combined with the major shift the short-term rental market has seen, could impact condo prices, despite gains that were, at the time, recent.
RE/MAX said then that supply could soon overwhelm consumer demand, leaving both condo prices and rents to decline in the coming months, also noting that low-interested rates are impacting the condo market — albeit not for the "right reasons."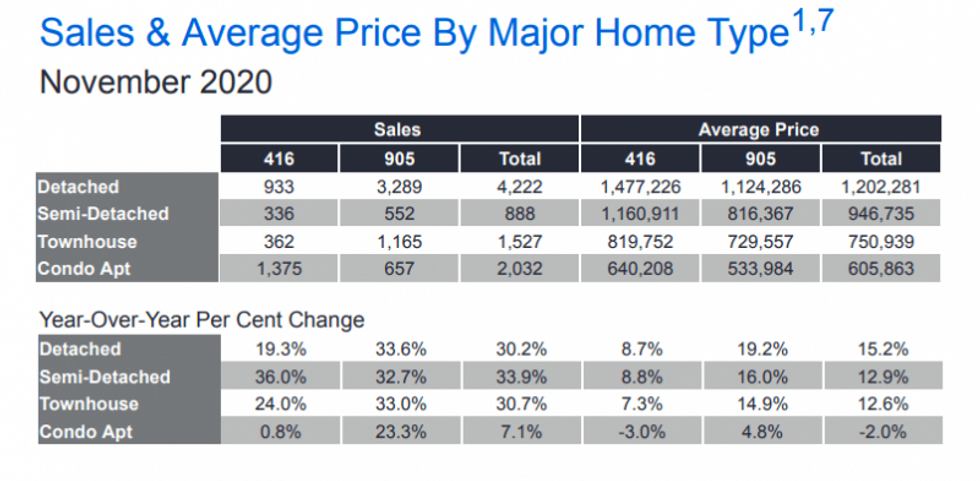 With files from Ainsley Smith. 
Toronto