Over the last nine months, downtown Toronto has all but dropped its "hustling" and "bustling" adjectives.
In early March, the tidal wave called COVID-19 could be seen rushing towards the city from afar. Office spaces -- typically hosting downtown workers by the thousands -- sent their employees home to (relative) safety as the storm crept in.
---
Spring, summer, and fall saw a transformation in how city-dwellers experience work; many Torontonians transformed corners of their homes into offices, while others realized they could perform just as effectively from out of town. Regardless of how it was done, everyone worked to find some semblance of normalcy amid the upending of their typical day-to-day.
But as the year draws to a close and frost graces the ground on these brisk December mornings, one green bud of hope is pushing through the ice crystals: Downtown's commercial real estate scene -- after sitting idle for the better portion of 2020 -- is stirring.
The Move
This fall, Menkes Developments Ltd. announced that 100 Queens Quay East will be the new home of Richardson Wealth (formerly Richardson GMP Limited). The transaction has been described as potentially signifying the beginning of Toronto's office market recovery, as it is the first significant lease the downtown core has seen since COVID-19 struck the city.
"We're thrilled that Richardson Wealth shares our vision for our newest office development, which will support the transition of returning to physical office space by promoting a healthy work environment," Peter Menkes, President, Commercial/Industrial at Menkes, said of the undertaking.
The address Richardson Wealth will be moving into is the first phase of Sugar Wharf, Menkes' vibrant new mixed-use community, which includes office, retail, and residential spaces, as well as Toronto's first vertically-integrated school and a two-acre public park.
"The site itself is a city within the city," said Sean Menkes, Vice President, Office/Retail at Menkes. "And we're on the waterfront, which is perfectly positioned for the post-pandemic world. It's a true mixed-use neighbourhood."
While the community will touch both of life's reigning aspects -- work and play -- its importance for downtown's corporate world can't be overstated. Standing between Cooper and Lower Jarvis streets, overlooking Lake Ontario, the development serves as an integral supporting factor in what Tim Kocur, Executive Director at Waterfront BIA, describes as the augmentation of Toronto's business district.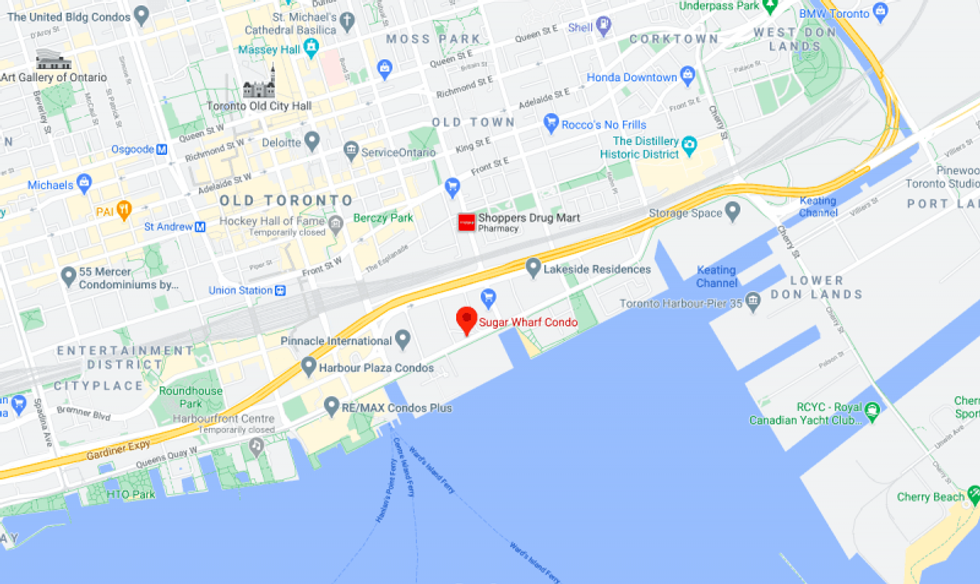 Google Maps
"The Waterfront is now essentially a southern extension of the Financial District. Because Toronto has been so successful in the last 10 to 15 years, the growth has essentially come down to the waterfront," explains Kocur. "It's an awesome tenant amenity that you can be across the street from Queens Quay and go spend some time on Sugar Beach for your break. That's not something you can do in most business neighbourhoods."
The saying does go: "Location, location, location." Proximity to the beach and the lake -- not to mention other nearby Menkes developments (the Waterfront Innovation Centre, One York, and 25 York) -- are major pluses Richardson had on its side as the wealth management firm stepped into this new lease agreement.
And, as Kocur notes, the area isn't just an asset in the summertime, but all year round. As of January, the Waterfront BIA will expand its coverage from Bathurst to Yonge further east, reaching Cherry Street; representing all of the Queens Quay corridor, the BIA works alongside a coalition of stakeholders to ensure the area is as beautiful, lively and inspiring in the winter as it is during the warm months.
This season, for example, the Harbourfront Centre is home to a portrait series, organized by George Pimentel, which captures the essence of the COVID-19 pandemic. And, a tunnel of light called the "Sonic Runway" will stretch for 130 metres along the waterfront from January to February, as part of the aptly-named Festival of Cool.
"When you're building out a city that is becoming world-class, you have to build out on some of your strongest assets, and they have to start working together and merging in creative ways," Kocur says, noting that Toronto is home to both the second-largest financial centre in North America, and a "very beautiful lake" that is swiftly transitioning from industrial to mixed-use.
Brendan Sullivan of CBRE -- which brokered Menkes' recent deal with Richardson Wealth on behalf of the landlord -- echoes Kocur's sentiments. He adds that "the east Bayfront is a special place," and its development is being executed in a way that's worthy of its importance.
"The area is master-planned, so that there will be a mix of corporate offices, retail amenities, and residential housing, all along the lakefront, which is providing numerous parks and beaches with almost a direct connection to Billy Bishop Airport. And, the master plan for the east Bayfront takes into consideration best-practices of today," Sullivan explains. "The delivery of 100 Queens Quay is a keystone project to that plan, and Richardson Wealth, along with the other tenants in the project -- LCBO and the Toronto Region Board of Trade -- are connected to that directly."
The Meaning
Sullivan went on to emphasize the gravity of the new deal in and of itself; the announcement went public in October, eight months into a global pandemic which -- at risk of reading as dramatic and/or too honest -- flipped every single aspect of Life As We Knew It on its head.
"[The lease is] significant in that tenants have had some trepidation on transacting during the pandemic," Sullivan said. "What this transaction represents is two organizations coming together, recognizing a common goal to ultimately drown out the noise around us to complete a transaction that is so meaningful to Richardson Wealth, Menkes, and the City of Toronto. It was really the dedication of the two organizations to that common goal that really survived through all of the challenges that we're facing right now."
What that collective goal is underscored by, in short, is a very human desire for some semblance of normalcy. One that includes a return to collaboration, togetherness, and the ease of water-cooler conversation.
"The pandemic is a moment in time that inevitably will pass. We all will get back to a sense of normalcy, and we're confident in the recovery -- both economically, and from a real-estate perspective in Toronto and, really, across the country; this deal represents a confidence from the business community in that recovery."
Sullivan says the move also represents a confidence in the necessity, and the importance, that an office space provides to companies, culture, work environment, and connectivity -- and industry experts impartial to the transaction agree.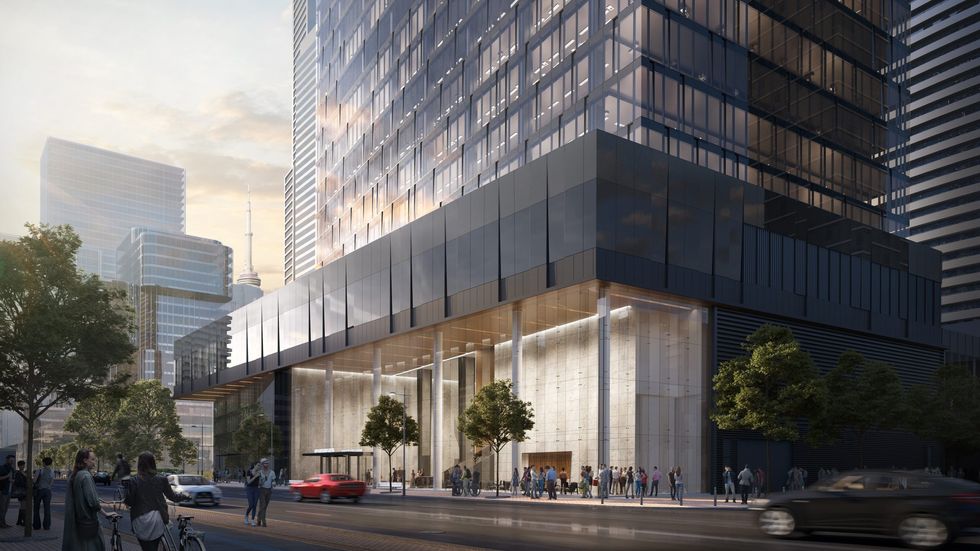 "What [the Menkes and Richardson Wealth lease] signifies is that they, like many other companies, believe that having physical real estate as part of their ongoing working model is still essential to the organization's success," says Jamie Grossman, Managing Principal at Cresa's Toronto office.
Considering the occupier-exclusive real estate brokerage Grossman hails from is fully integrated with interior design and project management services, his emphasis on not just an office's physical space, but what's done with it, is a given.
"The goal is more than a real-estate goal. Having a vibrant office market is more about having a vibrant city. To me, it's everything: it's theatres; restaurants; the arts; the people; the energy. We live in one of the greatest cities in the world, and all of it is an ecosystem that feeds upon itself, so I think the goal is to get back to more of that."
The Broader Return to Office
Perhaps obviously, we're not within six feet of that end goal right now. But that doesn't mean that small (and significant) steps aren't being taken towards it, with continued nudging-forward forecast for the coming months. Grossman says that for some time, the preferences of employees will be the primary driver in what the return to office looks like. What individuals miss, according to the data, is the collaboration, energy, and social environment these shared spaces provide.
"You need almost a tipping point, where enough people feel safe to go back, and they're willing to continue to go back day after day, week after week, because there's enough people there that there's the value of being in collaboration and energy around you... that's greater than the fear, or the risk of going in," he says.
The interim -- the space between today and the day we'll eventually call "normal," -- is bound to be filled with creative solutions, meeting in the middle, and pushing the envelope around common practice in the corporate world. Some of these alterations may even stick around past the point of what we'll consider "return."
"I think that we're not going to go back to the pre-pandemic situation in the office, but it's going to be more of a hybrid model," says Ray Wong, Vice President, Data Operations, Data Solutions at Altus Group. "There will be some interaction in the office, but maybe not to the same extent as we had before. Instead of five days in the office, you're in for two or three days, and the other days you work from home."
Wong describes himself as "a big believer" in going back to office spaces, which he says are important for synergy and interaction. But, he also notes that for many, this time of remote work has proven there are pros to operating from home, from flexibility to environment to -- in some cases -- more peace and quiet.
One thing to keep in mind, Wong explains, is that changes to how workers experience office spaces were brewing before the pandemic struck. The average square-footage in a given office has been shrinking for the last two or three decades, he says, which means work spaces have been increasingly loud, increasingly distracting, and less capable of offering privacy.
"The pandemic has pushed a lot of those changes more up front, compared to that slow evolution how office space is used and how people interact with it. I think we're going to see more changes down the road, and this pandemic has pushed a lot of those conversations along faster, and to the forefront."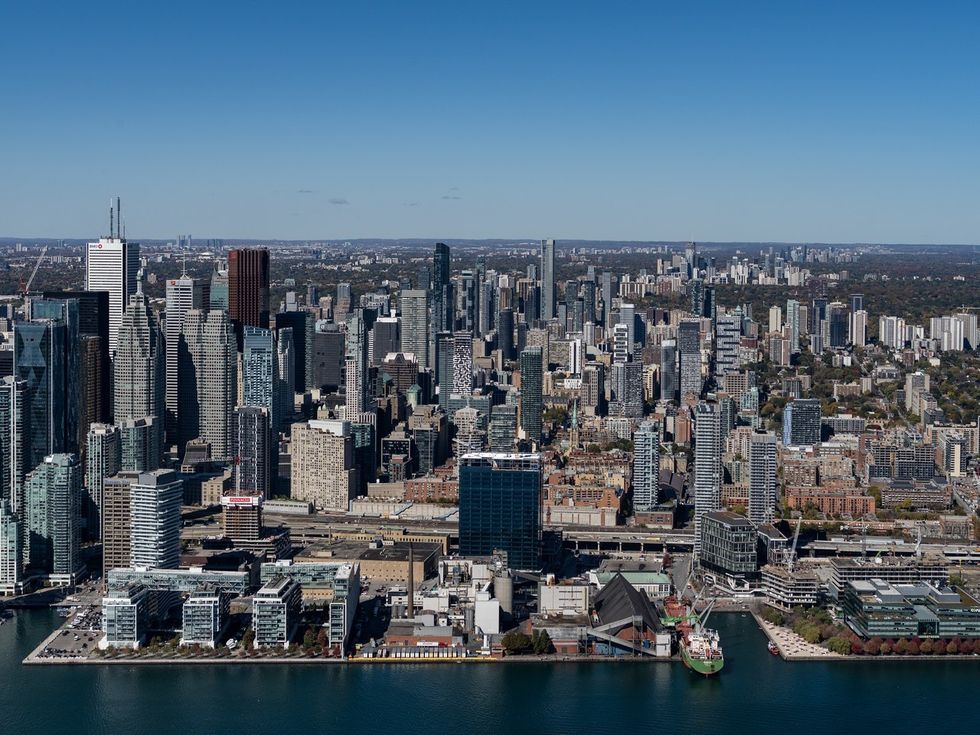 But even with the potential for some lasting changes, Wong's belief in the ultimate need for shared work spaces holds strong, noting that alongside Richardson Wealth, other major names have committed themselves to larger spaces in recent history -- this includes Amazon in Toronto's South Core, which also forms a part of the waterfront neighbourhood.
"I think this announcement by Menkes is very positive," he said, "I think that there's still a strong demand for office. We'll see a shift going into next year. It'll be interesting to watch and see, when the vaccine is rolled out, how we continue to interact and be involved with office spaces."
Real Estate News