It's been a year of extremes, and sure, we're nearing the end of it, but why should 2020 change its tune right at the finale?
According to a new report from RBC, Canada's housing market "kept on rolling" through November, and experts aren't predicting a slow-down in the near future.
---
This forecast is based on a lack of signalling from the market itself about the potential for pause, or even for hinderance. Indeed, October and November saw back-to-back monthly home sale declines that totalled 2.2% (in October alone, Toronto saw a drop of 2.1%) but, the report notes, this "hardly [registers] as a softening."
And those months jumped from September, which presented an all-time high in the same category.
Last month -- typically quiet, in a given year -- exceeded the mark previously set in 2018 by over 30%, making it the strongest November on record "by a long shot," while total inventories represented just 2.4 months of supply — "the lowest level in at least two decades," according to the report.
A major factor in the drive of activity is what RBC describes as "unrelenting demand" for detached homes across the country, and what drives that demand is a combination of (incredibly) low interest rates and -- as you might guess -- changing housing needs as a result of the COVID-19 pandemic.
READ: Ontario Housing Inventory to Be Even Tighter in 2021, Prices to Rise: CREA
"Not just in major markets but almost everywhere across the country—suburbs and small towns included. Supercharged demand is bumping up against limited supply," RBC says. "Bidding wars are commonplace, and have become fiercer. Prices for coveted single-detached homes are rising fast and we see little that will rein them in anytime soon."
The report notes that in some cases, stronger price increases are to be found in markets outside city centres; smaller regions or vacation zones within a couple hours of urban spaces. This observation isn't new -- it was predicted at the pandemic's inception and has since played out for months -- but it is interesting to note the activity continues, even as the promise of a vaccine is on the horizon.
(Perhaps those continuing their hunt aren't concerned about buyers' remorse, or they've at least already made peace with their decision to ditch downtown.)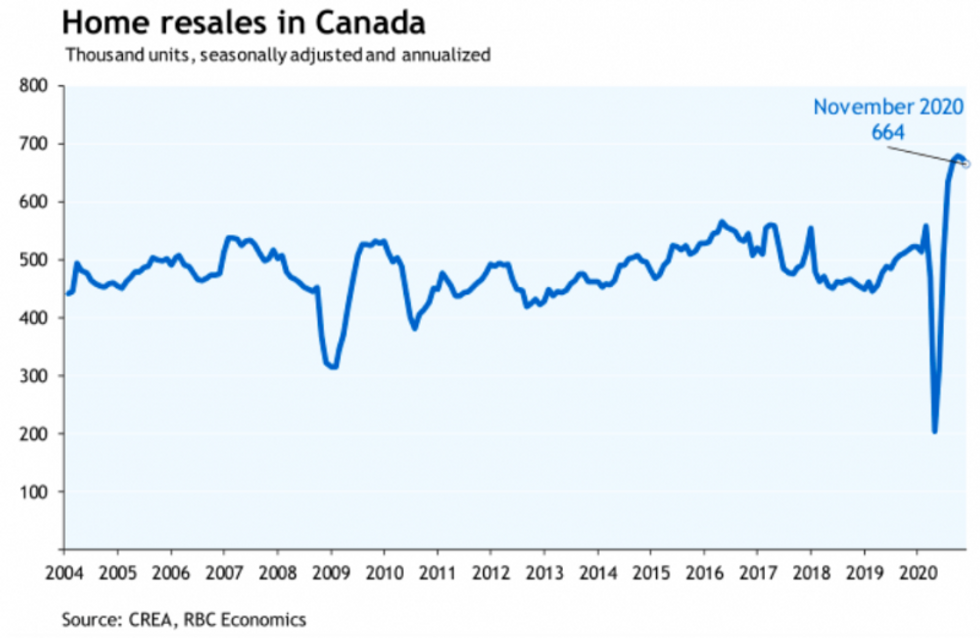 Now of course, not everyone has decided to leave the city in the dust, but RBC's numbers show what those with their ears to the ground have been picking up on for some time now: the downtown condo market is suffering.
"Many condo investors have been hit hard by the downturn in the rental market (both long-term and short-term) and are offloading their units. Soaring supply caused condo prices to plateau since the start of the pandemic in the Greater Toronto region and Vancouver with declines seen in some downtown locations," the report says, without holding much hope for the near future.
"We expect prices to weaken further in the near term. With immigration largely stalled and unemployment remaining high among lower-income Canadians, we see little that will boost rental demand in short order."
But, as the condo sphere flails and, per predictions, may continue to flail, RBC says smaller markets may not be able to keep up with all the attention their garnering. Read: affordability challenges arising as demand outpaces supply.
"We expect detached-home supply will tighten further over the coming year as the Covid-induced churn in the market fades. This will increasingly restrain activity and sustain upward pressure on prices. As smaller markets become pricier, issues of affordability are poised to surface outside Canada's biggest cities," the report says.
The prediction of an affordability predicament echoes CREA's updated forecast for 2021 home sales activity via the MLS. The new data calls for an increase in home-sales activity in every province except Ontario next year.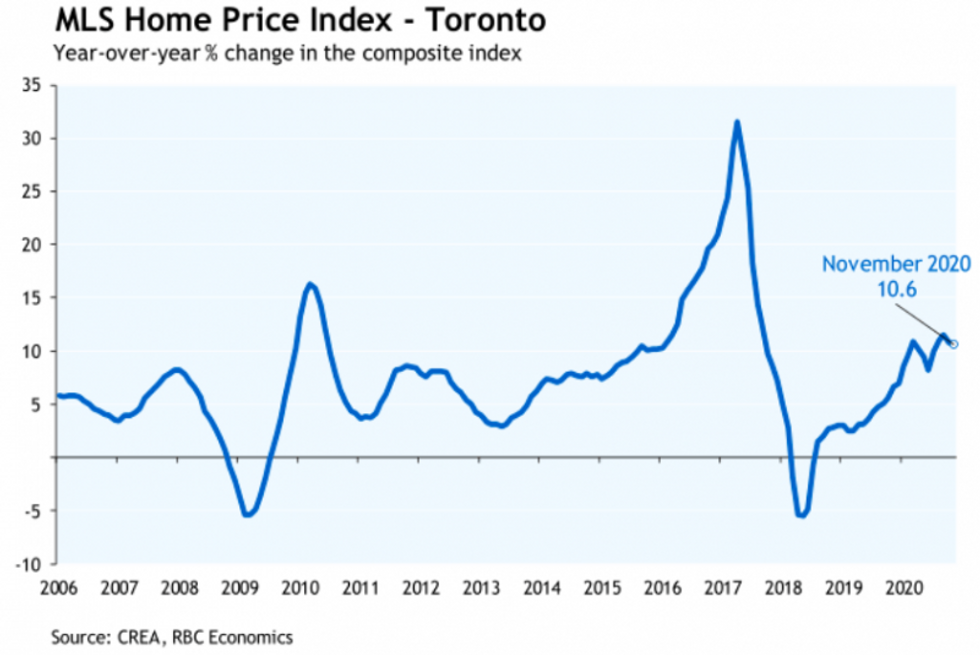 "Ontario has seen strong demand for several years, particularly outside of Toronto, which has eroded active supply in the province. This shortage is expected to limit sales activity in 2021," explains the forecast. "The strength of demand, particularly for larger single-family properties, will drive the average price higher as potential buyers compete for the most desirable properties."
RBC suggests the degree of affordability (or lack of it) will depend on how quickly home builders are able to respond to demand.
As the party that is housing market activity rages on, a vaccine --  and all it represents -- is more clearly visible on the horizon than it has been all year long. But while these shots in the arm will provide some relief in a complex and constantly-changing situation, they're not a silver bullet solution for uncertainty.
"Vaccinations are getting underway and this is unequivocally good news. We believe it will lead to a gradual easing of restrictions and an acceleration of the economic recovery," RBC says. "Still, a high degree of uncertainty will persist for some time. We see both upside and downside risks depending on how work-from-home trends, interest rates, immigration, mortgage payment deferrals and COVID-19's second wave unfold."
The unpredictability of life has put its best foot forward over the last nine months, and not even the experts are able to paint a clear picture of what may be in store for 2021. For those who don't cope well with uncertainty, and for those who hate being wrong: all we can say is that we're sorry... and that now might be the time to take up meditation.
Homes