Ontario is the only province in the country that isn't projected to see an increase in housing sales activity through 2021, according to the Canadian Real Estate Association's (CREA) updated forecast for the year ahead.
But despite the expectation that Ontario won't see an influx in activity, CREA describes the Canadian Housing Market's overall 2021 activity to be "relatively healthy" -- a descriptor that, after all that 2020 has brought forth, sounds particularly comforting.
---
CREA's updated forecast for home sales activity via the Multiple Listing Service (MLS) Systems of Canadian real estate boards and associations suggests -- based on both current trends and the outlook for housing market fundamentals -- "prices will either continue to climb or remain steady in all regions" across the country.
Sales are expected to ease back toward "more typical levels" throughout the year on a monthly basis and, if a "more normal" spring market does play out, 2021 year is expected to see more home sales than this year has. In fact, national home sales are forecast to rise by 7.2% to around 584,000 units.
Low-interest rates and improving economic fundamentals are cited by CREA as the "how" behind the increased sales activity that's expected in all provinces except Ontario.
"Ontario has seen strong demand for several years, particularly outside of Toronto, which has eroded active supply in the province. This shortage is expected to limit sales activity in 2021," explains the forecast. "The strength of demand, particularly for larger single-family properties, will drive the average price higher as potential buyers compete for the most desirable properties."
READ: 2-Storey Home Prices in the GTA Expected to Jump 7.5% in 2021: Royal LePage
New data from Royal LePage echoes the forecast's predictions, notably with regards to price increases here in the GTA; the real estate company reports the median price of a standard two-storey home in the GTA is expected to rise 7.5% next year, reaching an average price point of $1,185,800.
In a significantly less dramatic increase, the median price of a condominium is forecast to increase 0.5% to $600,800. This price projection, relatively flat as it is, reflects both a modest increase for condos in the 905-region, as well as a slight dip in median prices for the City of Toronto. Meanwhile, the aggregate price of a GTA home (all home types) is expected to increase by 5.75% year-over-year, ultimately reaching $990,300.
Where other provinces are concerned, the projected well-being of housing market activity is attributed to several specific factors: continued improvement of economic activity following the initial stages of the COVID-19 pandemic; record-levels of international immigration over the last several years; low-interest rates; and an increasing share of millennials "entering their home-buying years."
Each of these elements has helped make the housing market a strong point in Canada's economy, CREA says, while recent government programs supporting individuals and businesses have aided the economy at large through the most severe parts of the pandemic to date.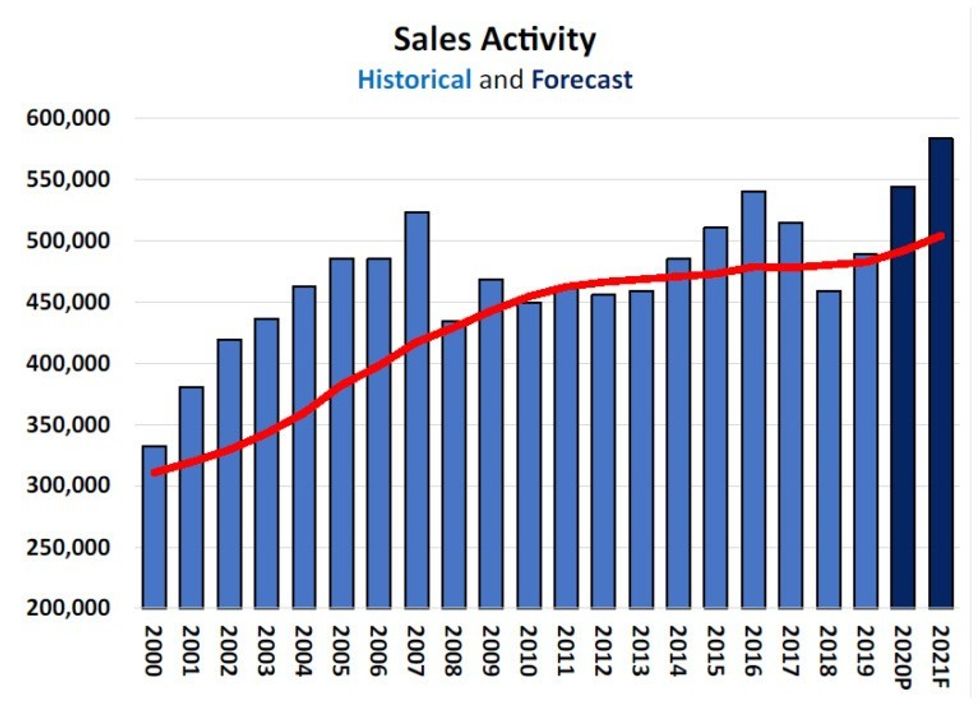 What's more, 2020 saw mortgage interest rates decline to record-lows; included in this element of the country's economics is the Bank of Canada's benchmark five-year rate, used by Canada's largest banks to qualify applicants under the B-20 mortgage stress test.
"With the Bank of Canada committing to keep interest rates low into 2023, mortgage interest rates are expected to remain near current levels through 2021," CREA's forecast explains.
The current year has already presented a speedier recovery than was anticipated following the initial slow-down caused by the pandemic. The second half of 2020 has seen sales trends improve across the country; in fact, sales activity has rebounded to "record-high levels," while "new listings in most of the country" have presented notable recovery, touching the five-year average, approximately, in most markets.
As the rebound of sales activity hangs over the recovery of new listings, the relative strength of demand oversupply of homes has been eroding active inventory which, according to CREA, was "already scarce" in many markets before the effects of COVID-19. But this isn't new, the forecast clarifies -- the trend has held strong since 2015.
That increased demand has reached across the entirety of Canada, the Prairies and Newfoundland and Labrador included, and despite this spring's historic setback, CREA projects national sales to hit a record of 544,413 units in 2020 -- an 11.1% increase from 2019.
"The strength of the Canadian housing market was broad-based, with every province except Alberta registering a year-over-year increase in sales. British Columbia and Quebec stand out as large contributors to the overall gain," reflects the forecast.
Where costs are concerned, this year's national average price is poised to rise by 13.1% on an annual basis to just over $568,000, reflecting the current balance of supply and demand, which, CREA says, "heavily favours sellers in many local markets."
But those keeping an ear to the ground here at home know the story hasn't been quite so linear: Toronto's housing market has been on fire, except for where it hasn't. With some highs, some lows, and not a whole lot of clarity on what's to come, the city's real estate scene is closing the year in a frenzy-and-flailing fashion... which feels well-suited to the chaos that has been 2020.
Homes