The Toronto housing market is closing 2020 in a way that feels well-suited to the year: some highs, some lows, and not a whole lot of clarity on what's to come.
---
According to the newest report from RBC, the entire country saw strength in its housing market throughout November, except for in one area -- downtown condos in large urban areas.
It's easy to imagine, then, that the City of Toronto's data presents as a combination of "on fire" and "flailing."
Despite the return to lockdown-status in Toronto and Peel region, the month saw GTA resales rise 24.3% year-over-year, with the MLS Home Price Index (HPI) up 10.6% during the same period.
The 416-region specifically is described as "both hot and lukewarm," with sales of single-family homes up 24% year-over-year, while condos sales were "flat."
READ: Year-Over-Year Condo Prices in Toronto Decline for the First Time Since April
But the real difference, RBC says, is inventories. Active detached-home listings are sitting some 13% below year-ago levels. Meanwhile, condo listings have skyrocketed 194%. As the report concludes, it's "no wonder downtown Toronto condo prices are beginning to soften."
Indeed, TRREB's November market report, released Thursday, captured the small drop in the average condominium apartment selling price for the '416' area code. Since the onset of the pandemic in March, April is the only other month to have seen a decline in year-over-year condo prices (-4.0%) in the 416 (though October only managed a gain of less than 1%).
At the same time, the month saw market conditions tightened in many single-family market segments, resulting in double-digit year-over-year increases in selling prices for detached houses, semi-detached houses, and townhouses.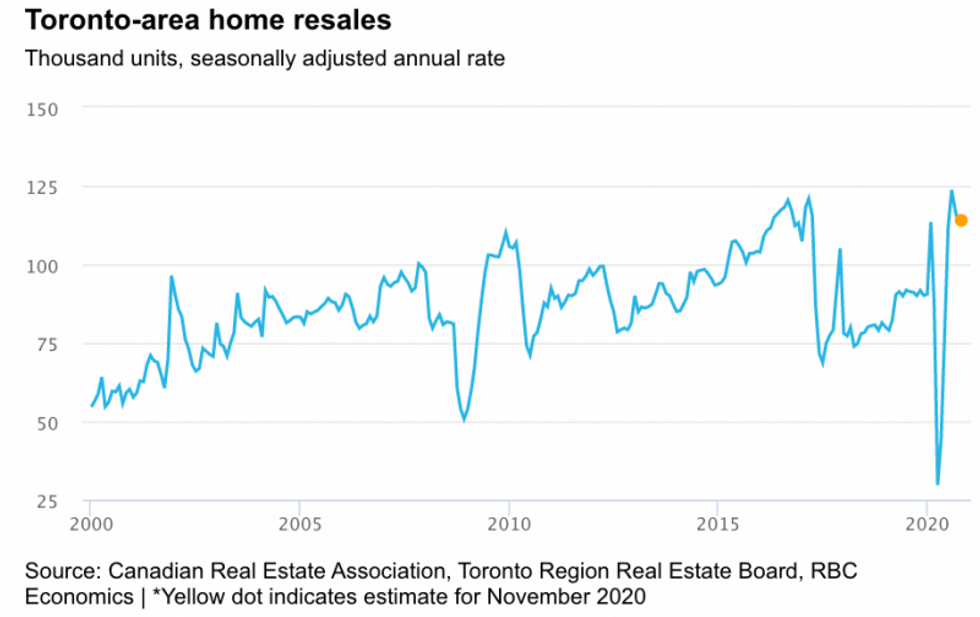 The story of the city's condo market is opposite to that of the detached home market; read: plentiful supply.
"The downturn in rental markets has prompted many condo investors to sell over the past several months," reads RBC's report -- a statement that, through autumn, has become increasingly clear to those keeping an eye on the downtown real estate scene.
TRREB's data from the Q3-2020 condominium market and rental market reports revealed the number of condo apartments listed for rent at some point during Q3-2020 was up a massive 113.9% year-over-year. The influx was reportedly a result of many investors and Airbnb owners turning to the longterm rental market in an effort to cover ongoing costs.
And, according to John Pasalis, President at Realosophy Realty, the condo market being in such a state means something to sleep on for would-be investors. As resale prices have been on the decline, albeit "only by a little bit," rents have decreased by nearly 20% in some cases.
"Certainly, if you're a savvy investor, you might find some value. There's no rule necessarily, but it doesn't seem right to be paying peak prices — 2020 prices — for rents that are at 2018 levels," he said.
"If you want to be somewhat conservative, you're either going to wait for further softening in prices — if you think that's going to happen — or you at least wait for the rental market to start recovering a little bit, because if you're buying now, as an investor, not only is your rent significantly lower, but your vacancy is higher. It might take you two to three months to rent out your unit.
It makes sense, then, that as those who are interested in investing have been cautioned to watch and wait, those who are already in the downtown condo game have been inclined to attempt to offload their properties. It's hard to make anything back from a vacant space, after all.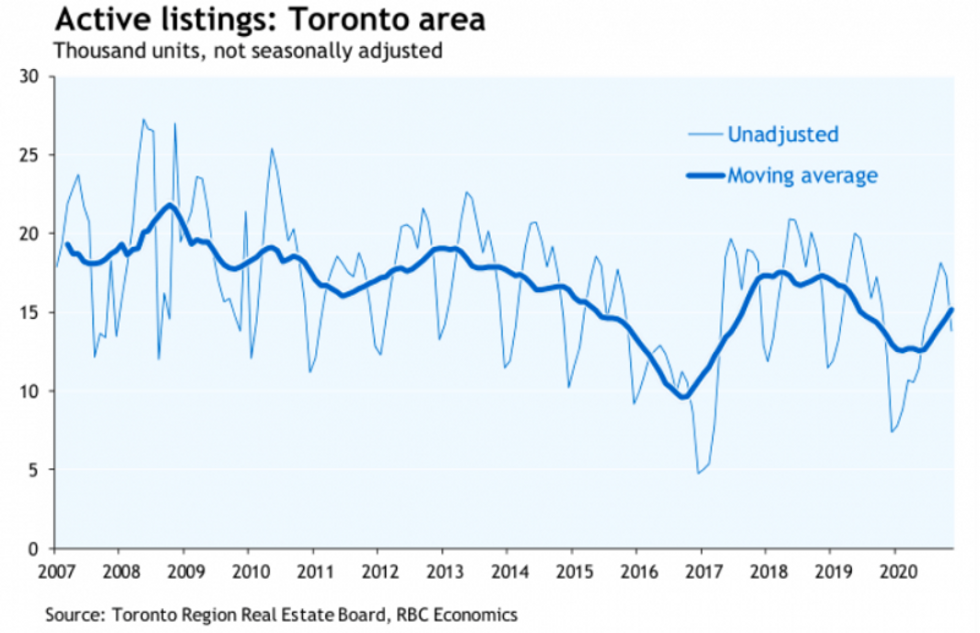 While anyone looking to get in on the condo scene right now -- whether renting or buying -- has a (relative) pick of the lot, those more interested in single-family homes have increased competition, and prices, to deal with.
TRREB's latest data showed that market conditions tightened in many single-family market segments in November, resulting in double-digit year-over-year increases in average selling prices for detached houses, semi-detached houses and townhouses.
"Homebuyers continued to take advantage of very low borrowing costs in November, especially those looking to buy some form of single-family home," said Lisa Patel, TRREB President. "Competition between buyers for ground-oriented homes has been extremely strong in many neighbourhoods throughout the GTA, which has continued to support double-digit annual rates of price growth."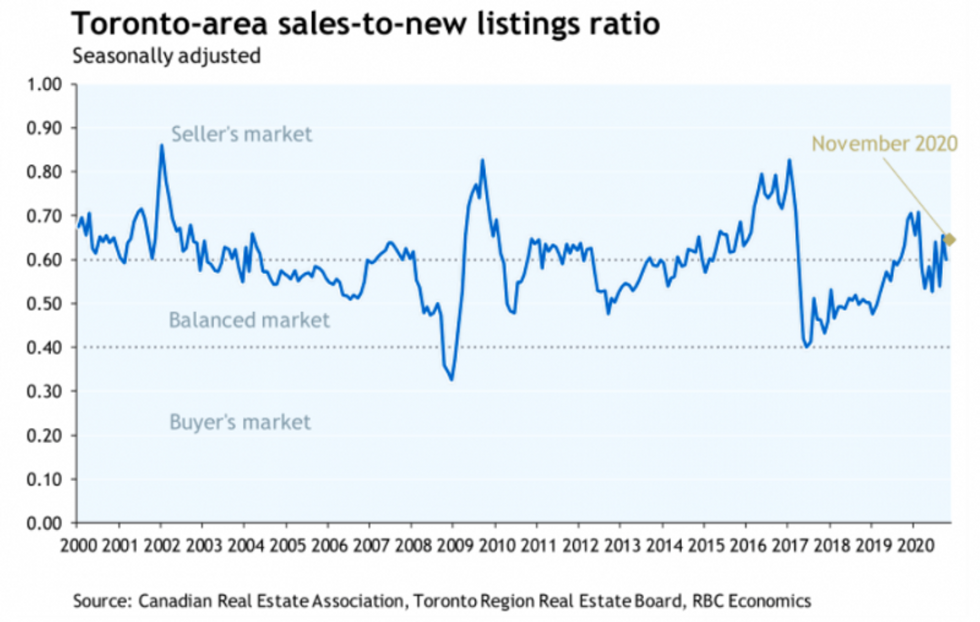 To use a local metaphor, stabilization then (or a return to some form of normalcy), is like the CN Tower on one of Toronto's smoggiest summer days -- you know it's there, but it's difficult to see, and you can't gauge exactly how far away from it you're standing.
With regards to the condo experience, any rehabilitation depends on downtown's healing, according to Pasalis.
"Rents are not going to recover until the downtown core recovers. [At that time,] people are going back to offices, there's a reason to be living downtown because you walk to the office, the office is nearby, the restaurants are nearby. So, until there's some return to a normal downtown lifestyle, downtown rents aren't likely to recover anytime soon," he said.
And until downtown regains its appeal, it's hard to imagine what would slow the ever-growing interest in single-family homes, what with their increased space, privacy, and (location-dependent) bang for their buck.
With so many unknowns hanging in the air, conservative advice would be to make no sudden movements... at least not without giving those moves some serious thought. Because, while the timeline for recovery remains uncertain, one thing is clear: downtown is not dead, it's resting. And come next summer -- or even the summer after -- you don't want to be left reminiscing about the waterfront, the Queen West strip or Riverdale Farm as you grapple with suburban regrets.
With files from Ainsley Smith and Erin Davis. 
Toronto