Like most regions in the province, Durham's housing market came to an abrupt halt at the end of March as COVID-19 lockdown restrictions were first introduced.
But as we eased into summer and agents and sellers slowly began to return to the market, overall activity began to gradually pick up with realtors in the area reporting over 1,500 residential transactions in August, a significant 45% jump from the same time last year.
---
The number of new listings was also up on a year-over-year basis by 19%, reaching a total of 1,839 new listings in August.
READ: Durham Housing Market Forecast to See 14% Jump in Average Home Prices This Fall
The Durham Region Association of REALTORS (DRAR) President Vicki Sweeney says the market has experienced a strong rebound as home sales continue to hit record results this summer.
"There is an increased demand for housing and we're seeing this activity reflected in the average days on market. In August, the average days on market reached 14 in comparison to the average of 29 days reported in August 2019."
The average price in Durham Region reached $734,136, a 19.5% increase compared to the same time last year. On a month-over-month basis, the average price increased slightly by 3.5%.
Detached homes are currently the priciest option for homeowners, as the average price reached $813,740 in August. Attached row homes are the next priciest option, sitting at an average of $630,918, followed by link ($627,026), semi-detached ($592,362), condo/townhouse ($504,890), and condo apartments ($435,633).
Oshawa had the most active housing market in August, as realtors recorded 42o residential home transactions, the highest of any city in the region, along with the most new listings, 478.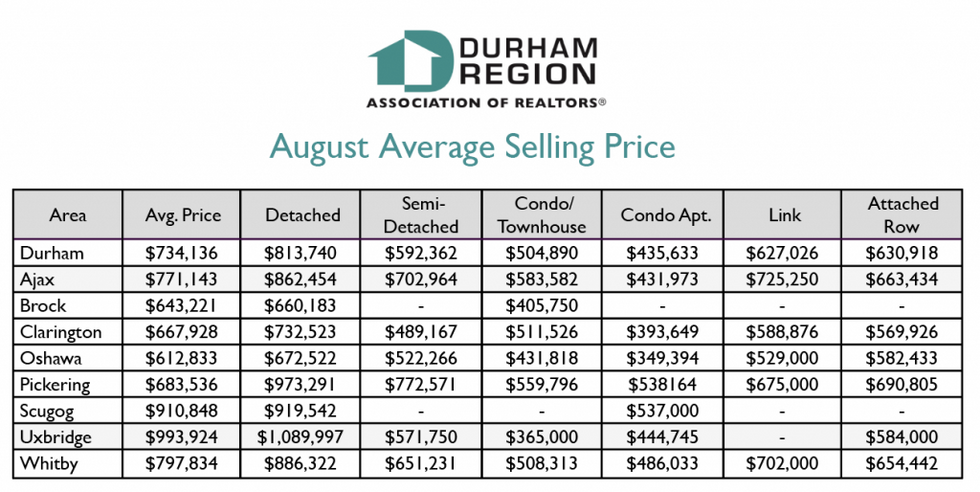 Durham Region August 2020
The MLS Home Price Index Composite Benchmark -- which is the most advanced and accurate tool to gauge a neighbourhood's home price levels and trends -- was up by 15.06% last month, reaching $653,400. The benchmark price for a detached home in Durham Region reached $706,300 representing a 14.60% increase from last year.
"As we continue to see a demand for homeownership, it is important our policymakers remain focused on bringing more supply to our markets," said Sweeney.
"We have to focus on supply, the economic recovery and low-interest rates coupled with the pent-up demand from the spring market will continue to drive sales. In Durham's Clarington market, days on market reached 11 days with 103% sales to new listing ratio."
Real Estate News