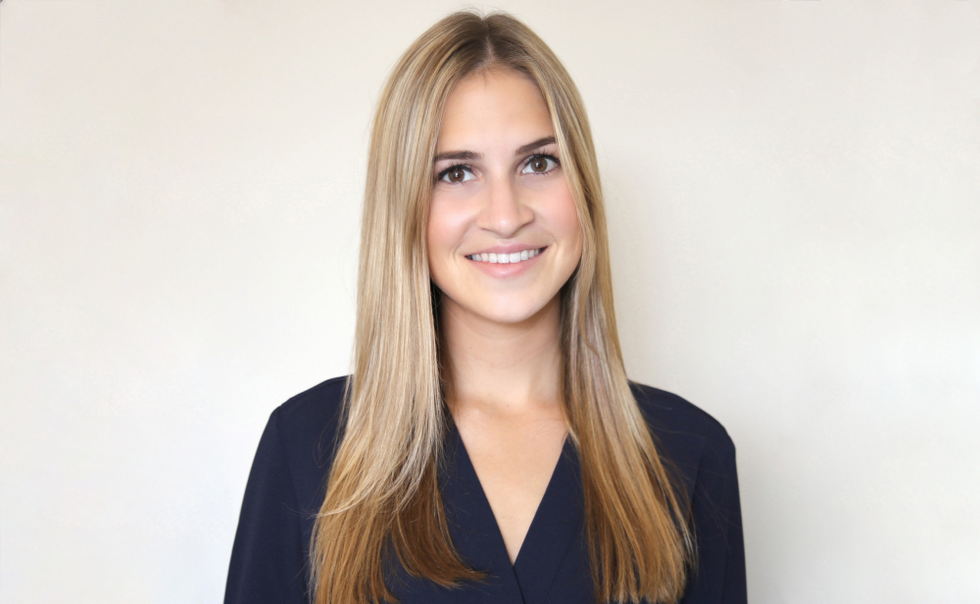 She's a real estate professional and a Millennial who has learned from the industry's veterans and also embraces its new developments.
---
Sarah Lever mixes hard work with meaningful relationships to help her clients reach their goals. This is surely one of the reasons she was awarded the 2017 Directors Circle Award at Harvey Kalles.
Lever started in graphic design, which gives her that advantage as a social media and marketing expert. But she's also quick to point out that the power of social media doesn't overshadow the value of creating and nurturing relationships.
Since relationships are key, allow us to introduce you to Sarah Lever ...
Tell us the story of your first sale.
I was working with a buyer to help them purchase a condo to renovate downtown. We negotiated back and forth with the seller for almost a week and my client was able to purchase the condo for a great price under asking. (Which has gone up in value significantly since!) I loved being part of such an exciting milestone for my client.
"She is SO accommodating and made herself available to me 24 hours a day, 7 days a week." That's from one of many testimonials on your site. If you're always on, how do you find work-life balance?
To be honest, life and work are combined for me. I'm all in with real estate. I love what I do and I love being available as much as I can to my clients. So I work seven days a week — which, of course, can be challenging at times. Everyone needs time to shut off and decompress. But I work with a great team at Harvey Kalles Real Estate and always have someone amazing covering me during the rare times I'm unavailable.
What's been the most challenging hurdle that you've had to overcome in real estate — and how did you do it?
Real estate has always felt very natural to me. Because I love what I do, even the hurdles feel exciting and positive. Answering this question might actually be my biggest challenge. 
A chunk of your client testimonials refer to you as more than a realtor — they call you family. How do you develop such a strong relationship with your clients?
I got into real estate because I love working with people. Real estate is truly a relationship business and the process is very personal. I get to know all of my clients and aim to provide a full-service approach.
I also love to keep in touch with my clients long after we work together — I get excited about their lives and their transitions. In assisting people with what is usually their largest asset, I value helping my clients achieve their goal. Whether they are buying, selling, or renting a property. This is so much more than a business to me.
How have your digital and social media relationships contributed your business? (Can you imagine your business without the social media world?)
Social media has certainly impacted my business; however, I don't rely on it. It's an important tool, but I make sure to support it with a personal, collaborative relationship with each client.
Of course, everyone talks about the importance of social media. But what about the importance of traditional media — and old-fashioned word-of-mouth … How much does that impact your business?
Social media is an important outlet for me — but there is nothing more important than word of mouth. Most of my business comes from referrals and repeat clients. I love working this way and value referrals so much.
What's the biggest lesson you've learned from an industry veteran? AND what's the biggest lesson you've learned on your own in this business?
I have been working on my own since the day I got my licence, so each day provides a new lesson. I also work at an amazing brokerage, so I've had the benefit of working with a number of industry "veterans." Harvey Kalles Real Estate has been recognized as the #1 independent brokerage since 2006 (for both number of sales and monetary value).
The most important lesson I've learned both from my colleagues and my own experiences is that consistency is key in all areas of the business.
What is your best piece of advice for Millennial home buyers?
I strongly believe in investing in real estate if you are able to, and think Toronto is an incredible city with so much value. My advice is to educate yourself as much as possible. Don't rush the process. And work with an agent who is looking out for your best interest.
The market can be difficult to navigate, but with proper direction and education from an agent you trust, you will end up with a home that is right for you.
Now, what is your best piece of advice for Millennials looking to become realtors?
I think there has always been a misconception about real estate agents. A lot of the "nitty gritty" is often not talked about with the general public. The truth is, it's hard work. Be prepared to work hard.
The year has started off slowly for Toronto real estate, what do you anticipate for spring?
That's an interesting question because it definitely depends who you speak to. Although the year started off slowly, I've seen it strengthen over the last few weeks, and I think this will continue throughout the spring.
I've personally seen a strong Toronto market this year: I have been in multiple offer situations, and have had tons of people coming to look at my open houses. It may not be what it was in early 2017, but it was too crazy then. This market is more balanced, but still very much a sellers' market.
Industry Profiles