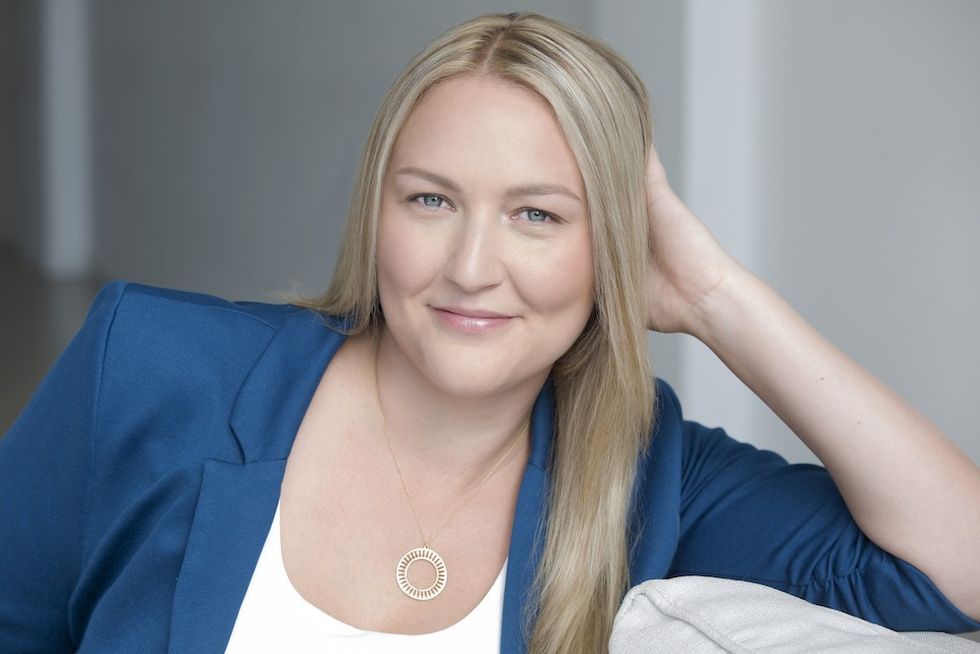 If you're Melissa Emond's client she will fight for your interests with bulldog tenacity.
---
The RE/MAX West Realty agent is known for her attention to detail as well as her innovative marketing strategies that are always customized to her client — and sometimes include her English Bulldog, Tootsie.
Clients praise her hard work, honesty and ability to forge personal relationships.
"If I can have a beer with you, I can work with you," says Emond.
It's this approach that has garnered her recognition within the Toronto real estate industry.
She's in the top one per cent of Toronto Real Estate Board agents and top 20 per cent of agents within RE/MAX West. Still, this is not the be all and end all for her.
Ultimately, Emond wants to help people.
So, we sat down with the realtor to get some great advice. And we also discovered she may have a possible second career — and we found out she has a special talent few people have even been aware of … until now.
How did you get started in real estate?
I got started 15 years ago working at a bank as a mortgage specialist. Starting in the financing side of the business gave me a better understanding of the process. I always knew that selling real estate would be a great fit for me.
After leaving the bank to sell real estate, I never looked back.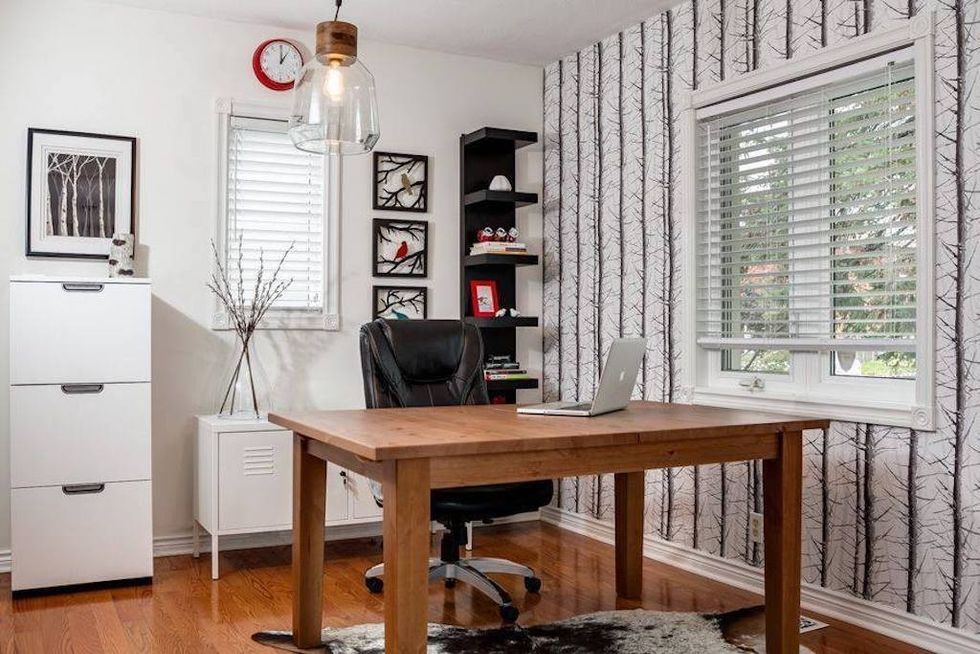 Emond had her home office designed to feel like a cabin in the woods. "I love nature and it was my inspiration to reflect that."
What still gets you up in the morning about the business?
Inventory! Seeing new houses or condos for sale on the market always excites me.
Some areas of the city have been lacking in inventory for years. For me, it's like the feeling of opening an unwrapped gift, but one that I get to experience on a daily basis.
What separates you from the pervasive ubiquity of real estate agents in Toronto?
My unique marketing strategies. I'm always up for trying something new and original. It can be different colours, websites, ad campaigns — or even incorporating my dog on the job.
What are your thoughts on the Toronto market?
I don't think it's as bad as the media makes it out to be.
The bottom line is, houses are still selling, and buyers are still buying. Yes, the stress test and the increase in interest rates has added a negative stigma to the market, but for the most part, it's still a very hot real estate market — for those that can afford to play in it.
What is your best advice for buyers right now?
Despite everything happening in the market with the minor increases, the interest rates are still relatively low. Buyers need to take advantage of these low rates before they rise further.
What is your best advice for sellers right now?
Go the extra mile to get your house ready to show on the market — staging, landscaping, updating the appliances …
Every bit of effort will be noticed by potential buyers and will make a difference in the return on your investment. Pricing your home properly, with someone that knows the market and the area is also incredibly important in getting the highest return.
If you could be anything other than a real estate agent what would you be and why?
Easily ... an English Bulldog breeder.
I'm basically obsessed with Tootsie, my English Bulldog, and being surrounded by so many of those scrunchy little faces would hardly even be work to me.
What qualities or situations make you want to represent a client?
If I can have a beer with you, I can work with you. For me, it's important to have a great trustworthy relationship.
What is your quirkiest activity, habit or hobby?
Have I mentioned English Bulldogs yet?
I have a carrier that attaches to my bike so Tootsie and I can explore Toronto's unique neighbourhoods together. Does it get any quirkier than that?
What is something fun about you your clients would be surprised to learn?
I can play most instruments by ear. My middle name is Melody.
Industry Profiles