Over the last year, downtown Vancouver has seen the completion of a series of high-end high-rise office buildings.
The first was the 24-storey Deloitte Summit by Westbank at 410 W Georgia Street, designed to appear like several clusters of cubes around a central core, that was completed in early 2022.
---
Then came the 33-storey Vancouver Centre II by GWL Realty Advisors, integrated into the underground shopping centre below at 733 Seymour Street, which was completed in fall 2022.
Then came the 30-storey Bosa Waterfront at 320 Granville Street by Bosa Development that largely completed in April of this year and famously sold strata office space at record-high prices.
Earlier this month, the 37-storey tower called The Stack, located at 1133 Melville Street and developed by Oxford Properties, celebrated its grand opening and has the distinct title of being the first zero-carbon office building in North America.
Also this month, employees at Amazon began moving into the 21-storey South Tower of QuadReal Property Group's The Post at 349 W Georgia Street, which is set to become the single largest office building in Vancouver after the 22-storey North Tower is completed sometime next year.
The last of this bunch is the 32-storey Bentall 6 at 1090 W Pender Street that's set to be completed before the end of the year, according to BentallGreenOak, the developer, in an email to STOREYS.
All six of these office buildings are Class-AAA towers that were conceived prior to the COVID-19 pandemic. They were generally under construction at the same time and are together bringing a huge amount of new office space into the market.
"In the last 10 years, we've built more new office space than we did in the prior 20 years," says Susan Thompson, the Associate Director of Research for Colliers based in Vancouver.
That group of office projects makes up a large chunk of that space, and came as the result of strong demand.
According to Thompson, the industry generally considers 6% to 10% vacancy as a balanced office market. She says vacancy got quite low in downtown Vancouver around 2018 and hit a low of sub-2% by 2019, which triggered an explosive construction cycle.
That construction cycle is now concluding at what is very clearly an inflection point in the office market in Vancouver (and elsewhere).
The Next Wave (?)
According to a Q3 Colliers market report published this week, office vacancy in downtown Vancouver is now at 11.9%.
"That tells us that it's more of a tenants' market than anything else, and that tells us we're probably not going to see a new building anytime soon in downtown," says Thompson, adding that those that have already broken ground will likely tough through it.
For those projects that have not commenced construction, many developers will likely put their plans on pause, and potentially reconceptualize.
"And then you've got the financial situation, with interest rates so high," she adds. "In order to get financing for a lot of these buildings, they need pre-leasing in place. Traditionally, when the market is good, they can get away with 30% pre-leasing, but I've heard numbers anywhere near 50% to 70% now, so the likelihood of that is quite difficult."
According to both Colliers and Avison Young, after 2023, there are no new office towers expected to be completed before 2026, which is the current estimated completion date of both a 32-storey building by Reliance Properties and Houston-based Hines at 1166 W Pender Street and the new 29-storey office by Uptown Property Group at 625 W Hastings Street that also involves the restoration of the heritage Royal Bank office building next door.
The former shares a rear lane with The Stack, the latter is around the corner from Bosa Waterfront, and both are currently under construction.

Notable upcoming office projects in Metro Vancouver, as of Q2 2023.(Colliers)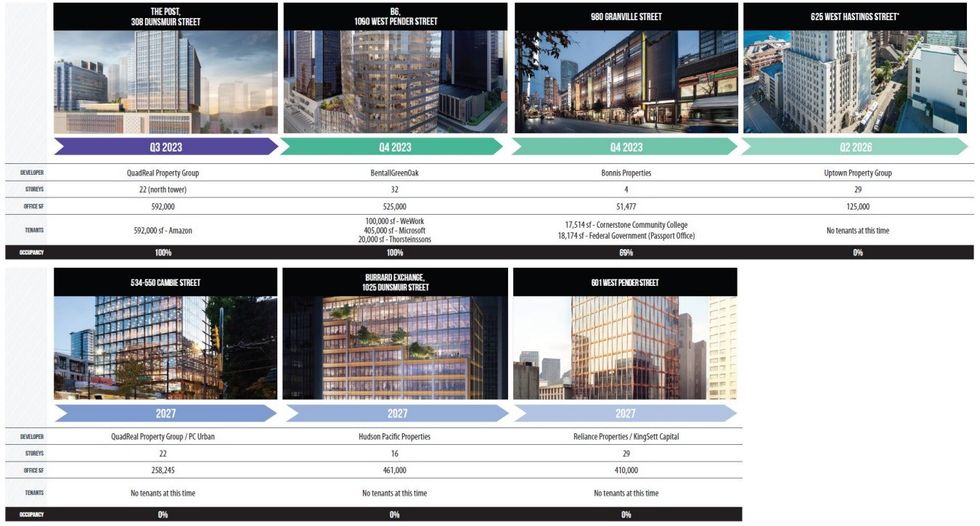 Notable upcoming office projects in downtown Vancouver, as of Q2 2023.(Avison Young)
Another aspect of financial viability for office projects is the rising costs of construction — often discussed for residential development, but equally as applicable to offices. As construction costs rise, developers have to charge higher rents, and thus have to provide buildings of a quality that tenants are willing to pay those high rents for.

"In order to command the rents that are going to justify the construction costs, you're going to be targeting that top end of the market," Thompson says, referring to Class-A and Class-AAA office buildings.
The return to office has not been as strong as employers have liked, and companies that are looking to lease new space are often now looking towards the higher-end offices in hopes that they will help lure employees back.
"Nobody really sets out to construct a Class B building," Thompson adds. "You're usually looking to make a splash in the market, and you're going to be bringing out all the new bells and whistles. Typically you get down to a B or C when it starts to have trouble competing — it doesn't have the amenities, or doesn't have the HVAC, or the electrical wiring for technology — and slowly devolve into the lower classes over time."
In many cities where this occurs, such as Edmonton, local governments have turned to office conversions. However, despite Vancouver's rising office vacancy, it's still nowhere near Edmonton. As of Q3, the office vacancy in downtown Edmonton is 20.3% — significantly higher than downtown Vancouver's 11.9%, which remains one of the lowest in the country after downtown Victoria's 6.1% and downtown Toronto's 11.0%. Edmonton's vacancy rate has also been at those high levels for a longer period of time, which has not occured in Vancouver yet — the main reason why office conversions remain rare in Vancouver.
A good bellwether of the market will be what happens with the office buildings at 401 W Georgia Street and 402 Dunsmuir Street, which Oxford Properties began trying to sell in late-June. A source familiar with the sales process told STOREYS in mid-September that the two properties have not yet been sold, and that there is no urgency to sell them as they remain fully leased.
"I think everyone is watching that sale very carefully," Thompson says, "because there hasn't been much in terms of office sales in general, but there certainly hasn't been any downtown office sales anywhere in Canada, so they're all waiting to see what that would look like, if it did sell. Whatever price that is is going to set the market for everyone. Everyone expects it to be lower than the last price per square foot that we saw transact. How much lower, though, I don't know."
Another office project that is currently on the market is Reliance Properties' yet-to-be-built 29-storey tower at 601 W Pender Street. According to a commercial listing that's been active since at least January, Reliance is offering a 100% interest in the project, or a partnership with Reliance.
From the developer perspective, Hani Lammam, Executive Vice President of Cressey Development Group, believes that Vancouver will need to build up more demand before another significant construction cycle is triggered.
"We don't have consistent demand for new office buildings," he says. "Because our market is more stable and more consistent, I think, in general, we're able to kind of be patient and let demand build up before triggering new office starts. Now is not a good time to start a new office, for sure."
He adds that despite the consistent conversations around the return to office not being as strong as companies would like, it's not as big of a factor for developers when it comes to weighing whether to construct a new office building, because it's a relatively short-term issue in the context of an office building's long-term lifespan.
Thus, downtown Vancouver will not be seeing any major new office buildings for some time, and the question isn't what the next wave of office development will look like, but whether we will even get one at all.
Office