Just over five years after the project broke ground, a new Class AAA office building in Downtown Vancouver, Vancouver Centre II, has completed construction.
---
The City of Vancouver received the original rezoning application on October 1, 2015; the project broke ground on October 11, 2017; and GWL Realty Advisors has confirmed to STOREYS that occupancy in the building began as of October 26, 2022.
GWL Realty Advisors developed the project on behalf of the Healthcare of Ontario Pension Plan (HOOPP), the Great-West Life Real Estate Fund, and London Life Real Estate Fund, the latter two of which are both managed by GWL. Musson Cattell Mackey Partnership (MCMP) Architects designed the building.
Vancouver Centre II
Located at 733 Seymour Street, Vancouver Centre II is a 33-storey Class AAA office building with 371,000 sq. ft of space, and right next door to the 35-storey Scotia Tower, originally completed in 1977.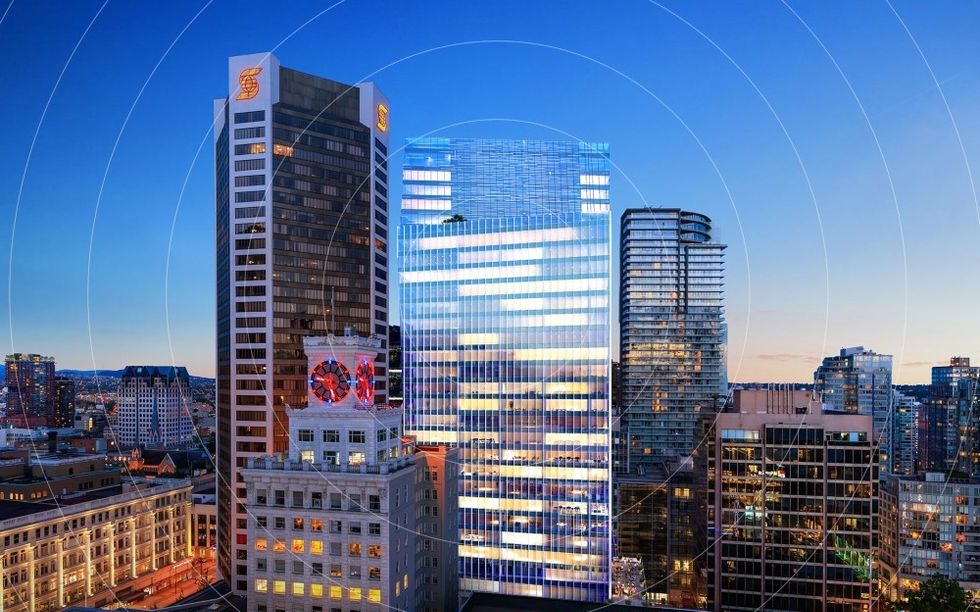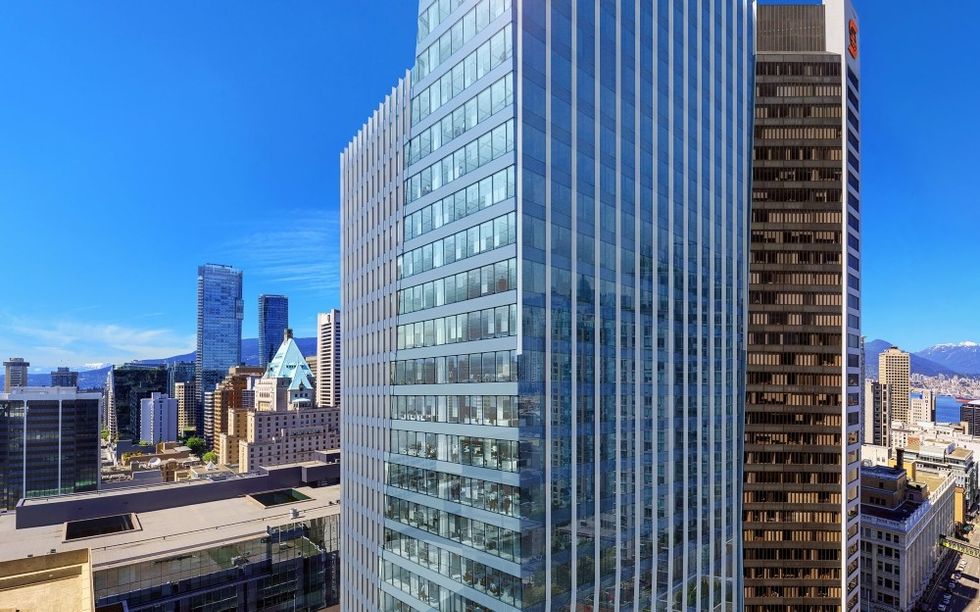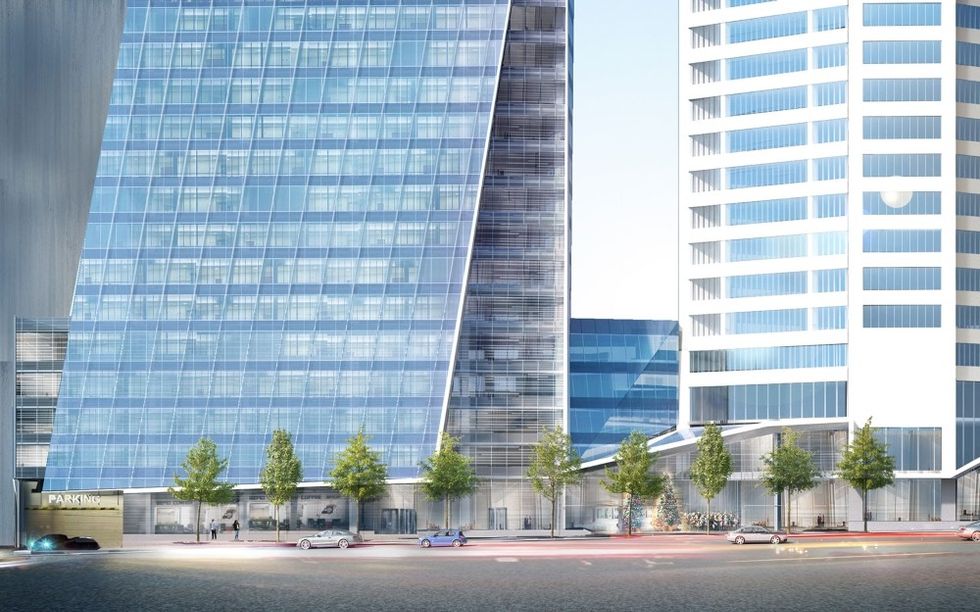 Renderings (GWL Realty Advisors / MCMP Architects)
Like the Scotia Tower, Vancouver Centre II will be connected to Vancouver Centre Mall, the underground network of retailers that's also connected to Pacific Centre Mall, the flagship Hudson's Bay store on Granville Street, the Expo Line's Granville SkyTrain Station, and the Canada Line's Vancouver City Centre Station.
"Vancouver Centre II will play a major role in facilitating our city's green economic growth by providing much needed office space as companies of all sizes and industries from all over the world look to set up shop in downtown Vancouver," Gregor Robertson, the Mayor of Vancouver at the time, said in 2017. "As Vancouver's innovation economy booms, Vancouver Centre II is sure to be a new hub for our booming local tech sector and a great addition to the downtown core, close to the city's best amenities and transit."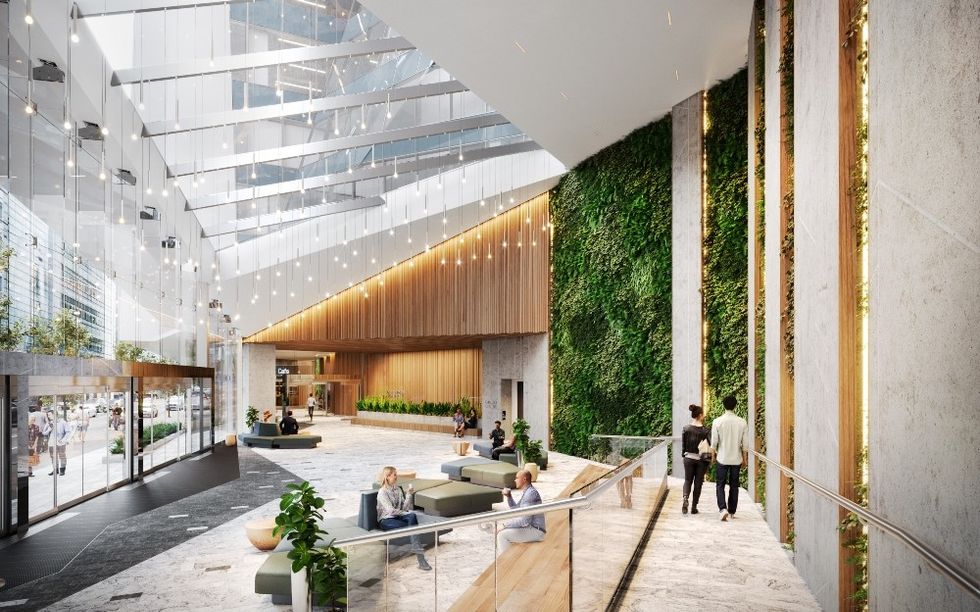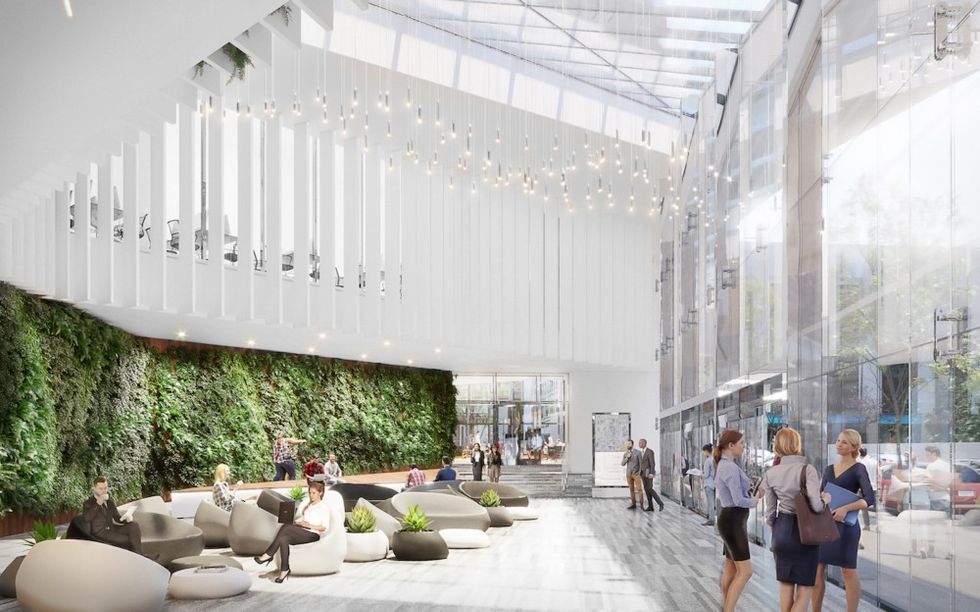 Renderings (GWL Realty Advisors / MCMP Architects)
The ground floor of the building will feature a new glass atrium that's connected to the lobby of the Scotia Tower and accessible via a new landscaped public plaza.
Of the 33-floors, 27 will be offices. In addition to seven levels of underground parking, the building will also include four levels of above-ground parking, from floors two to six, for a total of approximately 500 parking spaces, as well as a car share service and EV charging stations.
The building will also include multiple outdoor decks accessible to tenants. The fourth floor deck includes a fitness centre and yoga studio; the seventh floor deck is a dedicated dog park; and the 29th floor deck serves as a lounge with a kitchen and views of Downtown Vancouver, the Northshore Mountains, and the Pacific Ocean.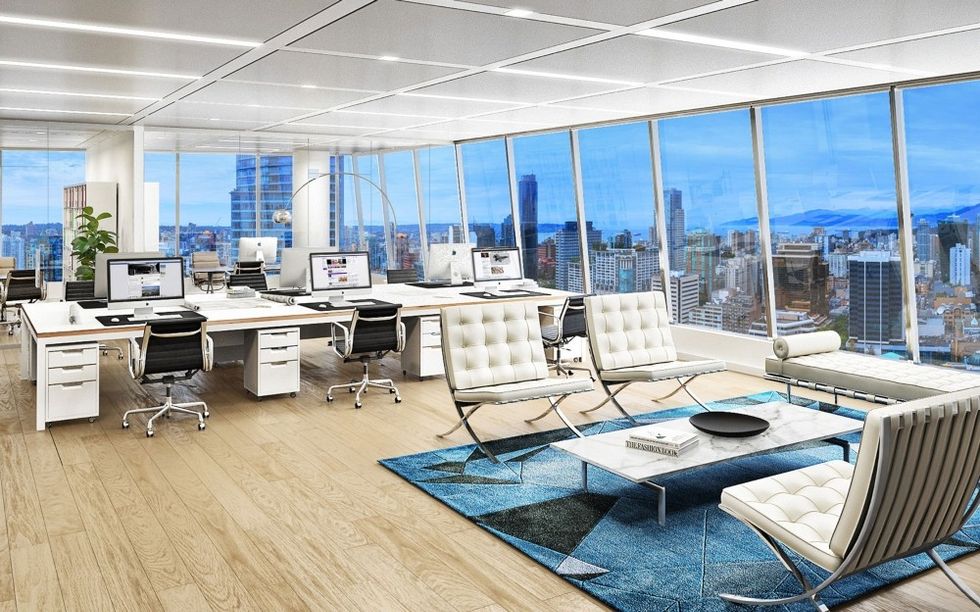 Renderings (GWL Realty Advisors / MCMP Architects)
Vancouver Centre II was one of the first major projects to commence in downtown Vancouver's current cycle of commercial office development, launching just as demand for downtown office space was growing. That demand has held steady, but a little less so when it comes to Class AAA office space, which has had a higher vacancy rate than offices of other classes in Vancouver, although real estate services firm Avison Young has attributed that to absorption not progressing faster than supply added, in part because of buildings like Vancouver Centre II, as well as The Stack.
Vancouver Centre II is situated in Downtown Vancouver's core business district, which over the years has seen more and more tech giants settle down, including Microsoft, Amazon, and Apple.
READ: Vancouver Office Market Steady Despite AAA Vacancies and Hybrid Work
Kabam, a mobile gaming developer, will be one of the largest tenants of the building, leasing 121,039 sq. ft of space. Other tenants include Sandstorm Gold, a gold royalty company; B2Gold, a Canadian gold-mining company; Owen Bird, a law firm; and PI Financial, an investment firm. GWL Realty Advisors tells STOREYS that Owen Bird opened for business on October 31, PI Financial is slated to follow in mid-November, and others then afterwards.
According to GWL's leasing website, space in the building is still available, including suites under 5,000 sq. ft and suites over 15,000 sq. ft, and they are all available immediately.
Office