---
Oxford Properties, the real estate investment arm of the Ontario Municipal Employees Retirement System (OMERS), has begun the process of selling two office buildings in Downtown Vancouver, one of which is fully leased by Amazon.
The sale was first reported by Bloomberg, and was confirmed to STOREYS by two separate sources familiar with the sales process.
The two Class A office buildings are located at 401 W Georgia Street and 402 Dunsmuir Street, next door to one another along Homer Street, and together making up the entire block.
According to Oxford Properties' website, the 22-storey 401 W Georgia building was originally built in 1985 and houses four anchor tenants: Aon Canada Inc., Unbounce Marketing Solutions, Richards Buell Sutton, and BuildDirect.com Technologies.
The nine-storey 402 Dunsmuir building was completed in 2020 as an expansion of 401 W Georgia, with Oxford Properties fully leasing the building to Amazon.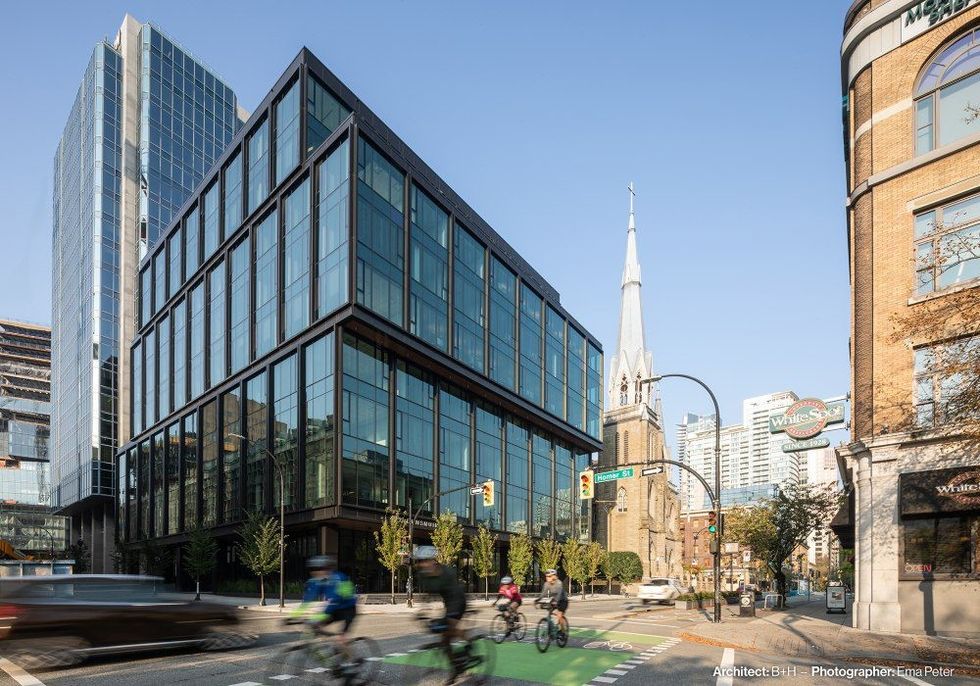 The 402 Dunsmuir building occupied by Amazon, and 401 W Georgia on its left. (Oxford Properties / B+H Architects)
Notably, the Dunsmuir building is next door to The Post, the former Canada Post headquarters that's in the process of being revitalized by QuadReal Property Group and is set to become Amazon's largest office in Vancouver.
When asked during a media tour of The Post in May whether Amazon had plans to consolidate its employees from its various offices in the area into the Post, Amazon Canada's Senior Manager of Corporate Communications Kristin Gable told STOREYS that there were no plans to do so, but that employees may be shuffled around across the various offices to consolidate project teams.
RELATED: Amazon To Move Into The Post Beginning Fall 2023
Amazon also leases space in the Telus Garden office building at 510 W Georgia, The Exchange at 475 Howe Street, and another office building developed by QuadReal Property Group at 745 Thurlow Street.
Even with a sale, Oxford Properties will still maintain a stronghold in Vancouver's commercial real estate market, including its ongoing development of The Stack, a Class AAA office building that's set to be the tallest office building in the city and the first office building in Canada to achieve the Canada Green Building Council's Zero Carbon Design certification.
Earlier this month, Oxford Properties announced that they had acquired the Rimrock Resort Hotel in Banff, Alberta. Oxford's Head of Hotels and Alternatives Tyler MacDonald said the acquisition "speaks to our long-term conviction in Canada's luxury resort hotel market."
If Oxford's acquisitions reflect its convictions in the market, what does the sale of these two office buildings tell us about Oxford's belief in the Vancouver office market?
Office