The Stack and M5 Prototype are two projects that would be on many people's shortlist of unique upcoming buildings in Vancouver, for similar, but also different, reasons.
---
Let's get the credentials out of the way first.
The Stack is developed by Canadian-based multi-national Oxford Properties and designed by Vancouver-based James KM Cheng Architects. It's set to be the tallest office building in Vancouver, not to mention one with Class-AAA space, and it's on record as the first office building to achieve the Canada Green Building Council's (CaGBC) Zero Carbon Design certification.
The M5 Prototype is developed by another Canadian-based multi-national, Westbank, and designed by another Vancouver-based architect, Henriquez Partners Architects. It will also be targeting the CaGBC's Zero Carbon Design certification, has already won several awards -- including the Architecture MasterPrize for Green Architecture -- and is also set to become one of Vancouver's tallest mass timber buildings.
Both The Stack and M5 Prototype have received quite a bit of attention as a result of the prominent names involved and designs, but also their exemplary sustainability features. However, there's more than one way to hit Zero Carbon. In three interviews with STOREYS, Oxford Properties, James KM Cheng Architects, and Westbank detail how they went about hitting that goal. Henriquez Partners Architects declined to comment.
The Stack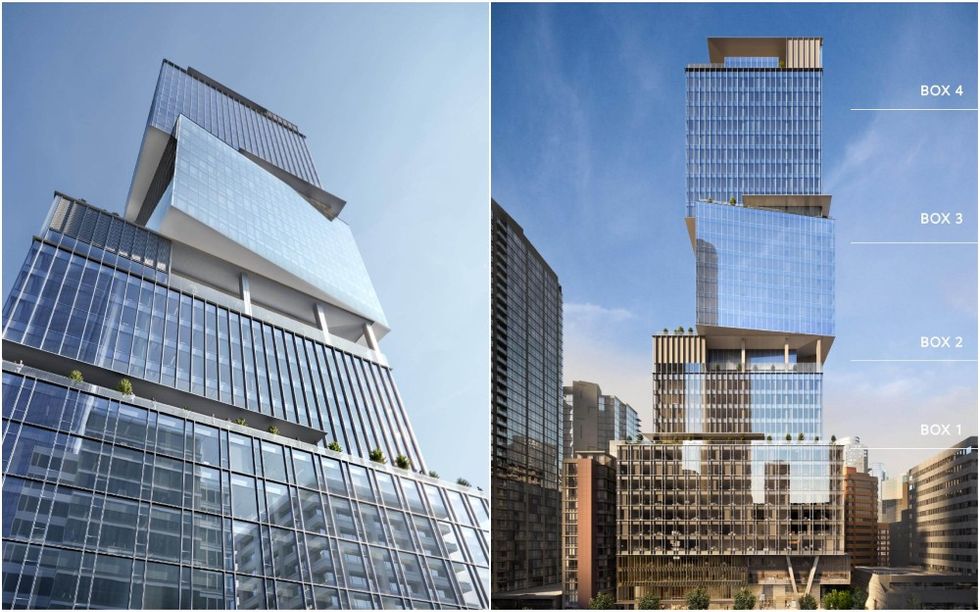 The Stack. (Oxford Properties / James KM Cheng Architects)
One of the first things you immediately notice about The Stack, which is set to be completed by the end of the year, is its non-linear structure. It looks like several square boxes stacked on top of one another, but the design choice wasn't made just to catch people's attention.
"The first thing we did was examine the location and create a virtual model of it and the surroundings," James Cheng, Founder of James KM Cheng Architects, told STOREYS. "We then looked at which parts of the building gets exposure in the sun, which parts of the building are always in the shade, and addressed those specific areas through orientation of the building and the boxes."
Sun exposure, or lack thereof, can affect how hot or cold a part of a building gets, which subsequently impacts how much energy the building needs to exhaust to cool, heat, or maintain a given temperature, which of course then impacts a building's emissions. It pays to be smart about things like how to take advantage of the sun in the winter, or how to keep the sun out in the summer.
Cheng says The Stack has essentially been built to meet Passive House standards, but without having to make the sacrifice of less windows and glass, a key feature of many of Cheng's buildings, such as the Living Shangri-La in Vancouver and the Shangri-La in Toronto. The Stack is also targeting LEED v4 Platinum Core and Shell certification.
RELATED: The Stack, Vancouver's Tallest Office Building, Now Delayed to Q4
The stacked-boxes design also provides some hidden benefits from an office user perspective.
"Office buildings are monotonous and often have no identity," Cheng says. "A typical [office] building has a core and then the office space wrapped around it, straight up, but we wanted to break up the height."
Each of the four boxes of The Stack are different sizes, which allows for different options for tenants when it comes to floorplates. Not all tenants want the same kind of open floorplan, so having various kinds of options within the same building allows The Stack to appeal to various kinds of tenants. With many traditional office buildings, only the top tenant gets their name at the top of the building, but the distinct boxes of The Stack allows people to identify where their office is just as easily.
Cheng also says he recognizes that Vancouver is a unique city, in the sense that we have a cultural history of people living downtown. "Vancouver was one of the first cities in North America to embrace downtown living," Cheng says, and that's part of what appealed to people such as those who came from Hong Kong, as Hong Kongers "are used to high-rises and owning condos."
We also have the mountains and water close to our downtown area, and people here love the outdoors, and Cheng says that's another benefit of the differing orientations of the boxes, because the stacked boxes and rotations create more "shoulders" for outdoor spaces.
Aside from the stacked-box design, the building is also equipped with numerous other features -- big and small -- that add up to meet the CaGBC's Zero Carbon Building Design Standard. Those features include photovoltaic (solar power) technology to generate electricity, special triple-glazing to reduce the need for energy from the grid, heat exchangers that can redistribute heat from one part of a building to another -- to heat water, as an example-- or auto-sensor lights in the parking garage that dim the area when there's no movement.
"There isn't one big feature," Cheng says. "It's 100 small things that add up to a sustainable building."
The M5 Prototype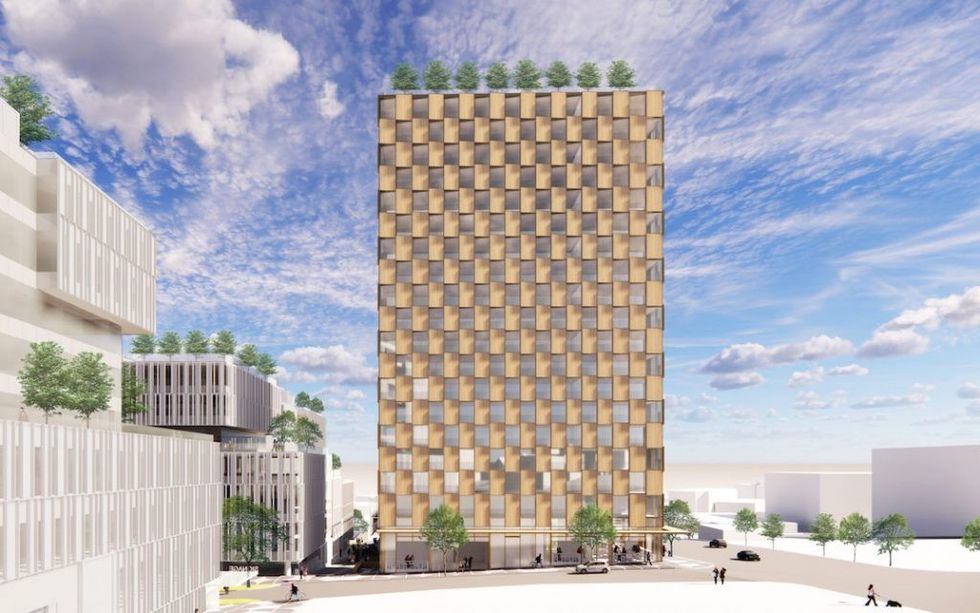 M5 Prototype. (Westbank / Henriquez Partners Architects)
The first thing you notice about the M5 Prototype, which was officially proposed in October, is its exterior, specifically the wooden façade, which is made of timber. Like the Stack, the design choice plays a big role in the building's sustainability.
Around 60% to 70% of a building's embodied carbon -- the carbon dioxide emissions associated with its construction, operation, and infrastructure throughout its lifecycle -- is determined by how it's built, and -- more specifically -- what it is built with.
A typical building with a conventional steel-and-concrete design emits about 300 to 500 kg of carbon dioxide per square metre. This kind of build tends to be cheaper, but requires more on-site construction. With an all-wood structure, the emissions are around 75 to 200 kg. Timber tends to cost more than steel, however, but components for the building can usually be prefabricated elsewhere and then installed at the site, speeding up the construction.
Then there is the hybrid structure, which was the path chosen for the M5 Prototype. Emissions for hybrid structure buildings generally range from 150 to 250 kg and provide the best of both worlds, and Westbank and Henriquez Partners Architects are taking this balanced approach, saying that they want to use the right material for the right purpose, which means mass timber for the floor slabs, steel for the posts, and concrete for the building core.
"This approach will achieve a 50% reduction of embodied carbon compared to a conventional design while offering savings to the project to afford a more meaningful contribution to carbon reductions by investing in Carbon Offsets for the residual emissions produced by the project," the building's design rationale states.
"Steel is a stronger, very durable material and low-carbon steel will be used to support the mass timber structure of the building," Westbank's team on the project tells STOREYS. "Mass timber has the lowest level of embodied carbon of any building, and timber is a more flexible material and highly versatile. It will be used for the structure and finishes, and it also aesthetically looks beautiful." The building's exterior panels will also be made of timber that's cross-laminated and glazed.
RELATED: Westbank Proposing 25-Floor M5 Rental Tower as Part of Larger Main Alley Project
Provincial building codes limit mass timber buildings in British Columbia to no more than 12 storeys, but the hybrid structure chosen for the M5 Prototype allows it to skirt past that, and -- at 25 storeys -- reach a height more than double the limit, a big reason why the building is named what it is.
"We call the project Prototype because it is a model for what we hope will become a common and repeated typology in Vancouver and BC," the Westbank team said. "The design with mass timber is intended to help support the mass timber industry in BC and create a model for highly sustainable housing which can be built quickly and efficiently using modular construction."
The M5 Prototype is also targeting the CaGBC's Zero Carbon Design Standard, but cannot be officially certified like The Stack until it's near completion.
Like The Stack, the M5 Prototype is not just relying on one big sustainability feature to help it reach Zero Carbon, but a plethora of things. Those include a high-performance building envelope designed to achieve a minimum Low Thermal Energy Demand Intensity (TEDI) of 30 kWh per square metre per year -- through a tight seal to prevent heat from leaking from the building, boosted insulation, precise ventilation, minimizing thermal bridges, and careful design and placement of the building's windows.
The "M5" half of the M5 Prototype's name is so because it's part of Westbank's larger campus of buildings on Main Street in Mount Pleasant, which Westbank is calling Main Alley. Every building of the campus -- which consists of old buildings, recently-built buildings, buildings currently under construction, and buildings that have yet to be built -- is aiming for the CaGBC's Zero Carbon certification, with the buildings each having their own sustainability features, but also campus-wide features that Westbank is hoping will make Main Alley the first Zero Carbon campus in Canada.
BC is fortunate to have access to clean hydroelectric power, via BC Hydro, which will serve the M5 Prototype and is a great starting point. The campus at large will also be connected to Creative Energy's District Cooling System, the first true district cooling system in Vancouver, which provides efficient, reliable, and affordable cooling, while also capturing "waste heat" that can then be reused for heating purposes.
"The campus shares energy infrastructure and a zero carbon central cooling plant in the parkade of M3 will serve the entire campus," the Westbank team tells STOREYS. "The chillers will have heat recovery capabilities and this 'free heat' will be injected back into the district energy system, effectively making M3 carbon negative. This system has the potential to expand and serve the broader neighborhood as well."
The campus itself also consists of a myriad of small sustainability features. The M5 is not the only building in the campus that uses mass timber. Multiple buildings use solar panels. Multiple buildings are equipped with water systems that recycle rainwater for irrigation and other benefits. Many of the campus' buildings also feature amenity spaces to encourage users to lead sustainable lifestyles, such as green rooftop terraces, end-of-trip facilities for bicycle users, and EV charging capabilities in all parking stalls.
The M5 Prototype serves as the monument to everything those involved in the Main Alley campus want to achieve. As Westbank has stated repeatedly about the M5, "the ultimate goal is to have the same net impact on the environment as though it was never built."
The Green Future
"We have gone from a recognition that humans have changed the environment to a recognition that our current way of life is unsustainable," the Westbank team says. "We are in a climate crisis and we will all need to be doing our part to help if we are going to have a hope of preserving our planet for future generations. At the same time, there are many innovative technologies and construction methodologies that present developers with opportunities to build more sustainably, including mass timber, modular construction, use of low-carbon materials such as green concrete, steel, leveraging district energy systems for low-carbon heating and cooling, solar panels, any many more."
Andrew O'Neil, Vice President of Development at Oxford Properties says that the real estate industry will need more support in order to decarbonize. "It's definitely top of mind right now," he says. "Customers are asking for higher levels of sustainability, across all types of products."
O'Neil recognizes that there are numerous challenges, however. Solutions don't always translate from project to project, he says, nor do they always translate from city to city. The climate zone in Vancouver is different than the climate zone of Toronto, for example -- Vancouver is milder, Toronto is dryer. The solutions also vary by product type, but it's existing stock that's going to be the biggest challenge, O'Neil says.
One such solution -- called adaptive reuse -- is to convert old, perhaps-neglected, buildings into new uses, rather than demolish them and construct a new building altogether. Demolition creates waste, and construction generates pollution, so conversions circumvent some of this, and buildings can be retrofitted with newer green technology in the process, as Oxford did with the heritage office building on 85 Richmond Street West in Toronto.
RELATED: Adapt or Die: Why Adaptive Reuse Hasn't Quite Taken Off in Canada
In terms of what more can be done, O'Neil says many municipalities have set sustainability targets, but he thinks it's the big cities like Vancouver and Toronto that should continue showing leadership on this front, since they attract a lot of capital investment.
The Westbank team views the responsibility of those in the industry in even simpler, black-and-white, terms: "Unless they are designing to achieve net zero or carbon negative, they are not doing enough."
Office