The Supreme Court of British Columbia has approved the sale of Southview Gardens, a sprawling 16-building rental complex in Vancouver that was placed under receivership earlier this year after its embattled developer, Coromandel Properties, found itself in serious financial difficulty.
The corporations and loan guarantors associated with Southview Gardens — Southview Gardens Limited Partnership, Southview Gardens BT Ltd., Southview Gardens Properties Ltd., Coromandel Properties (2016) Ltd., and Coromandel Holdings Ltd. — were placed under receivership on February 16, less than two weeks after the real estate developer filed a petition with the Supreme Court of British Columbia seeking creditor protection under the the Companies' Creditors Arrangement Act (CCAA).
---
Southview Gardens, located at 3240 East 58th Avenue in Vancouver, was legally owned by Southview Gardens BT Ltd. and beneficially owned by Southview Gardens Limited Partnership. The 6.58-acre single-parcel site currently consists of 140 rental homes across one apartment building and multiple townhouse complexes that were originally built in 1973, according to BC Assessment records. It is managed by BentallGreenOak.
Coromandel Properties acquired the Southview Gardens site for just over $72M in March 2017, according to court documents and Goodman Commercial, who brokered the deal. No formal application was submitted to the City of Vancouver, but Coromandel Properties was exploring the possibility of redeveloping the site into four six-storey buildings with a total of 1,150 units rental units.
The Receivership
The receivership application was submitted by Peakhill Capital, one of three secured creditors pertaining to Southview Gardens. According to court documents obtained by STOREYS, Peakhill Capital was owed $52,549,561 as of May 14, Cenyard Pacific Developments was owed $22,323,985.40 as of March 8, and Woodbourne Capital Management was owed $8,436,809.92.
Of the three creditors, the mortgage held by Peakhill Capital was first-ranking and was for the principal amount of $50M.
Coromandel Properties defaulted on payments on January 1, 2023, and Peakhill Capital issued a demand for payment soon after, on January 24. Peakhill says Coromandel "ignored" their demand, provided no response until Coromandel gave them a copy of their petition seeking creditor protection, and "has not demonstrated any willingness to work diligently, transparently, or in good faith to satisfy their obligations."
Peakhill was also one of several creditors opposed to the creditor protection, believing that it "negatively impacts [Peakhill's] security and places that security at risk," as Coromandel intended to use the rental income from Southview Gardens — about $224,000 per month — to fund their other debt obligations rather than pay the amount owed to Peakhill.
"As a result of the borrowers' defaults and the filing of the CCAA petition, I have no confidence in their ability to work diligently, transparently, and in good faith to satisfy their obligations," said Director of Peakhill Capital Remy Caruso in an affidavit in February.
Caruso added that she had no confidence in Coromandel's ability to pursue a "commercially reasonable and transparent sale of the land" and was concerned that rising interest rates and higher costs to build would negatively affect the value of the property.
Peakhill's application was granted on February 16, and Toronto-based KSV Restructuring was appointed as the receiver and manager.
The Sales Process
On March 16, Peakhill and KSV Restructuring submitted an application to the court seeking approval to begin the sales process for Southview Gardens.
KSV engaged Vancouver-based planning firm Pooni Group, who KSV says previously worked with Coromandel Properties and determined that "there is potential to increase creditor recovery if the property is sold as a redevelopment site rather than on its current use alone."
KSV solicited proposals from six commercial brokerages, requesting background information about each firm's experience, a proposed marketing plan for the Southview Gardens property, an estimate of the value of the property, and their commission.
According to court documents obtained by STOREYS, those six brokerages were CBRE, Colliers, Cushman & Wakefield, Goodman Commercial, Avison Young, and NAI Commercial. Property value assessments and suggested asking prices were redacted and sealed under a court order, but projected timelines, brokerage details, and brokerage commissions were not.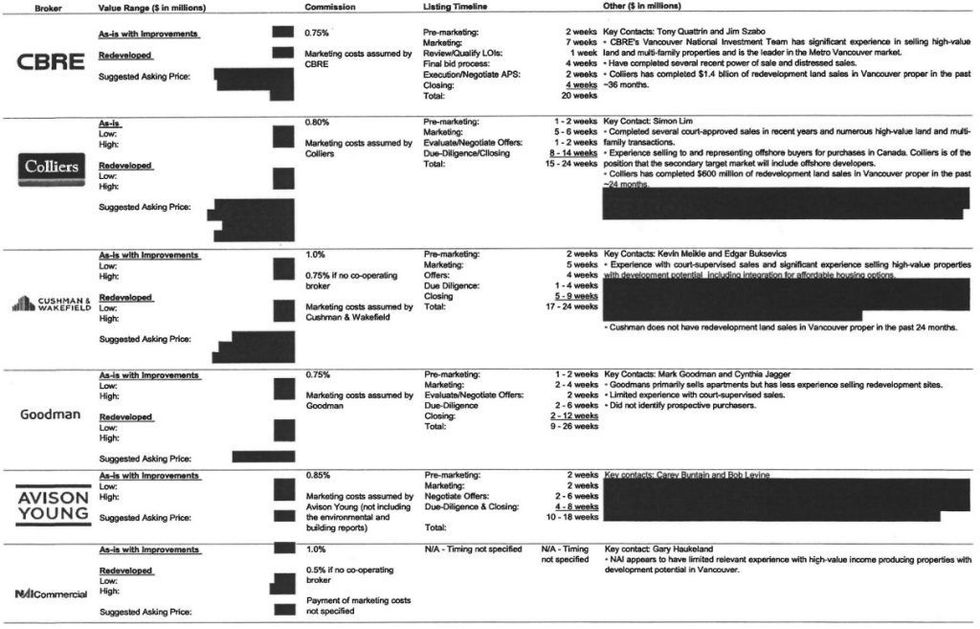 The six commercial real estate brokerages that were considered for the Southview Gardens sale.
KSV ultimately selected CBRE as the listing agent for Southview Gardens, citing its "recent experience with large-scale complex land transactions in the Vancouver and surrounding markets, its assessment of the potential development value of the property, its knowledge of potential buyers, and its commission rate."

CBRE's proposal detailed a firm 20-week timeline. Avison Young's proposal projected a shorter timeline of 10 to 18 weeks, but would have charged a commission of 0.85%, compared to CBRE's 0.75%.
Interestingly, Goodman Commercial was noted as having "less experience selling redevelopment sites," despite brokering the original deal for Southview Gardens to Coromandel Properties in 2017.
KSV received authorization to proceed with the sales process with CBRE on March 23.
Immediately after receiving the go-ahead, KSV and CBRE began gathering information about the Southview Gardens property, provided by both Coromandel Properties and BentallGreenOak, including "monthly financials and the annual operating budget, tenant leases, copies of service agreements, rent rolls, property tax information, and pictures."
Following that, they prepared a marketing brochure, a confidentiality agreement that prospective purchasers had to sign, as well as a draft agreement of purchase and sale (APS).
According to the listing agreement, the CBRE listing team consisted of Tony Quattrin, Jim Szabo, Carter Kerzner, Vincent Minichiello, Anthony Liang, and Kevin Mak.
CBRE began distributing the marketing brochure on March 30 "to over 1,600 prospective purchasers, including local, national, and international builders, developers, and investors," according to KSV. The listing was also advertised in local newspapers.
The bid deadline was set for May 18.
The Sale
According to KSV, a total of 22 parties signed the confidentiality agreement to access the information regarding Southview Gardens. However, in the end, only five parties submitted real offers.
On June 29, Peakhill and KSV filed an application with the Supreme Court seeking approval for an APS dated June 14 that CBRE secured. The buyer was Cenyard Southview Gardens Ltd., an entity related to Cenyard Pacific Developments, one of the three secured creditors Coromandel Properties owed.
Under the listing agreement, however, KSV and CBRE agreed that commission paid to CBRE would be lowered to 0.375% — halved — if the approved transaction was to Cenyard Pacific Developments or an entity related to them.
KSV notes that Cenyard had indicated early in the receivership stage that it was considering purchasing Southview Gardens. Because of potential conflicts of interest, KSV and CBRE then stopped sharing information about the sales process with Cenyard, as it had prior to then due to Cenyard being an owed creditor, and also did not provide information to Cenyard about other offers it received.
KSV says Cenyard ultimately submitted the highest offer for the property, and the offer included two variants of the transaction, centered around the amount owed to Cenyard and the Property Transfer Tax (PTT) to be paid to the Government of British Columbia, which is estimated to be approximately $3.5M. Because Cenyard is a secured creditor, its offer is an instance of what is referred to as "credit bidding."
"The Primary APS and the Alternative APS provide for the same cash consideration," explained Cassels Brock & Blackwell LLP, a business law firm that KSV consulted. "However, under the Primary APS, the purchaser has increased the amount of the Cenyard debt it is prepared to assume by the amount of the estimated PTT. In the Alternative APS, the Purchaser is assuming less of the Cenyard debt to account for the payment of the PTT."
In both instances, the amount owed to Peakhill — $52,549,561 as of May 14, and estimated to be around $54.3M by the time the deal closes — will be paid off in full.
On July 11, KSV presented Cenyard's offer to the Supreme Court and recommended it be approved, saying that CBRE thoroughly canvassed the market and that the Cenyard offer provides more recovery for owed creditors than other received offers, and that further time spent looking for offers is unlikely to result in a better price.
The initial purchase price was $72M, which was to be adjusted later to account for certain income and expense items, following approval of the APS.
On July 13, the Supreme Court of British Columbia approved the sale, with the final purchase price adjusted down to $68,482,000 and the sale expected to close on Tuesday, September 12.
The sale of Southview Gardens represents the first of Coromandel Properties' assets to be sold. Despite exiting creditor protection less than a month after it sought it out, the company has shown little sign that it can survive, failing to make payments that would prevent other properties it owns from being foreclosed. Foreclosure proceedings and sales are currently ongoing for land assemblies near Oakridge Station, Nanaimo Station, and more.
Commercial