---
Vancouver-based real estate developer Coromandel Properties, who found itself in debt and filed for creditor protection earlier this year, is no longer involved in any capacity on three projects that were to be developed in partnership with Peterson Group.
The BC Supreme Court Petition in which Coromandel Properties sought creditor protection through the Companies' Creditors Arrangement Act (CCAA) listed the developer as having 16 active real estate development projects.
Three of the 16 projects involved Peterson Group, who held a 50% or more interest in each, and Coromandel held a buy-back option for one of the projects, with a deadline of late-March, after it sold a portion of its interest to Peterson in order to fund other projects.
Upon inquiry, Coromandel Properties would not confirm or deny their current involvement in any of the projects, but provided the following statement in an email to STOREYS: "Our current intention is to maintain business operations, and strategy, confidential."
However, Peterson Group has confirmed to STOREYS that not only did Coromandel not exercise the option to repurchase interest in the project, it now has zero interest in the project, as well as two other projects that involved Peterson.
"As of today, Coromandel Properties Ltd. has no ownership interest and will not be a partner in the Frame, Cambie 43rd, and Manson Ash developer partnerships moving forward, nor will it be a development or construction manager as it relates to these projects," said Peterson Group.
READ: Red Tape and Rising Rates Push Coromandel Properties to Seek Creditor Protection
Here are details about Coromandel's previous involvement in the projects, and what we know about the projects going forward.
Frame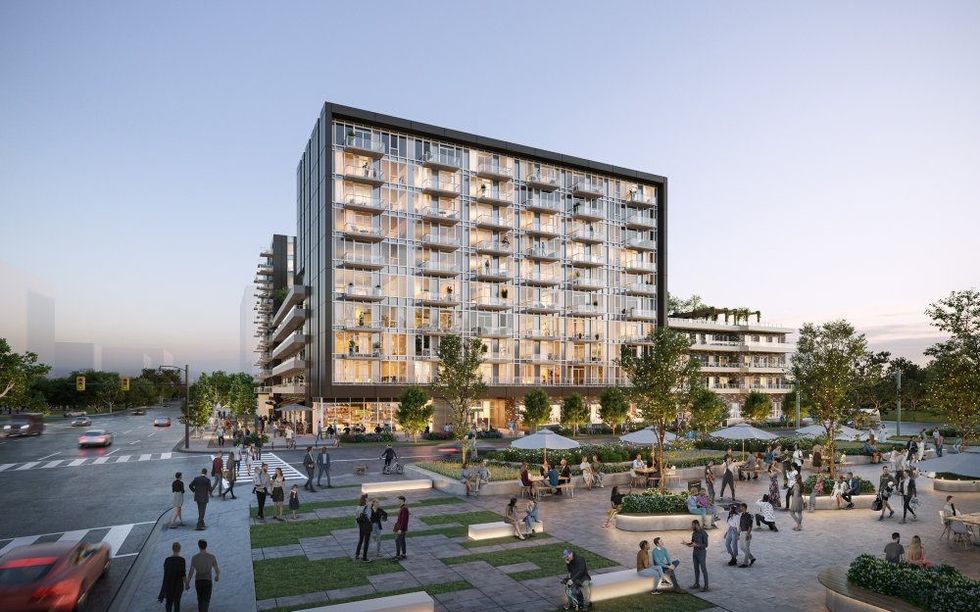 Frame, on 2725-2751 Kingsway in Vancouver. (Peterson Group)
According to the Petition in which it sought creditor protection, Coromandel Properties held a 35% interest in Frame, a condominium development located on 2725-2751 Kingsway in Vancouver, which was formerly an auto-repair shop, a furniture store, and a surface parking lot that is set to be turned into two 10-storey buildings with 217 market strata units atop a multi-storey podium.
Peterson held the remaining 65% interest in the project, but Coromandel later sold a portion of their 35% interest in Frame, in order to raise funding it needed on its other projects. The sale was for a 8.75% interest -- leaving Coromandel with a 26.25% interest -- that was sold to Peterson for $2,148,394.85 and closed on or around December 30, 2022, according to the Petition.
Coromandel retained a buy-back option, however, that would allow it to repurchase the shares from Peterson before March 28, 2023 for the same price, plus an additional $70,000.
Peterson declined to comment on whether it had secured a new partner to replace Coromandel, but the project's website lists no other developers, and the project has been confirmed to be proceeding, as Peterson Group hosted an event on Saturday, April 22 to celebrate the project reaching the construction phase, and construction is expected to commence in the coming weeks.
Cambie 43rd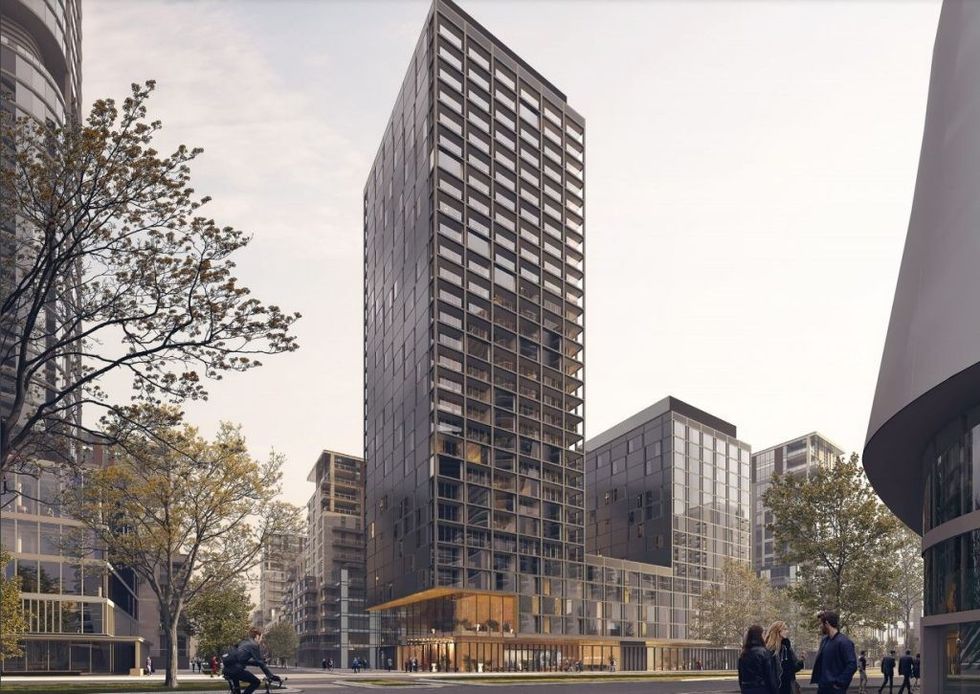 A rendering of the Cambie & 43rd project on 5910-5998 Cambie Street. (Peterson Group)
The second project is being referred to as Cambie & 43rd, as it's located on 5910-5998 Cambie Street, at the intersection with 43rd Avenue, across the street from the Oakridge Centre redevelopment that's currently under construction.
This project would turn a block of five houses built in the 1950s into a 29-storey residential tower with 167 strata condominiums, as well as a 15-storey hotel with 270 hotel rooms.
According to the Court, the project is legally owned by Cambie 43rd Nominee Ltd., and beneficially owned by C43 Development GP Inc. and C43 Development Limited Partnership, both of which were 50% owned by Peterson Group.
According to the City of Vancouver, the rezoning application was submitted in December 2019 and was approved in March 2021. The most-recent Google Maps images of the site, dated June 2022, show that construction has not begun.
Peterson declined to comment on whether it had secured a new partner or is proceeding with the project on its own, but the Petition said that presales for the project are expected to launch in Fall 2023, and Peterson lists the project on its website as "coming soon."
Manson Ash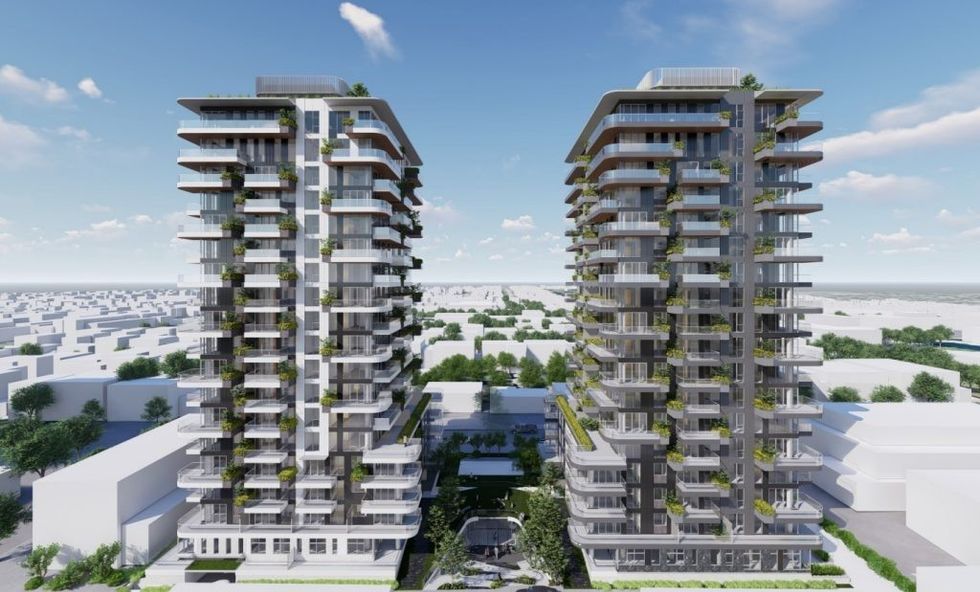 A rendering of the Manson Ash project on 5392-5472 Manson Street. (Peterson Group)
The third project is for another site near the Oakridge Centre redevelopment, on 5392-5472 Manson Street, that would see twin 18-storey buildings constructed, each with 124 market strata units, as previously outlined by STOREYS in December.
According to the Petition, the eight parcels that make up the site were beneficially owned by Manson Ash Limited Partnership, 60% of which was owned by Peterson Group.
As required by the City of Vancouver's Cambie Corridor Plan, 30% of the floor area for the project has to be delivered as social housing. However, Coromandel and Peterson were proposing a density transfer that would allow the social housing units required for each of the two buildings to be delivered together at a different site, nearby, on 5250-5270 Ash Street and West 37th Avenue.
According to the Petition, this site is legally owned by Coromandel Ash 37 Development BT Ltd, which is solely held by Manson Ash Development Limited Partnership and is -- as mentioned -- 60% owned by Peterson Group.
Again, Peterson declined to comment on whether it had secured a new partner for the project, but the project also appears to be proceeding, with Peterson listing the project on its website as Manson & 37th and "coming soon."
---
The details of how Coromandel divested from its interest in the three projects are unclear, but likely came as the result of the CCAA proceedings it had to go through after being granted creditor protection.
Companies typically seek creditor protection under the CCAA to stay the actions of their creditors and obtain breathing room, in order to make the necessary maneuvers to right the situation. That usually involves either restructuring its assets, or exploring a sale, or a mix of both.
In Coromandel's Petition, the Court noted that Coromandel's objective was to continue to develop and complete construction on some of its projects, while exploring restructuring possibilities.
READ: Inside the Port Capital CCAA Proceedings, BC's Other Developer Insolvency Case
Coromandel held one other buyback option, for a 50% interest in a project on West 41st Avenue, also in Oakridge, that did not involve Peterson Group. Coromandel sold its 50% interest in the project to Nicola Wealth on January 24, 2023 for $10,800,023, with an option to repurchase the interest for the sale price plus $475,000 before March 10, 2023.
Neither Coromandel Properties nor Nicola Wealth have responded to inquiries and it's unclear what Coromandel's involvement currently is in the project, but, as of publishing, the project is listed as a future development on Coromandel's website, and as of mid-March, Coromandel has exited creditor protection.
Real Estate News