---
Last week, commercial real estate brokerage Colliers listed a property consisting of six parcels on Alberta Street in Vancouver, near the Oakridge Centre redevelopment. Colliers noted that the property was being sold due to a court order, but did not mention the previous owner: Coromandel Properties.
The property consists of 5576, 5592, 5638, 5666, 5676, and 5686 Alberta Street, six single-detached homes that Coromandel Properties acquired between 2017 and 2022, for a project that had yet to commence by the time the developer filed for creditor protection earlier this year.
The project was referred to in their petition as "Alberta 40" -- the site is at the intersection of Alberta Street and W 40th Avenue -- and Coromandel Properties envisioned redeveloping the site into twin 18-storey rental buildings with a total of 349 units. The project never reached the application stage, however.
The property is now being sold as part of foreclosure proceedings, a possibility previously reported by STOREYS. A petition seeking to initiate foreclosure proceedings was filed in early March by Hossein Sobjani and 1211192 BC Ltd., second-ranking mortgagees on three of the six parcels (5576, 5592, and 5638 Alberta Street).
Coromandel Properties defaulted on their $5M loan in February -- with an amount owed including interest at $5,236,417 as of April 13. The creditors were granted an order nisi officially recognizing the default and debt, with the Supreme Court of British Columbia also setting a deadline by which Coromandel Properties had to pay off the debt in order to "redeem" the lands.
A second foreclosure proceeding was initiated by Xinlan Niu and Fang Ning, also in March, for the other three parcels (5666, 5676, and 5686 Alberta Street). Similarly, an order nisi was granted in April, with the amount required to redeem the properties at $5,284,986.
The redemption date for both foreclosure proceedings were set for June 30, with the Colliers listing now indicating that Coromandel Properties has failed to pay the amounts.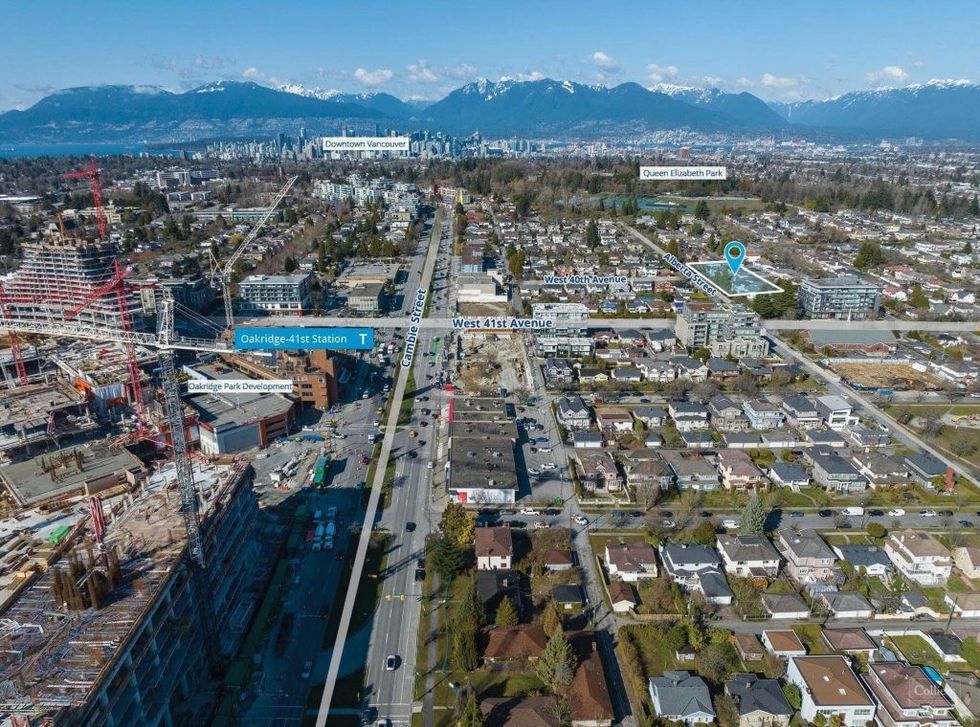 Site context for the Alberta Street property. (Colliers)
According to the listing -- by Hart Buck, Simon Lim, Jennifer Darling, James Lang, and Jessica Hathaway -- the site has been designated for residential towers between 15 and 18 storeys, meaning the rezoning process should be relatively straight-forward.
"The property offers excellent access to rapid transit, just one block from Oakridge-41st Avenue Canada Line Station, as well as Cambie Street/West 41st Avenue bus stops, providing easy access to all parts of Metro Vancouver," the listing notes. "Conveniently located a short walk from the developing Oakridge Centre, nearby parks, schools and amenities, this service rich neighbourhood continues to grow with the area's redevelopment."
READ: Court-Ordered Sales Process Of Stateview Homes Development Projects Begins
Other nearby developments currently in the works include an 18-storey rental building on 427-449 West 39th Avenue by Gracorp and Minto Group, a twin 18-storey building project on 5392 to 5472 Manson Street by Peterson Group that is now proceeding without Coromandel Properties, and another twin 18-storey building project proposed recently by Rize Alliance on 5350-5430 Heather Street.
Prospective purchases will need to sign a confidentiality agreement, after which they will be granted access to more detailed information about the property and decide whether or not to submit an offer. Due to the court order, the sale of the property will require final approval from the Supreme Court.
Vancouver