If you've ever considered moving to the United States, you know how challenging and strenuous the procedure is.
---
However, it could soon be far easier and cheaper to immigrate to the US, according to a 46-page government document obtained by the New York Times.
Titled "D.H.S. Plan to Restore Trust in Our Legal Immigration System," the draft blueprint maps out the Biden administration's plans to significantly expand the legal immigration system, including reversing efforts to dismantle it made by former President Donald Trump, who reduced the flow of foreign workers, families, and refugees, while erecting procedural barriers making the immigration process grossly more challenging.
President Joe Biden's efforts will not only undo his predecessor's immigration policies, but he will also address years' worth of backlogs and delays.
READ: After Nearly 20 Years, Train Service Set to Return to Ontario's Cottage Country
According to The Times, the average time it takes to approve employer-sponsored green cards has doubled, while the backlog for citizenship applications is up 80% since 2014, to more than 900,000 cases. Approval for the U-visa program, which grants legal status for immigrants willing to help the police, has also gone from five months to roughly five years.
The government document offers detailed policies that would help more people move to the US, including refugees, asylum-seekers, trafficking victims, skilled workers, farmworkers, families of Americans living abroad, and Native Americans born in Canada, The Times reported.
The document proposes a more simplified way for immigrants to apply online, The Times reported. This includes fast-tracking immigration applicants by expanding virtual interviews and electronic filing and limiting the requests for evidence from applicants.
Immigrants who apply online could also pay less in fees or even secure a waiver to lower barriers to immigration. And regulations would be overhauled to "encourage full participation by immigrants in our civic life," The Times said.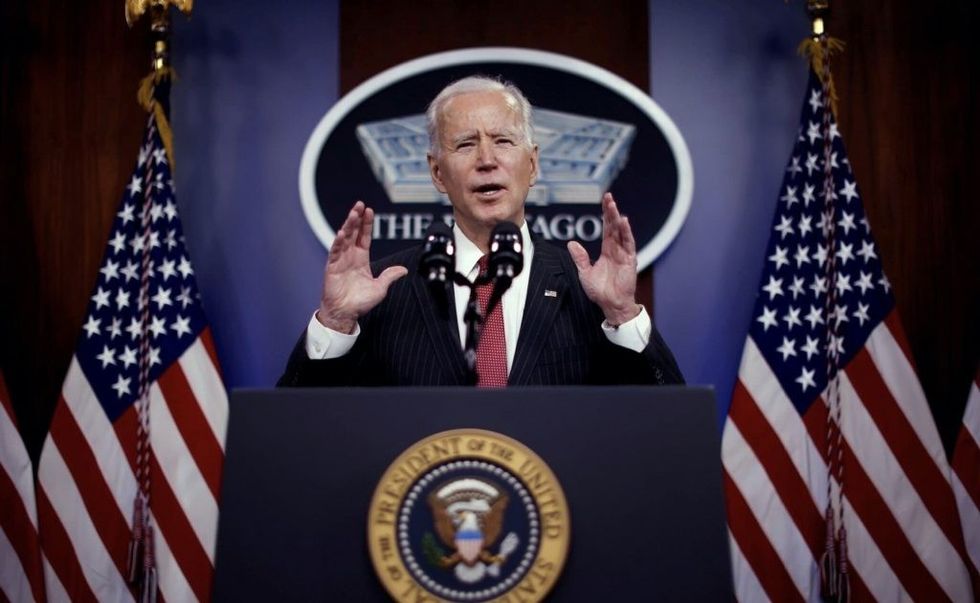 President Joe Biden
The Times said the report also looks to restore opportunities for foreign employees through the existing H-1B visa program, which is intended for workers with special skills. According to the document, the Biden administration also wants to create new pathways for foreign entrepreneurs who wish to "start-up businesses and create jobs for US workers."
Increased vetting for immigrants under the Trump administration and travel restrictions amid the pandemic has resulted in fewer foreigners coming to the US. This has lead to US Citizenship and Immigration Services, financed by immigrants' fees, receiving less money. According to The Times, the document said that restoring the agency would be central to Biden's efforts.
What Does This Mean for Canadians?
Given how expensive Canadian real estate has become -- Vancouver, Toronto, and Hamilton were recently named the three most unaffordable cities in North America -- is it possible that a great number of Canadians would consider moving south in their efforts to find more affordable housing? Particularly if many of the immigration headaches were moved out of the way?
In Canada, the average home price in the country jumped nearly 13% in 2020, and the CMHC recently forecast that average price could rise another 14% just in 2021. By the end of 2022, the national mortgage agency expects the average price of a home to reach $679,341 -- that's any home, any where. In Toronto, the average price for a detached single-family home hit $1.7M this spring. There aren't many people who can afford the downpayment on one of those houses without significant help.
Oxford Economics' new North American Housing Affordability Indices allows for a comparison between Canada and the US and predicts how home affordability dynamics will unfold. To the surprise of no one in Canada, the research revealed that it will remain more affordable to purchase a house in the United States than in Canada.
In Ontario alone, some 70K people moved out of large urban centres during the pandemic in an effort to find more space and a cheaper place to call home. Recent GTA movement to Barrie has also caused homes that were once in the $600K range to peak at $1M. It's not just major cities -- though it very much is also major cities -- that are becoming too unrealistic for first-time homebuyers.
Speaking of first-time homebuyers, just this week adjustments to the stress test will make it even more difficult for homebuyers to obtain uninsured mortgages.
Given that work-from-home may well be on its way from transitioning from trend to permanent lifestyle reality, many workers will soon be reassured of what they've already discovered throughout the pandemic -- a thriving internet connection is all that's necessary for the future of work.
Not to mention, crowded stadiums, restaurant and bar re-openings, and the return of some sense of normalcy just a few miles across the border certainly look pretty tempting to those of us cooped up in Ontario for the umpteenth month in a row.
Tempting enough to move stateside? We'll have to wait and see, but don't be surprised if at the very least some snowbirds simply never fly home again.
Lead photo: Burlington, Vermont
Real Estate News