---
It's a tale we're all quite familiar with by now. Throughout the pandemic, residents from urban areas with the ability to work remotely uprooted their lives and migrated out of the city to the suburbs.
According to the Teranet Q2-2021 Market Insight Report, 2020's total migration volume in Ontario hit 68,794. Migration in the report refers to the existing homeowners who purchased a new property registered by a different Land Registry Office (LRO) than their original property.
Data scientists analyzed the activity of existing homeowners who purchased a new property in the last ten years and saw a clear upward trend in migration volumes, confirming the overall housing market behaviour.

Teranet Q2-2021
READ: GTA Residents Relocating North Are Driving Barrie's Red-Hot Housing Market
Unsurprisingly, this trend was the strongest in the latter half of 2020, with a 51.8% year-over-year change in October when the housing market roared back to life. In fact, October's migration volume saw 8,499 residents relocate, surpassing the previous peak month of June 2017, when 8,180 homeowners migrated.
While 2017 was the former peak year for migrations, the robust performance in Q3 and Q4-2020 represented a year-over-year increase of 12.9% and 45.2%, respectively.
As for what properties existing Ontario homeowners are buying, most chose non-condo properties, suggesting that homeowners were looking for properties that offered more space as they worked from home.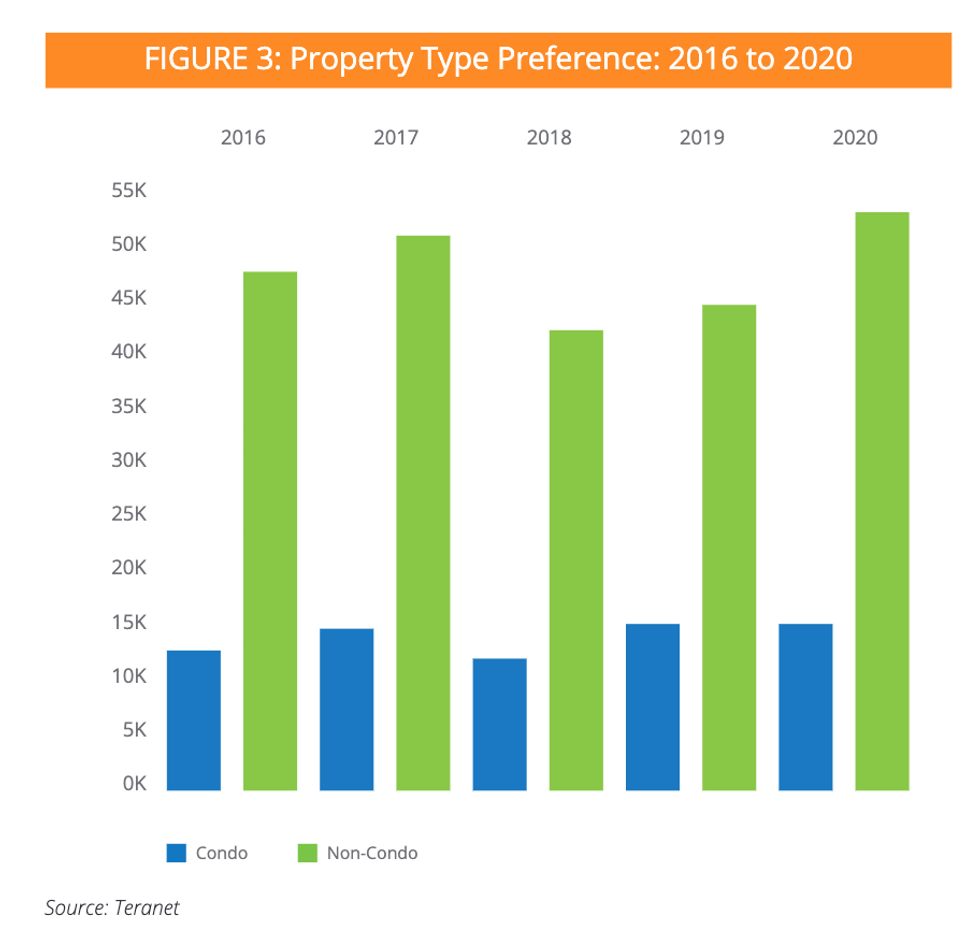 Teranet Q2-2021
In 2020 there was a less than 1% year-over-year change rate in the condo property segment, while non-condo properties experienced growth of 19.5% from 2019 to 2020, which means that more homeowners (who currently own either condo or non-condo properties) purchased a non-condo property in 2020 compared to 2019.
When looking at the migration patterns of Toronto homeowners, the report revealed that these residents prefer to stay in the city, as more than 50% of homeowners who purchase a new property stay within Toronto.
However, those who leave Toronto typically migrate to the same five LRO's: York, Durham, Peel, Simcoe, and Halton. Other areas experiencing an increase in activity include Waterloo, Niagara South, and Middlesex.
As for the LRO's with lower migration, the report noted that some had experienced more interest among existing homeowners in 2020 compared to previous years. For the most part, Middlesex, Muskoka, Northumberland, Essex, and Hastings experienced steady year-over-year growth from 2012 to 2018, with a dip in 2019 followed by recovery in 2020.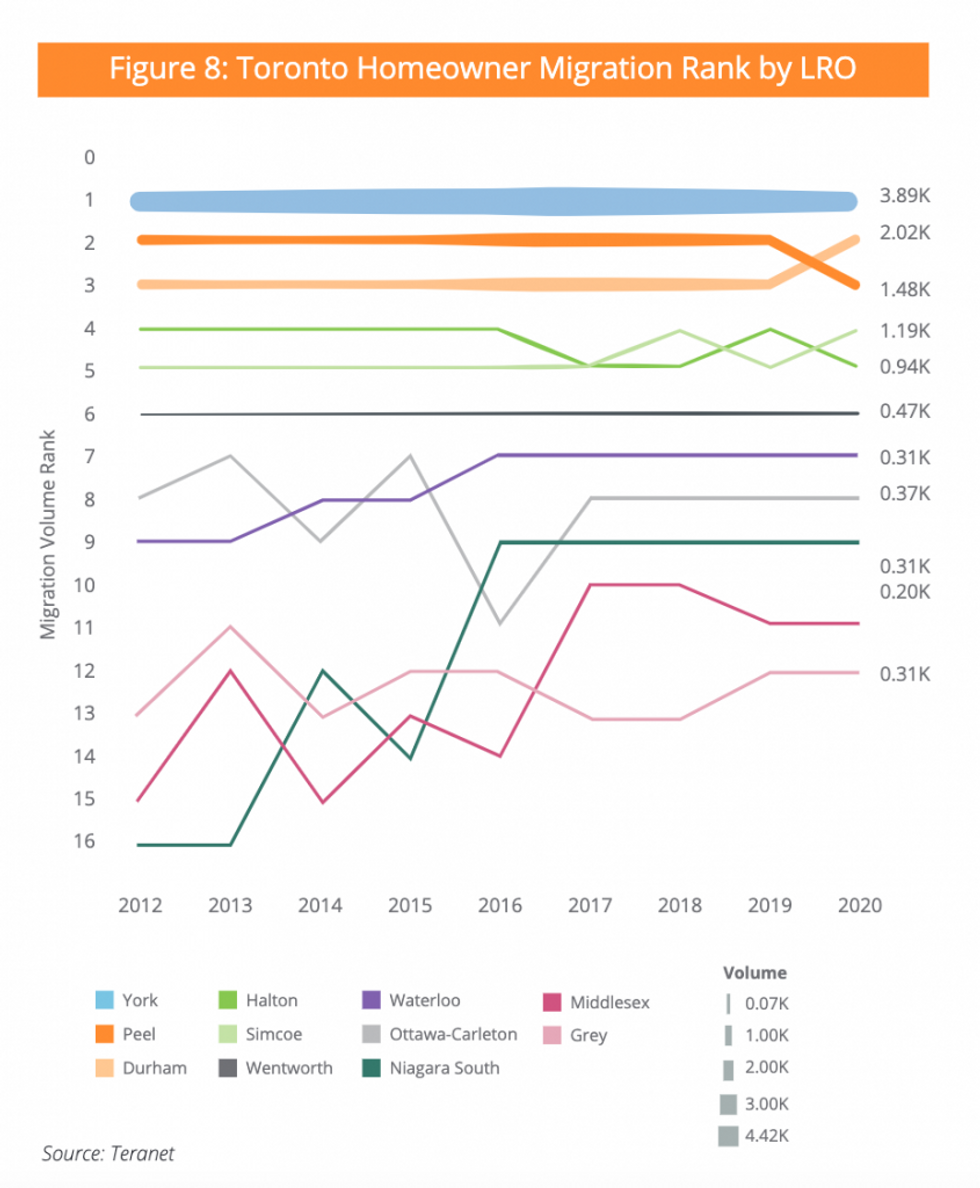 Teranet Q2-2021
The report also highlighted the migration trends of 2021, which continued through the first quarter of the year compared to previous years. According to Teranet, 2021 has so far seen the "most drastic" volume of homeowners migrating in and out of the GTA since 2016. During Q1-2021, 4,720 homeowners migrated out of the GTA -- a 60.7% year-over-year increase.
However, what's interesting to note is when looking at property type changes in 2021, there is a 64.9% year-over-year growth rate among non-condo homeowners purchasing a condo property this year, which indicates a resurgence in the condo market.
According to CMHC, strong house price growth in Toronto is expected in 2021, with average prices across all home types expected to reach a low of $962,500 or a high of $1,087,600. However, more modest, single-digit, price growth is expected in 2022 and 2023.
As the preference for ground-level homes with more space continues and home prices show little signs of cooling (anytime soon), it will be interesting to see how migration trends shift in the months and years to come.
Homes