---
For nearly two decades, taking the train throughout northeastern Ontario hasn't been an option.
This meant that the province's pristine cottage country was only accessible by car, bus, or – for some – plane.
By mid-decade, however, escaping the Toronto concrete will be simplified for the carless set, thanks to plans for a new 13-stop passenger rail, which will journey between Timmins or Cochrane and Toronto.
The province has partnered with Ontario Northland and Metrolinx to get the project on track (no pun intended), which will include stops at Toronto's Union Station, Langstaff, Gormley, Washago, Gravenhurst, Bracebridge, Huntsville, North Bay, Temagami, Timiskaming Shores, Englehart, Matheson, and Timmins (South Porcupine), or Cochrane.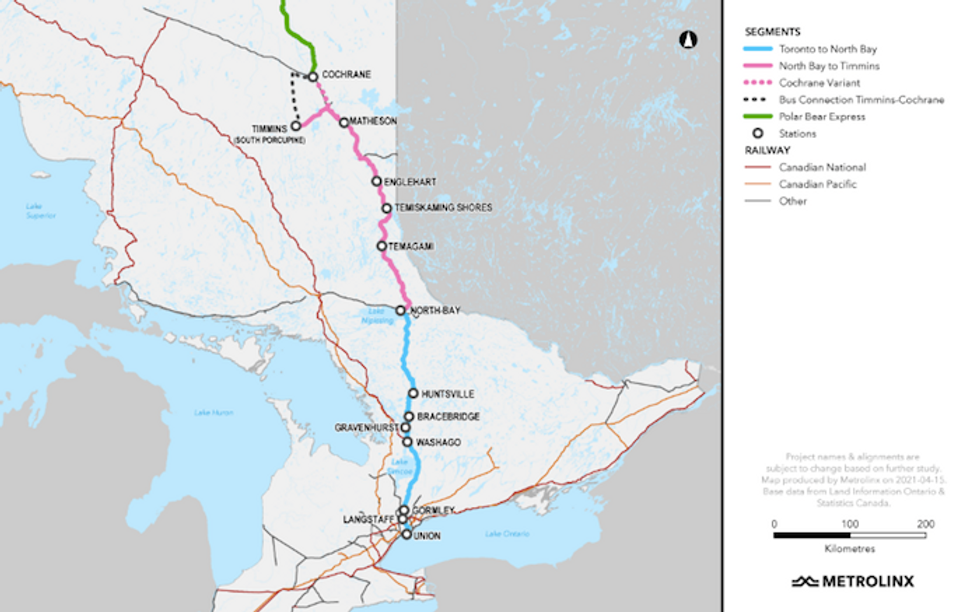 Image: Government of Ontario
In addition to helping the summer vacation cause for Toronto residents, the project marks an important one in providing efficient and accessible transit to residents of Northern Ontario. Train service offers residents of these communities easy access to Toronto for things like medical appointments and air travel.
READ: Median Price Recorded for Muskoka Waterfront Property Up 70.5% Y-O-Y
"We have listened to people, businesses, and Indigenous communities across Northern Ontario who have long awaited the return of train service on the northeast corridor," Said Transportation Minister Caroline Mulroney in a statement on Tuesday. "This important milestone in the planning process brings us another step closer to building a better transportation network in the North."
The service will be offered based on seasonal travel trends and demands and range from four to seven days a week.
The news of northeastern Ontario's trains service revitalization comes just weeks after transportation giant Greyhound Canada announced it would cut all of its bus routes.
Ontario Northland – which previously provided passenger rail service between Cochrane, North Bay, and Toronto until 2012 – currently operates four buses each day between Toronto and North Bay and/or two buses daily from North Bay to Timmins and Cochrane.
Ontario has committed $5M of its 2021 budget to the planning and design of the project.
The trains won't be on the track any time in the near future, however. The target date for the completion of the next stage of planning is 2022. If all goes according to plan, the service could begin mid-2020s.
Cottage Country