How high can Toronto rents possibly go?
---
That's the, well, money question as of late, as the city's rents continue to climb and the cost of living remains sky-high. The first quarter of the year has been characterized by raging rents throughout the Greater Toronto Area (GTA) -- not that anyone in the market for a rental needs the reminder. 
According to Rentals.ca, average asking rents in Canada have grown by $196 over the past year, with Toronto being the second hardest hit city, after Calgary. For all rental units, Toronto saw an annual rent growth of 22.4%, reaching an average of $2,818, according to the Rentals.ca data.
READ: Some Ontario Renters are Facing Unregulated Rent Increases. Here's Why it's Legal
At the same time, recent research from Toronto-based consulting firm Urbanation reveals that the average rent specifically for purpose-built rentals is now $3,002 -- a record high. According to Urbanation, Q1-2023's average for purpose-built rentals is up 13.8%, based on units that turned over in Q1-2023 and relative to the same quarter in 2022.
Meanwhile, the GTA's condominium market saw a year-over-year average rent growth of 13.6%, with rents hitting $2,741 in the first quarter, according to Urbanation. Rents for studios and one-bedroom condo units without dens increased 17.8% and 17.1%, respectively. The average rates for studios and one-bedrooms were $2,124 and $2,484, while two-bedrooms were priced at an average of $3,125. The only category of condo rentals to average less than $2,000 were micro-units under 350 sq. ft, at $1,993.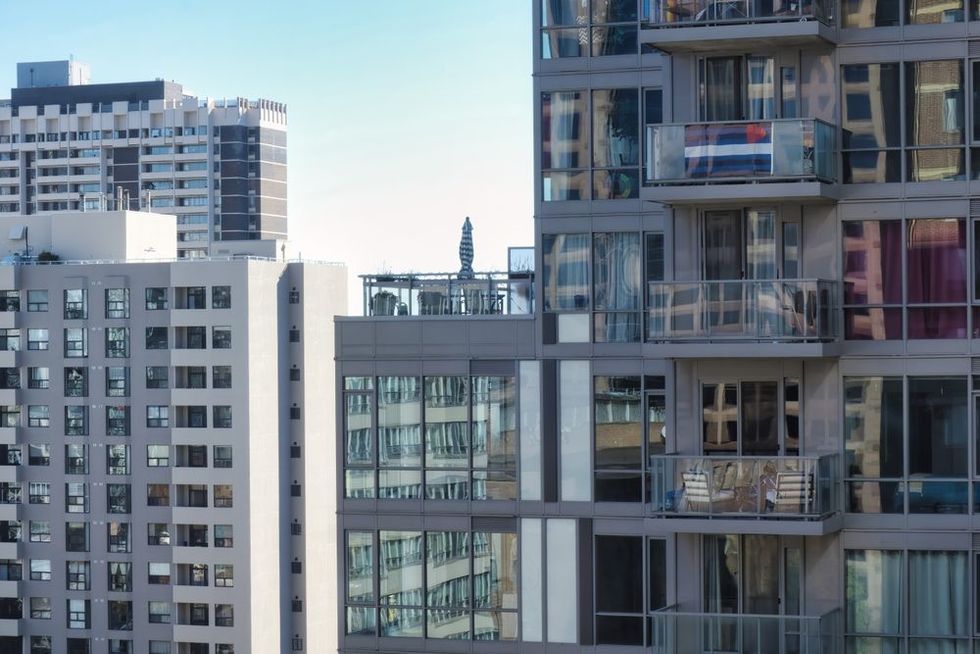 Residential buildings in Toronto/Shutterstock
"The main ramifications are: landlord glee and profit and tenant misery," says Geordie Dent, executive director of the Federation of Metro Tenants' Associations. "Many landlords are currently enjoying a golden age of record-high rents and high profits, all being driven by landlord-favoured government policies to keep supply low, rents high, and home values appreciating. Most landlords have it good in terms of high rents, home value appreciation, and profit margins. I think the run up in rents tells the whole story in terms of landlord profits."
However, Mark Kenney, President and CEO of Canadian Apartment Properties Real Estate Investment Trust (CAPREIT) highlights that, like all market conditions, rents go up and down. 
"We only have to look at the recent past to see this," says Kenney. "During the start of the pandemic in 2020 and once communities reopened in 2022, we saw rents flatten for a period of time. Meanwhile, we saw rents rise at the height of the pandemic in 2021, and now rise again in 2023 with inflationary pressures, the rise in operational costs, and increased demand. Residential REITs are capital-intensive businesses, and work for steady, long-term returns on investment. As an investment, our industry returns are modest, and we are currently yielding approximately 3%. As a publicly traded company, the profits CAPREIT sees largely secure the retirement plans of hundreds of thousands of Canadians -- either directly or indirectly through their pension plans."
The bottom line, says Kenney, is that we are in a housing crisis -- something that inevitably impact rents until more purpose-built rentals come to market.
While renters indeed saw some reprieve from steep condo rental prices during the thick of the pandemic -- when rents took a nosedive and landlords were even offering move-in incentives to entice tenants -- average condo rents have climbed 15% since Q1-2020, according to Urbanation. This makes up for any decline that occurred during the first year of the pandemic. Toronto's lucky tenants are those who took advantage of lower rents at the time and are currently living in a buildings that are protected with rent control. 
An Exception to the Rule
Currently, GTA landlords are allowed to raise rent prices by 2.5% per year. There is an exception, however -- and it's an important one to note if you're currently in the market for a rental. Newer buildings that were first occupied November 2018 onward are not subject to rent control. Judging from recent conversations, some GTA landlords are taking full advantage of this ability, in a few cases jacking rents as much as 30% (yikes). 
Toronto resident Kelly (who chose to only release her first name) was recently hit with a 28.5% rent increase. Her unit was first occupied in 2019, so it wasn't protected by rent control laws. "I moved in December 2020, and my rent was $1500," she says. "My landlord increased my rent in 2021 by 2.5%, which made it $1518. Now, he's telling me that starting August 2023 the rent is increasing to $2000 a month."
Kelly is certainly not alone when it comes to shocking rent increases.
"I got a notice two months before my lease was up that my rent would be raised from $2530 to $2833 starting January 2023," says midtown Toronto resident Andrea Eisen. "I asked why the rent had gone up such a high percentage when there was supposed to be a cap on the rent. They told me there is no cap on buildings built after 2018. So, they can raise it whatever they want. I said, that's nice for them, but unfortunately my salary wasn't going up $250 a month in January. They ignored it and said 'let us know what you want to do.'"
READ: Canada's Rental Housing Shortage Could Exceed 120K Units By 2026
Rent hikes add insult to injury when the cost of living keeps skyrocketing thanks to persistently high rates of inflation. "I think many would be surprised to learn that over the last 10 years, rents and average renter household incomes in Toronto have increased by the same amount -- 50%," says Shaun Hildebrand, president of Urbanation. "On the surface, this seems to suggest that affordability hasn't changed for most renters, but that isn't the reality."
Hildebrand says rents and renter incomes have been driven higher by a quickly growing cohort of higher-income renters. "In the 10 years to 2021, the number of renter households in Toronto earning incomes of $100K or more nearly doubled in size, accounting for 89% of the total growth renter households," he says. The reasons for this are numerous.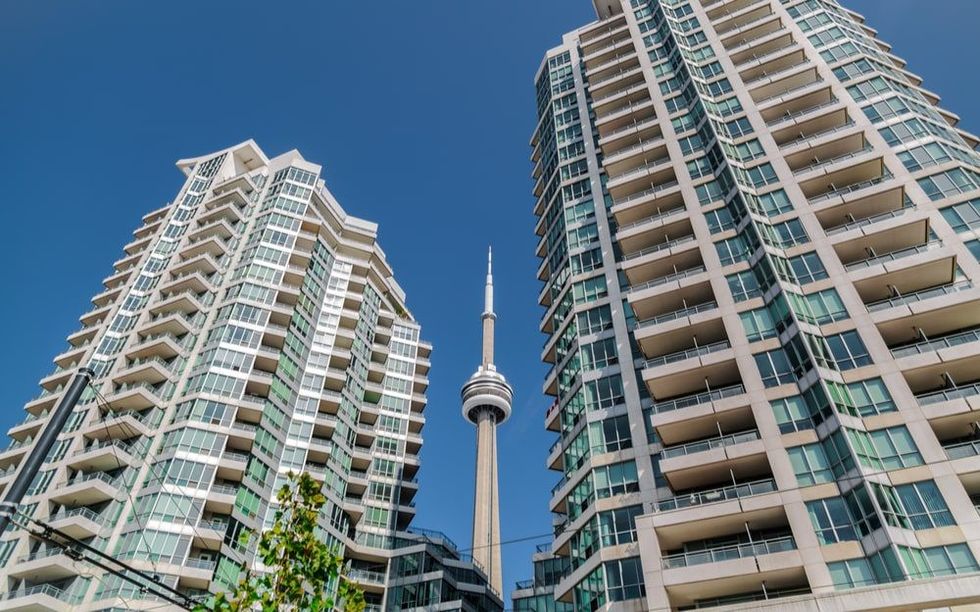 For one, Hildebrand points to the fact that an influx of new immigrants are arriving with more money and are increasingly higher skilled and more educated, with higher income earning potential. Furthermore, he highlights how households with good incomes that used to be able to afford to buy homes have become shut out of the homeownership market due to high prices, stricter mortgage qualification rules, and higher interest rates. Finally, renters are increasingly pooling incomes together, according to Hildebrand. "Couples and roommates are the fastest growing renter cohorts," he says. 
Demand vs Supply
According to Hildebrand, a 95% share of renters with incomes of $100K or more spend less than 30% of their incomes on rents. "As a result, middle- and lower-income renters have become crowded out," he says. "In theory, as higher-income renters gravitate towards relatively more expensive rentals, they put less pressure on the supply of relatively more affordable rentals that can help satisfy demand for below-average market units through a filtering effect. But this isn't really happening. We've been building new rental units at a pace of under 5,000 units per year in the GTA, whereas there is demand for over 30,000 rentals per year. The issue is that there hasn't been anywhere near the amount of supply built to satisfy the level of demand, placing strong downward pressure on vacancies and upward pressure on rents."
The bottom line is that rentals are not being built fast enough, despite the countless cranes towering above city streets. "The new rentals being built are $3K per month on average (which is affordable for $100K-plus income earners), but there isn't enough of them," says Hildebrand. "Relying on private developers to build below-market rental housing isn't realistic -- they can't even make the numbers work to build market-rate units. So, clearly there is a severe problem, which is contributing to all sorts of negative social consequences that filter down to an increase in homelessness."
Like Hildebrand, Dent says the rental crisis is correlated to the city's surge in homelessness. "Higher rents mean more tents; five years ago, you didn't see the number of tents or encampments which you see today in almost every urban park in Ontario," says Dent. "This is US-style housing policy -- 'let them die in the streets' -- which is being implemented in Ontario at the moment. The homeless population today has never in recent years been higher and it will continue to grow as more seniors and fixed-income populations are forced into the streets by ever increasing rents."
Countless renters, even those in well-paying professions, are currently having to readjust and re-evaluate -- or re-locate. "I ended up staying and paying more rent because when you take into account the expense of a move and paying first and last month's rent at a new place, you're looking at over $5000," says Eisen. "So, the alternative would have been pricier. It's impacted me in terms of thinking of the future; next year, is there going to be another $250+ [monthly] raise and how much more will I be able to sustain at my current residence? It's also forced me to cut back on a few things in order to find that extra $250 a month."
When it comes to condos, it may make more financial sense to buy than to dish out so many hard-earned dollars on rent -- that is, if you have that whole pesky down payment part covered. "If you have a down payment for a condo, buy it," says Paul Danison, content director at Rentals.ca. The reality is, however, many don't. 
Rent prices aren't the only issue facing GTA renters either. "Tenants face horrible and deteriorating living conditions from landlords who refuse to do repairs or basically anything to upkeep a property; major harassment from landlords when enforcing basic rights; and the most important issue: rampant eviction fraud," says Dent.
Making things worse, a tenant-landlord dispute could literally take years to resolve, thanks to a major backlog at the Tenant and Landlord Board. "Don't get me started on the Landlord Tenant Boards," says Danison. "Even doubling the adjudicators won't solve that problem. It's a nightmare for both tenants and landlords."
While renters may indeed have the short end of the stick in our current climate, landlords aren't immune to their own challenges, says Kenney.
"Meeting the steady increase of demand is challenging, as well as keeping up with repairs as costs increase in a high interest and inflationary environment," he explains. "A labour shortage has both impacted the vendors we rely on and those who staff our communities across the country. Lack of rental housing supply and rising housing costs have people looking for villains, and public housing providers have borne the brunt of it. But we're working with everyone interested in collaborating on solutions to build more housing and preserve affordability for Canadians."
While he's quick not to make any predictions about the long-term future of the rental market ("those who do so are wildly speculating and/or have a political stance they are pushing," he says), Danison says GTA rents will likely rise in the coming months due to the lack of supply. 
"There's not one fix to the housing crisis, but there are a lot of creative things that could be done, if politicians and advocates could sit across from each other and talk," says Danison. "Zoning for the city fits what was happening many years ago, but it does not fit today's needs for the city. Start with the Yellow Belt; duplexes and fourplexes would not hurt the character of these neighbourhoods, but NIMBYs will have nothing of it. We need to fill in the middle with more laneway and garden suites. Even stricter laws for short-term rentals would help. Turn some vacant office space into lofts; I realize with some buildings you could not do that, but identify the ones where you can."
RELATED: Just How Many Office Buildings in Canada Have Residential Conversion Potential?
Danison says it can take eight years before a building is ready to lease and that the government should do more to fast track these developments. "Developers need a little incentive to put shovels in the ground, when looking at all the fees, delays, and red tape," he says. "Provincial and Federal politicians make promises of how many units will be built in the next years, but the numbers are low versus the need, and municipalities and their zoning and bureaucracies get in the way. I think when government officials at all levels really believe we have a housing crisis, maybe some steps will be taken. A housing task force made up of municipal, provincial, and federal politicians that's given some teeth would be a good start."
While solutions may be complex, one thing remains clear: something has to change.
"Unfortunately, without meaningful change in the status quo, the rental situation will get worse," agrees Hildebrand. "We are projecting that the rental supply deficit in the GTA will more than double over the next 10 years."
If that happens, it's safe to say that renters will only wish their rents were the rates they are today.  
Renting