Average asking rents across Canada hit another record high in August, a new national report finds.
Rentals.ca and Urbanation reported on Tuesday that the country's average asking rent grew 9.6% year over year (a four-month high) and 8% month over month to a new high of $2,117.
---
Painting an even clearer picture of the price increases facing Canadian renters, the report notes that between May and August, asking rents in Canada rose by an average of $103 per month.
"Despite rental apartment completions in Canada over the past 12 months reaching their highest level since the 1970s, rent growth has remained exceptionally strong," the report reads. "This can be attributed to the country's record-high population growth and sharp deterioration in homeownership affordability."
As has become the norm, Toronto and Vancouver remained Canada's most expensive major rental markets in August. That said, both markets posted "below average" annual rent increases in the month, the report says.
Rents in Toronto and Vancouver's markets climbed 8.7% (to $2,898) and 7.3% (to $3,316) year over year, respectively. (In the month prior, the annual rates of rent appreciation for those two markets were 11.5% and 12.2%.) Rather notably, average rents in Vancouver slipped 0.7% month over month as well.
Nonetheless, rents for roommate accommodations continued to be painfully high in Toronto and Vancouver last month, clocking in at $1,302 and $1,773, respectively. Much more affordable roommate accommodations can be found in Edmonton ($716), Montreal ($887), and Calgary ($899).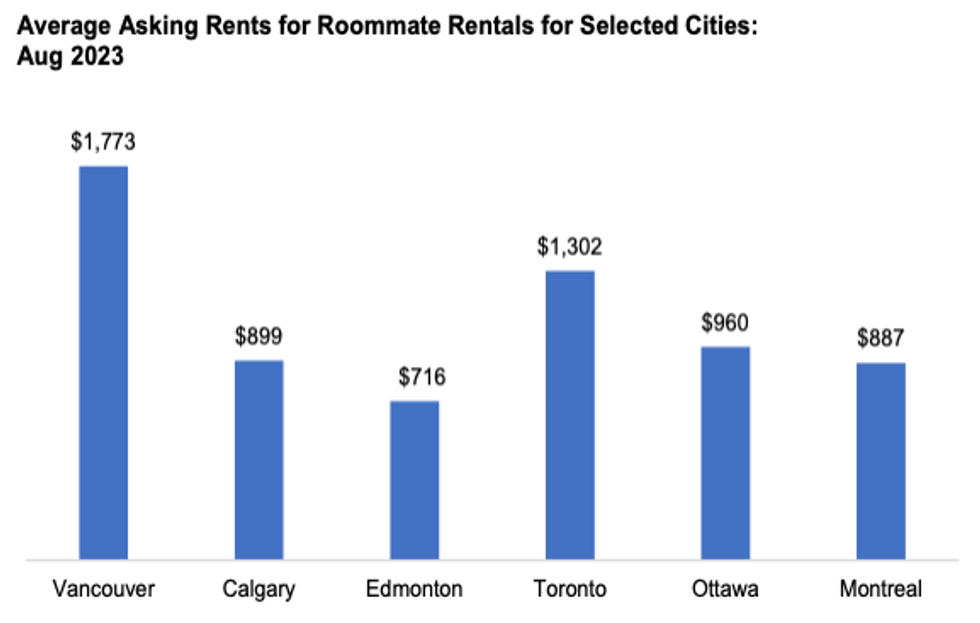 Calgary continued to lead Canada's major markets in terms of overall annual rent growth, seeing a 17.3% rise to $2,068.
As well, a number of mid-sized markets saw their rents surge last month. Most notably, Richmond saw rents spike 28.1% year over year, while Oakville, Brampton, and Burnaby observed rises of 23.1%, 21.6%, and 21.1%.
Real Estate News