---
Failing a significant boost in stock, Canada's rental housing shortage could quadruple in the next three years, economists warn, as immigration grows and affordability dwindles.
In a new report from RBC, Assistant Chief Economist Robert Hogue and Economist Rachel Battaglia estimate that Canada's supply of purpose-built rental housing is already facing a 25K-30K unit deficit.
Although the stock of rental housing grew 2.4% in 2022, the fastest pace since 2014, the vacancy rate amongst purpose-built rentals fell to 1.9%, its lowest point in 21 years. The latter's decline of 120 bps marks the steepest single-year drop in vacancy in over 30 years.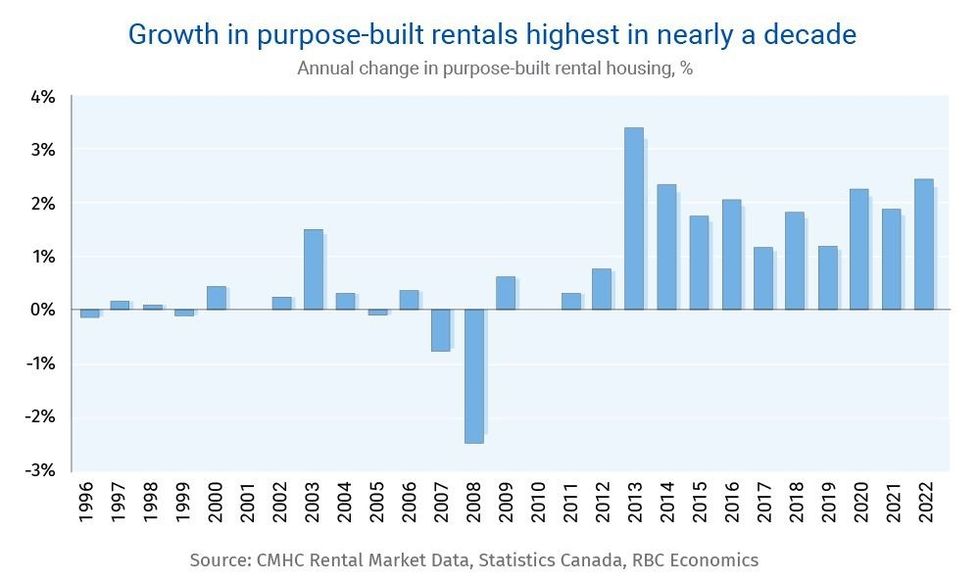 RBC Economics
The boost in supply "has never been needed more," but it was not directed where it's needed most. Of Canada's six largest census metropolitan areas, Calgary and Ottawa-Gatineau saw the biggest gains in purpose-built rental stock last year, up 7.4% and 5.5%, respectively.
Meanwhile, supply increased 2.1% in Toronto, and just 1.4% in Montreal. Not only are the two cities Canada's largest, they are also the most popular destinations for newcomers, welcoming an estimated 32% and 10% of international immigrants, respectively, last year.
Despite the decades-low vacancy rate amongst purpose-built rentals, some cities' condo markets are faring far worse. Condo rental vacancy rates sit at 0.7% in Ottawa-Gatineau, 1.1% in Toronto, and 1.8% Calgary.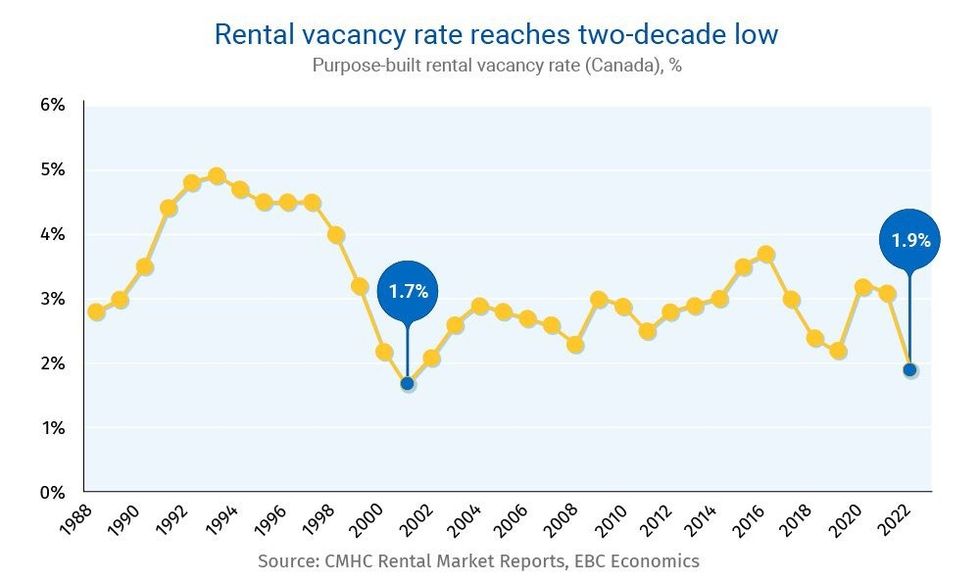 RBC Economics
According to RBC, a market has achieved balance when the vacancy rate is at 3%. Such a vacancy rate is typically accompanied by zero real rent increases. Real rent generally declines as the vacancy rate climbs above the 3% threshold, and rises as it falls below 1%.
"With high levels of in-migration and a widespread shift to rental housing continuing due to affordability struggles, we don't see Canada returning to that optimal 3% vacancy rate without a significant acceleration in supply," Hogue and Battaglia noted.
The aforementioned 25K-30K unit shortfall plaguing Canada's purpose-built rental stock is expected to grow "exponentially" over the coming years. The economists project that by 2026 the deficit could exceed 120K units.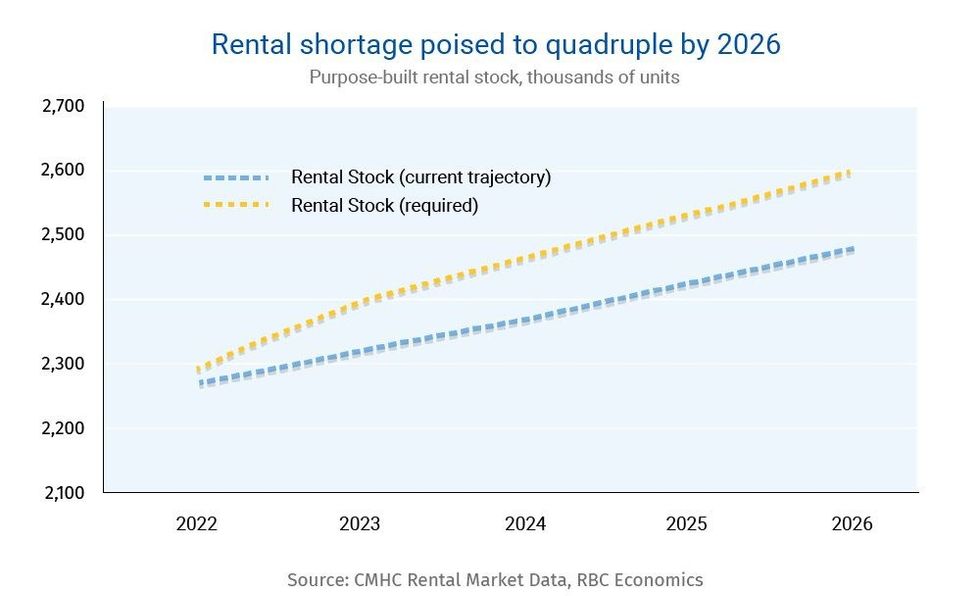 RBC Economics
To avoid quadrupling the shortfall -- and to achieve a balanced market with rent stability -- Canada will need to add 332K units to its current supply of purpose-built rentals by 2026. This requires the annual pace of construction achieved in 2022, which was already at a near decade-high, to increase by roughly 20%.
"Turning condo units into rentals, converting commercial buildings, and adding rental suites to existing homes would certainly help ease the pressure," Hogue and Battaglia offered.
"But these responses are unlikely to be enough. The best way to meet current and future demand, as well as provide stability (and hopefully greater affordability) in the rental market is to considerably grow the supply of purpose-built rentals."
Renting