I used to consider myself a pure capitalist, fervently believing in the free market's power to provide housing.

And then, I visited Vienna.
---
I believed (spoiler: I still do) that in Canada, all three levels of governments wield the authority to ease regulations and effectively resolve our housing crisis. A crisis that was caused by decades of over-regulation to begin with. I did not believe that the government should be responsible for housing the masses. Quite the contrary. "Let the private sector do it," I used to say; "It will do it faster, and more efficiently. Profit is an incentive."
However, Toronto is clearly broken, and Vienna, which has sustained a healthy housing market by creating a large wealth fund and reinvesting a significant share of profits from two-thirds of its housing stock into new developments, is the only city I know in advanced economies of the world that meets the affordability benchmark of spending no more than one third of a household's gross income on housing. How many households in Toronto can claim the same?
"Toronto had a 30-year lag and stop in purpose-built rental development where financing options for this type of development were gone or less desirable compared to the insatiable demand for ownership, particularly as condominiums which doubled as investment vehicles" says Christian Huggett, a purpose-built rental developer with Podium Developments. "As costs have increased, particularly lately -- inflation, interest rates, construction costs -- and with a healthy rental market and some government programs to assist, the viability for rental grows and it's important that we all encourage rental living, long-term."
According to a recent article in the Toronto Star that welcomed our new, progressive, pro-renter Mayor, "in Toronto, the number of rental households has grown three times faster than ownership, while the supply of purpose-built rental has only grown by 5%."
It should be no surprise then that in May, rental prices in Toronto hit an average of $2,822 (we are still losing first place to Vancouver, but don't worry, we are getting there!), a staggering 41% increase compared to April 2021. And yet, we continue to break records for annual rent increases in the country.
This all is happening while the median household's gross income in Toronto is just slightly above $78,000. This is probably no news for families who have been struggling to rent a place in the city, but what these numbers actually mean is that if you are lucky enough to earn a median salary, and want to enter Toronto's renting market, you would now have to pay over 40% of your before-tax income for housing alone — this would be around 60% of your net income.
Now, without getting to the 'supply and demand' argument, I understand the rationale that in a healthy market, a massive increase in housing supply could lead to creating affordable units, not as a result of a top-down government mandate (like what we currently have with some of CMHC's programs), but as a product of what the market naturally yields. Honestly, if you had asked me just a couple of months ago, I would have said the same thing without a doubt. However, it all changed when I visited Vienna, probably the world's capital of affordable and attainable rental housing. And 'rental' is the key word here. Let me tell you why.
With just under a million apartments, Vienna has emerged as the fastest growing city in Europe. One third of residential properties there are owned by the City, one third by non-profit organizations, and one third by the private market, and amazingly enough, three quarters of the people of Vienna rent the place they live in.
Whenever the City undertakes a large-scale development project, it initiates a process of rezoning the height and density of the area while setting a fixed price before inviting public bids. The selection criteria prioritize four key factors: 1. Quality of architecture and urban design, 2. The end-user's price (rent), 3. Sustainability measures, and 4. Social infrastructure. This bidding system allows a wide range of limited-profit developers to enter the game, and ensures that the selection is based on the highest quality proposals.
Vienna's innovative social housing model, which has been in place for almost a century, shows how de-commodification of housing can benefit everyone. Under this model, both the middle class and the low-income households are embraced. Remarkably, as reported by the New York Times, because of an income limit set much higher than the median household income, a staggering 80% of residents qualify for public housing. Once accepted, tenants enjoy the security of knowing they can remain in their homes even if their financial circumstances improve. This, along with the high-quality architecture and urban design in Vienna's public housing developments explains why people choose these homes as a permanent living option rather than a mere transition place until they "can afford to buy." The resulting economic diversity further contributes to a higher overall quality of life for all residents.
Additionally, two thirds of the city's rental housing is protected by rent control and robust just-cause eviction safeguards for all tenants. These regulations, along with adequate supply, have created a level of stability which explains why 75% of the households choose to rent.
As a direct result of offering a steady and ample supply of top-notch social housing, Vienna's social housing model has successfully removed the stigma around living in a rental for life, which has a positive impact on housing costs for all residents, and not only for those who live in public housing, or rent as a 'phase in life'. According to the same New York Times article, in 2021, Viennese individuals living in private housing spent an average of 26% of their post-tax income on rent and energy costs, which is only slightly higher than the figure for social housing residents overall, which stood at 22%.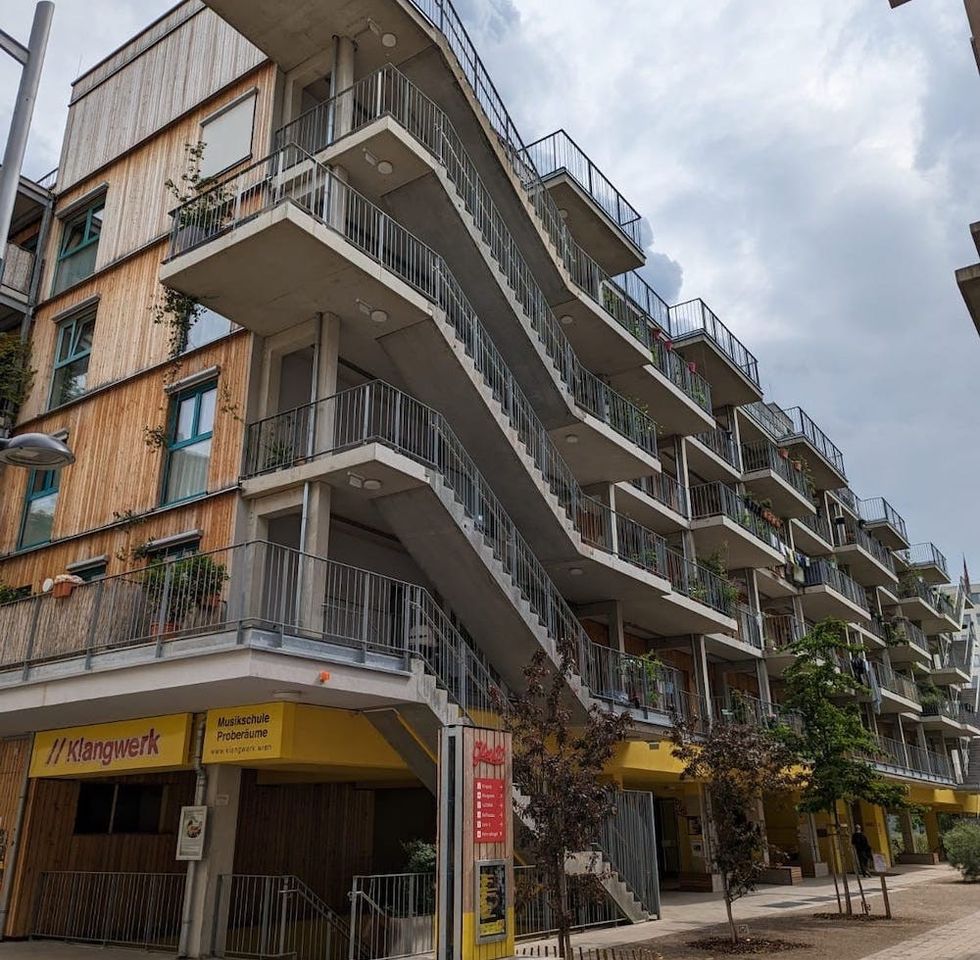 Modern apartment rentals in Vienna, Austria.(Naama Blonder)
I understand that Vienna's housing model might seem inapplicable to our North American context. And I am certainly not implying that we should adopt Vienna's model for Toronto. But I cannot undo what I experienced walking in Vienna's new neighbourhoods, nor can I stop imagining what our lives would look like if we did not have to worry about whether our children could afford living in the city we love for another generation. Let alone the unbelievable amount of prosperity our cities could have achieved if we did not have to spend half of our income on housing alone.
What is the solution then? Could a large supply of superb rentals play an instrumental role in making a prosperous city and economy as Huggett suggests?
"High-quality purpose-built rental provides a stable, consistent lifestyle choice for residents that should be celebrated; with rental, to quote renowned money expert Ramit Sethi, it's the maximum you will pay, vs. the minimum you will pay for ownership! That stability can allow people to stay in place, invest in other parts of their community (using a lower percentage of shelter costs), and not be transient and move away to outskirts of the GTA for affordability reasons in order to buy."
I certainly hope so. But to create that high-quality supply, as Huggett emphasizes, "we need a collective of developers who see the great value of raising the profile of rentals, and together provide a larger supply of superb purpose-built rentals."
Would Vienna be able to sustain an adequate supply of high-quality public housing in the face of rapid population growth and increasing interest rates? Only time will tell. Should we all move to Vienna? No, Toronto is the best city in the world if you ask me, and I wasn't converted, after all. However, whether it's adopting Vienna's approach on some aspects, loosening our zoning restrictions, upzoning our underdeveloped lands, and investing in a cultural change, or a combination of all these strategies, we need to get innovative, and we need to do it fast, because the clock is ticking.
Urbanity Fair