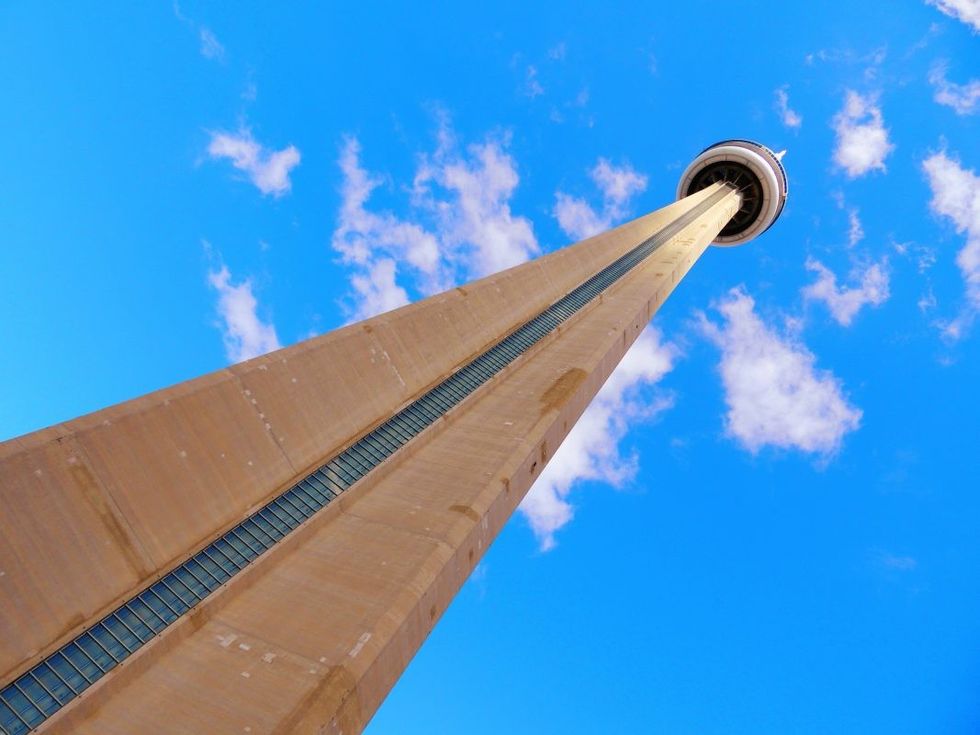 (Photo courtesy of Greg's Southern Ontario via Flickr.com)
Don't look now, but Toronto is becoming a bore.
---
Bogged down in endless debates about affordability, housing, transit, bike lanes and so on, the public life of this city has turned into a kind of Groundhog Day.
The sun rises and sets on a perpetual round of sameness.
Doesn't anything here ever change?
Can't we at least find something new to gripe about?
Ontario's recently elected premier, Doug Ford, provided some relief, but he soon became as tiresome as expected by Torontonians who remember his time on city council. Indeed, it doesn't take long for the Ford family's charm to wear thin.
But it takes more to make a city boring than an Etobicoke clan, no matter how appalling.
What Toronto has lost is that sense of potential that made other decades so exciting. Most obviously there were the '60s and '70s, when the city opened up and anything seemed possible.
But they're ancient history now, no longer quite real.
Today the city is bogged down in an endless round of banality and bickering.
In the aftermath of amalgamation in 1998, Toronto politics has acquired a put-upon culture that has since grown more pronounced. Except for the seven years of David Miller's mayoralty, when Toronto awoke to the possibilities of big-cityhood, we have settled for austerity, self-denial and the implicit understanding that it's okay if we don't make the effort.
John Tory, of course, is the personification of this attitude.
Here is a chief magistrate whose grandest ambition is to keep property taxes below the rate of inflation, whose re-election strategy is to denigrate the ideas of his opponents not propose his own. He has presided over a city that has grown ever more parochial as it retreats from the larger world.
Little wonder Robert Fulford called Toronto the "accidental city."
Of course, it's tough to control a city that must depend on the province. When Doug Ford suddenly decided to reduce city council from 47 members to 25, Torontonians got a rude reminder of who's really in charge. Even those who agreed with the move were shocked by the arbitrariness of Ford's politics of petulance. His argument that the cut would save Toronto $25 million over four years doesn't deserve to be taken seriously.
What Toronto needs is something that will lift it out of its funk, shake it out of its lethargy, indifference and self-loathing.
In addition to dealing with the city's most pressing issues — poverty, violence, housing, transit — Toronto also needs a grand project that can change perceptions of the city, locally and globally.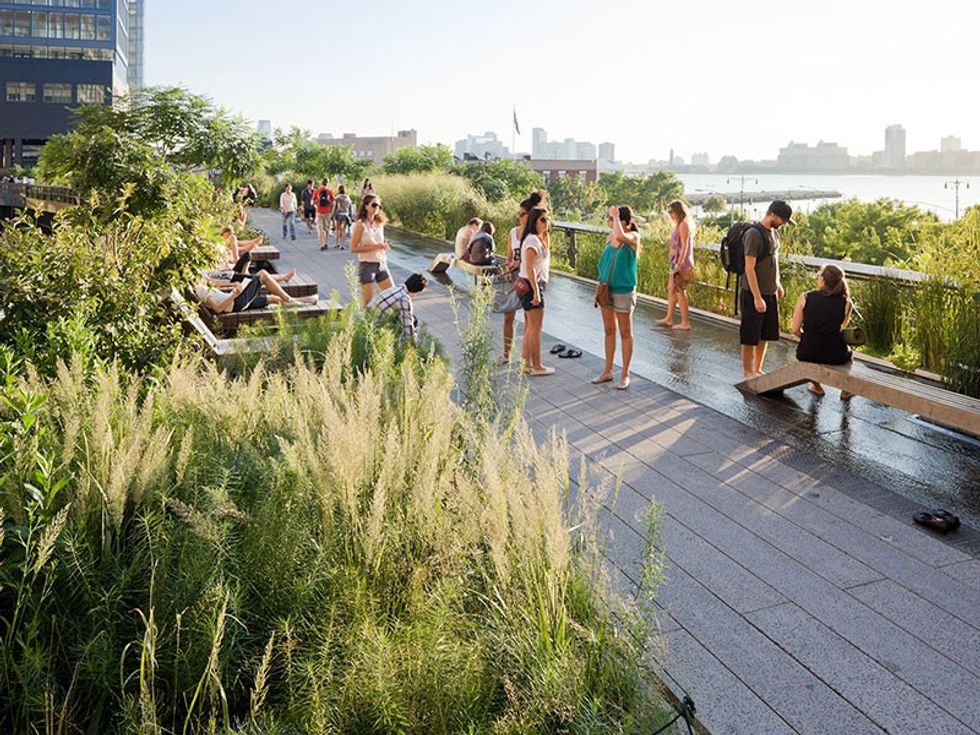 High Line: New York's massive public park seeks to engage a vibrant and diverse community. (Photo courtesy of thehighline.org)
In New York, that project was the High Line, which unleashed a torrent of investment.
In Helsinki, last week's opening of a spectacular subterranean art gallery called Amos Rex has locals agog. Its $60-million (U.S.) price tag, covered by a private foundation, created the new underground space and the futuristic public square that sits atop the showcase. It has thrilled residents of the Finnish capital.
The most celebrated example of how a building can change a city is, of course, Frank Gehry's Guggenheim in Bilbao. It revitalized that town — the Hamilton of Spain — and made it an international destination.
Speaking of Frank Gehry, there was a moment during David Miller's mayoralty, now largely forgotten, when the stars almost aligned for the Toronto-born architect to design a new Art Gallery of Ontario at the foot of Yonge on the waterfront.
It never happened, but the thought we came so close still rankles.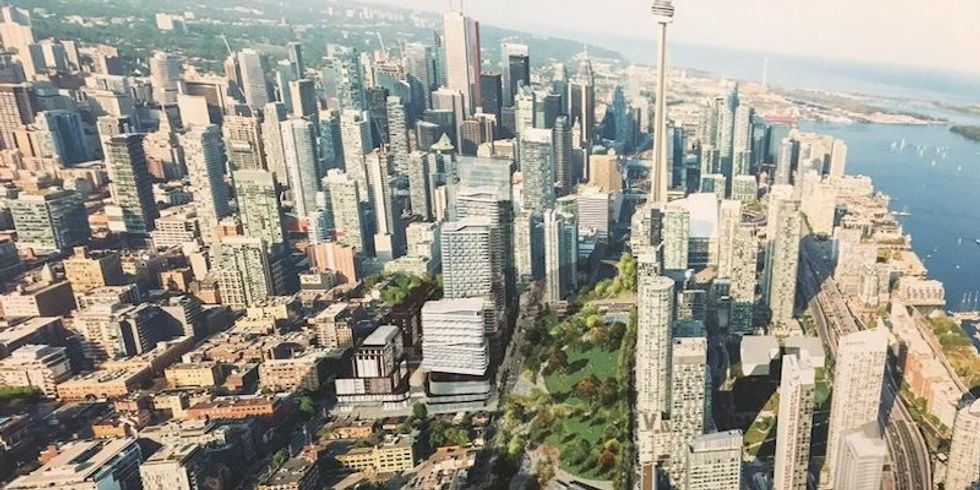 Joe Cressy/Twitter
More recently, Toronto pondered a potentially transformative project, Rail Deck Park.
The 21-acre green space, proposed in 2017, would be built over the rail corridor between Blue Jays Way and Bathurst St. Its cost is an estimated $1.7 billion. That's a lot of money, even in our poor little rich burg. That could be why the park has dropped off the civic agenda.
Sadly, in this city, an idea such as Rail Deck is met with finger-wagging, head-shaking and no end of tut-tutting. Council's designated fool Giorgio Mammoliti wasted no time dismissing the scheme.
"What they're trying to do is create a glorified dog poop park in the City of Toronto," he declared. "And let the rich walk their dogs."
The best we have done this decade is the Bentway — a unique remaking of neglected space beneath the Gardiner Expressway west ofSpadina.Equal parts event venue, marketplace, skating track and amphitheatre, it has reclaimed and transformed what for the last half-century was a dead zone.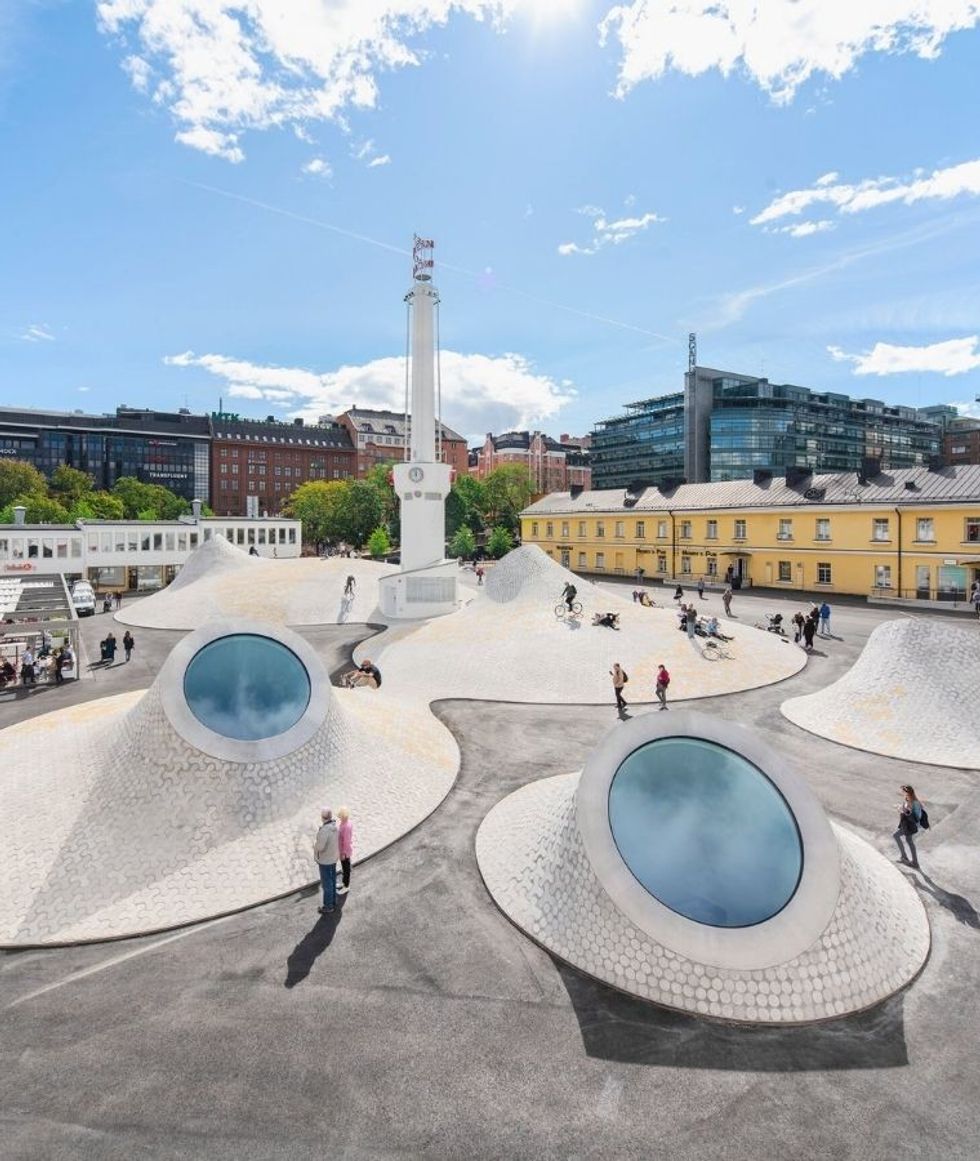 Amos Rex in Helsinki. (Photo courtesy of AmosRex.fi)
Even more remarkable, it came into being because of a $25-million donation from the Matthews family of Toronto. This marked a new level of civic philanthropy.
Traditionally, Toronto's big givers have focussed on artistic, medical and academic institutions. Something like the Bentway would historically have been viewed as something government should do.
As the High Line and Amos Rex make clear, at a time of growing economic inequality and over-stretched government resources, the private sector has a big role to play in such projects.
Although Toronto doesn't have as strong a philanthropic tradition as some communities, it certainly has the wealth. And the need.
Though the speed of growth seems to alter the landscape daily, a city does not live by condos alone. With the public realm under attack at every turn, the need for civic affirmation is growing.
Toronto has never been a city to worry about missing an opportunity. And it's always been too small to think big. But if we don't wake up, our moment of greatness will start to flicker.
Hume with a View