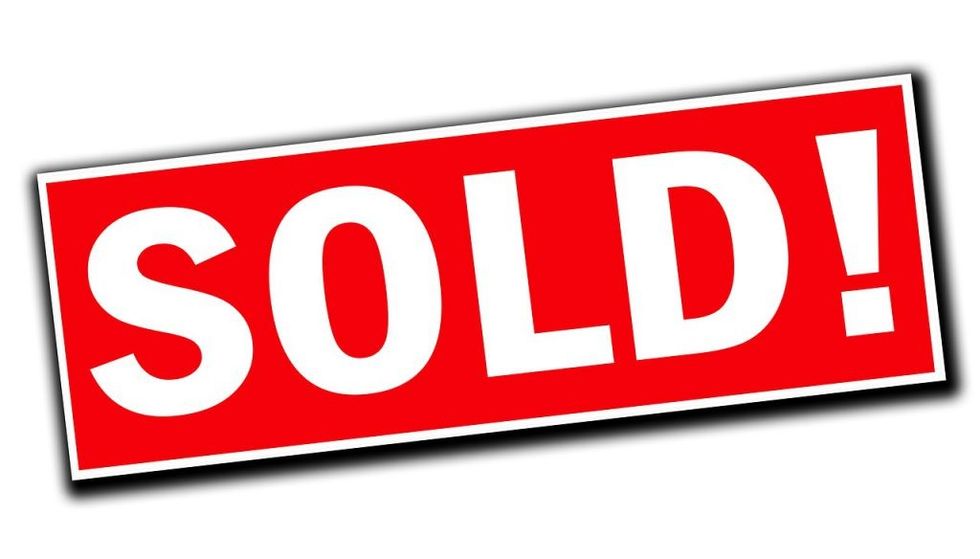 Toronto home sales — finally — rallied in June.
---
It's been a slower-than-usual spring for the Toronto real estate market, but the numbers appear to be turning around as analysts have hoped. June sales posted the first year-over-year increase in seven months.
A total of 8,082 homes changed hands last month according to the Toronto Real Estate Board, an uptick of 2.4 per cent.
While seemingly modest, it's a dramatic improvement from the 20 to 30 per cent declines that have been the norm thus far this year. This indicates the market is now well-aligned with post-Fair Housing Plan conditions in the latter half of 2017. It's also a strong increase compared to May, up 17.6 per cent, which suggests seasonal improvement.
The average price for a home in the TREB region also followed suit, rising two per cent, year over year, to $807,871.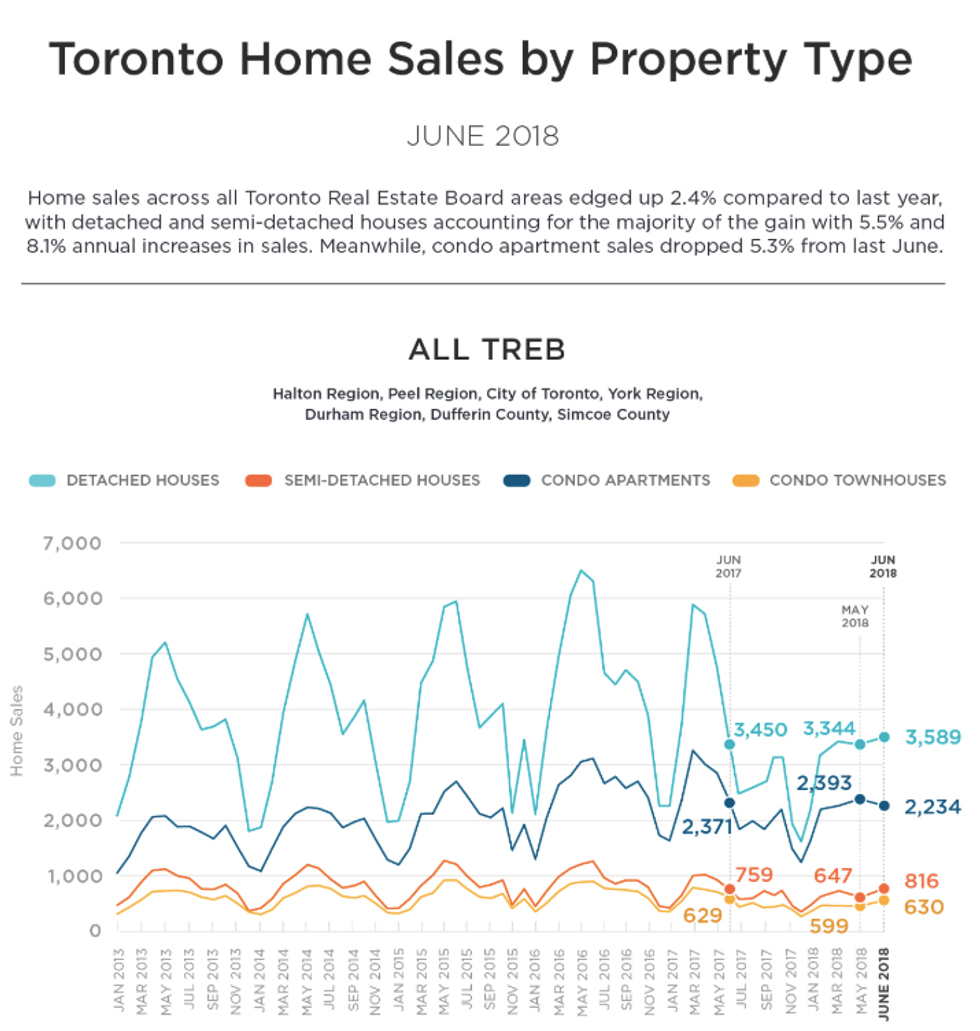 (All graphics courtesy of Zoocasa)
Short Supply Could Pressure Prices
TREB's incoming president Garry Bhaura says steadier numbers show the market may be normalizing after months of absorbing new policy measures.
The new mortgage stress test, combined with the FHP and generally higher mortgage rates, have led to volatility in monthly reporting.
However, he notes, supply remains restricted in the region, which will lead to heating prices if not addressed.
"Home ownership has proven to be a positive long-term investment. After some adjustment to the Fair Housing Plan, the new Office of the Superintendent of Financial Institutions (OSFI) stress test requirement and generally higher borrowing costs, home buyers are starting to move back into the market, with sales trending up from last year's lows," says Bhaura.
"Market conditions appear to be tightening, with sales accounting for a greater share of listings, as new listings have dropped compared to last year."
GTA Remains In Balanced Market Territory
Indeed, the number of new MLS listings in Toronto and the surrounding area clocked in at only 15,933 in June, an 18.6-per-cent decline from last year's levels. That's putting considerable pressure on buyers, as sellers are loathed to list during a perceived softer market.
As a result, fewer homes for sale offset historically soft sales, keeping the region in balanced territory with a sales-to-new-listings ratio of 50 per cent.
The same holds true in the 905 region at 46 per cent.
The City of Toronto proper, however, hovers on the edge of a sellers' market, at 59 per cent.
This ratio, which is calculated by dividing the number of sales by the number of new listings during a specific time frame, gauges the level of buyer competition within a given market. A ratio between 40 to 60 per cent indicates balanced conditions, while above and below that threshold indicate sellers' and buyers' markets, respectively, according to the Canadian Real Estate Association.
Concern over lack of listings is echoed by Jason Mercer, TREB's director of market analysis and service channels.
"The expectation is to see improvement in sales over the next year. Over the same period, however, it is likely that issues surrounding the supply of listings will persist," he says.
Houses Hot. Condos … Not?
The trend for most-sold home type is also shifting.
In contrast with solid performance thus far this year, demand for condos for sale in downtown Toronto appears to be slowing, down six per cent at 1,593 units. Prices, however, continue to rally, up 9.5 per cent to an average of $605,530.
Meanwhile, detached and low-rise homes are making up a greater proportion of sales. This is perhaps due to a slightly lower price point, as the average detached home price in the TREB region remains 1.9 per cent lower than in 2017, at $1,033,574.
Detached home prices were hardest hit following last year's policy changes. Sales and prices have gone down 38.2 per cent and 11.2 per cent to date. But this segment's performance could indicate a greater return of move-up buyers to the low-rise market.
Personal Finance