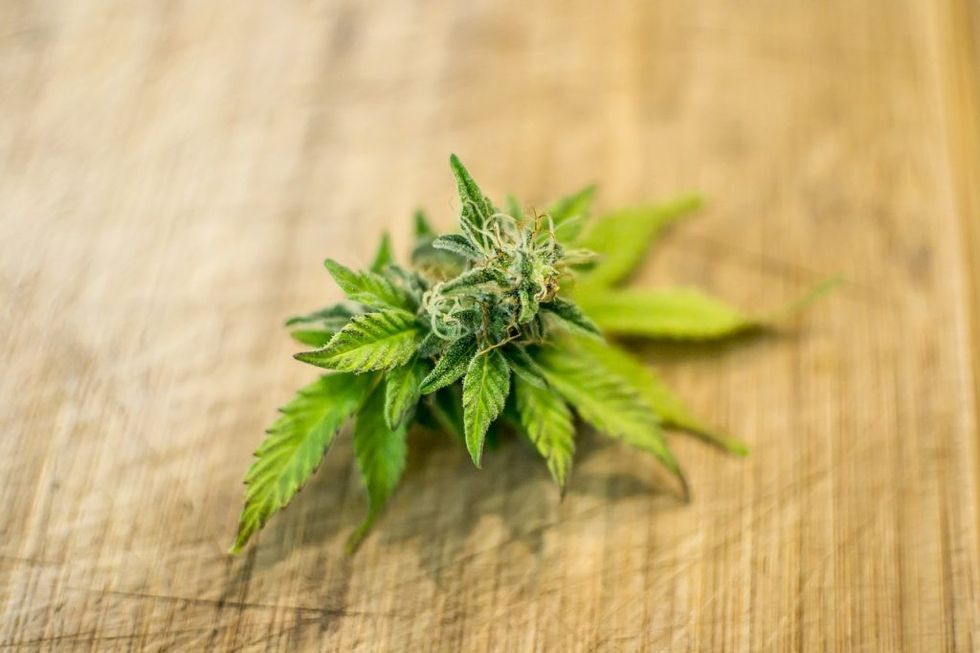 UPDATE: On Tuesday, June 19 Canadian lawmakers approved The Cannabis Act, making it legal for adults to buy and consume marijuana across the country. Canadians will be able to buy and smoke recreational marijuana as of Oct. 17, 2018.
---
It may be hard to fathom for those coping with the persistent #springstorm, but summer is just a few months away. While warmer temperatures are greatly anticipated by all, for some Canadians, the season will be especially lit, as marijuana is legalized across the nation.
Bill C-45 —  the Cannabis Act — will be passed sometime in the later summer months of 2018.
Under the new law, Canadians will be able to purchase the drug from provincially-approved retailers, possess up to 30 grams on their person, and consume it in specified places, including their permanent residence.
They'll also be able to cultivate their own pot at home (Editor's note: Toronto Storeys will teach you how to do that in an upcoming story this week), with up to four marijuana plants per household under the legal limit.
A Growing Issue
While smoking marijuana at home — especially in Toronto condos and in close proximity to neighbours — has been an increasing concern, it's actually the uptick in green thumbs that worries the real estate industry.
This is partly due to the resulting home damage. Growing marijuana, experts argue, requires high levels of humidity, which can lead to creeping mould in walls and floors. Using high-powered sodium lights or tampering with a home's electrical system poses a fire risk, while cultivation chemicals are a health hazard, according to Ontario Real Estate Association president David Reid.
He adds that most of the province's existing housing stock — especially older homes for sale in Toronto — haven't been designed to withstand the impact of growing.
The stigma persists.
According to survey data collected by Zoocasa, 47 per cent of Canadians would be less likely to purchase a home if marijuana had been grown there, while 39 per cent believe increased usage inside a home would decrease its value.
A Hazy Legal Area
And there are further complications. Currently, no remediation standards exist to return former grow sites to safe status. That means, once a home is labelled as such by the police, insurer, or lender, there's no definitive way to clear its name, even if it receives required repairs.
That makes unsuspecting home buyers especially vulnerable, says Reid, and puts real estate agents in a tough place.
"Stopping unsuspecting home buyers from entering into a potentially nightmare scenario where their family is faced with these health and safety issues, is at the root of our call to action here today," he stated during an announcement from the Association at Queen's Park on April 9.
"As a realtor, it's unsettling, not always being able to inform buyers that the home they're considering was once a marijuana grow-op.
"If a realtor knows that a home they're showing was once a marijuana grow-op, they're obliged to inform their buyers. However, a realtor can't always know, nor can home inspectors always detect the signs of a former marijuana grow-op."
To combat these issues, OREA has unveiled a five-point proposal for the provincial government to adopt:
Designate illegal grow operations as unsafe under the Building Code Act.

Mandate that illegal cannabis operations are inspected by a municipal building official.

Require municipalities to register remediation work orders on the title of a former grow operation.

Mandate that all licenced home inspectors receive training on how to spot the signs of a former marijuana grow operation.

Restrict the number of plants a homeowner can grow from four to one in units 1,000-square-feet or smaller.

Marijuana usage and home prices (Graphic courtesy of Zoocasa)
Check With Insurer Before Growing
Zoocasa finds that while there is some interest in home pot cultivation, it's not overwhelming: 53 per cent of respondents indicate they "strongly disagreed" that they would consider growing pot at home post-legalization. Only eight per cent said they "strongly agreed."
But, as legalization nears, it's important that homeowners who do intend to grow pot know how to protect themselves, as even a simple potted plant could hold the same consequences as a full-scale operation.
Under marijuana's current illegal iteration, home insurers and lenders may choose to forgo coverage or a mortgage for an affected home, pointing to a stipulation in policies that exclude the presence of illegal substances.
This can be especially problematic for home buyers of grow sites who are denied the necessary fire insurance to obtain their home financing.
While it's unclear how the insurance industry will respond post-legalization, the most important thing for homeowners to do is to sit down with their insurer and clarify what they're covered for, says Pete Karageorgos, director of consumer and industry relations at the Insurance Bureau of Canada.
"Let's see what the legislation looks like. Currently, insurers and those in the industry are having conversations about what this will look like," he says.
Karageorgos also adds that coverage wordings may need to be specifically designed or acknowledge that the legal environment has changed.
"Like anything though, once the legislation is introduced and passed, it makes sense that any homeowner sites down and contacts their insurance representative and makes sure what they have makes sense for them in coverages."
Toronto