Real Estate News
Life On A Floating Home In Toronto (Can Be Less Expensive Than A Detached House)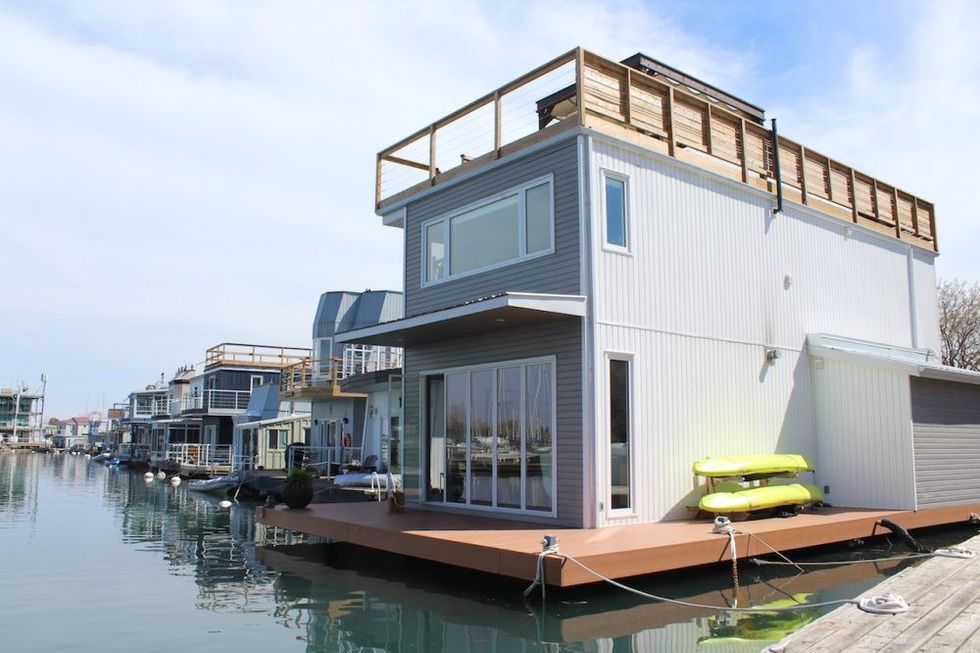 There are just 25 of them here on the water by the Scarborough Bluffs: houses.
Don't call them houseboats, though, because all but one is a different type of aquatic abode.
Two dozen floating homes, as they're called, moor in Bluffers Park Marina year round.
"Often people get mixed up with the difference between a floating home and a houseboat," explains Denise Doucet, a realtor who also happens to live in a floating home of her own at the marina.
There are some defining features of floating homes that set them apart from houseboats. Unlike the latter, floating homes have cement bases. Also, they weren't designed with motors to propel them around on the water.
"A houseboat is in fact built and designed to move — not necessarily very fast — but, in fact, it does have a motor," she says.
"It's treated differently by insurance and by marinas in terms of how they're billed, so it's a very, very big distinction from a technical perspective."
If someone is in the market for a floating home, chances are they're going to come across Doucet sooner or later. She has sold 14 of them since getting her real estate licence 12 years ago and is currently listing one for approximately $1.3 million. (See that spectacular listing here.)
The current owners are avid boaters who purchased the float home a year and a half ago and had it completely gutted. They added a walk-in closet, put in heated laminate flooring on the second floor, added outdoor storage space and updated the appliances.
The 1,663-square-foot residence feels more like a new-build detached home than a boat — except when a chandelier sways from choppy waters or you're taking in the views from the third-floor rooftop patio, as this Toronto Storeys writer recently experienced.
Not all are priced as high as Doucet's current listing. Generally, the Bluffers Park Marina homes are valued between $650,000 and $1 million. Houseboats typically run around $330,000.
They are part of a 25-unit batch of floating homes that were built in 1999 to 2000 in anticipation of Toronto winning an Olympic bid.
"The dignitaries were going to live in them during the Olympics and then they (the now-defunct developer) were going to sell them off. And when we didn't win the bid, they're like, okay, we have a few of these built. Now what are we going to do?"
They were sold out of Cherry Beach between $80,000 and $90,000, 24 ended up in the Bluffs, and a lone unit was shipped out to the Toronto Islands.
Not everyone in the Bluffs welcomed their new water-faring neighbours.
Doucet says area residents worried about a population boom, and pressured the provincial government to outlaw them.
Doucet suggests the resulting limited supply has led to surging prices within the past decade.
"They (floating homes) have doubled in price in the last eight years," Doucet, who purchased her place here six years ago, notes.
"Not a bad investment … our view will never be obstructed, unlike a condo."
There are monthly fees to pay, though.
Owners pay tax for the property on which the homes encroach, which works out to $1,000 per unit. Insurance typically costs between $1,800 to $2,400 annually, while hydro averages $200 to $225 a month for two people to get all the electricity they need.
And don't forget about the $755 mooring fee. It covers hooking up to the power grid and septic system, maintenance of the wood deck everyone's floating home backs onto, mail delivery to a common mailbox and garbage pickup.
Doucet says she regularly gets calls from people who are curious about this unconventional form of housing.
"The question we often get is, 'What are the winters like?' The cement bases of the fully winterized structures can hold their own against the ice, so float homes don't need the protective bubble system that houseboats do to brave the winter months."
"The beautiful part about the winter for us is all of the boats that are seasonal boats disappear from our view. And after the water freezes and the first snowfall, it becomes a blanket of white," she says.
Nature is a big draw for those who buy into this close-knit community, where residents can paddle board and kayak right off of their decks.
"Typically [buyers are] somebody who's looking for a cottage but doesn't want to drive," she says.
At least that's the case at first.
Doucet says many — 95 per cent, she estimates — end up living in the community full-time.
About a month ago, Sue Taylor, a home stager, went to see a home at the marina after Doucet, who works with her, invited her to a showing. And she instantly knew she wanted to split her time between the marina and a second home in Florida.
"I called my husband and said, 'We have an appointment with an agent to see a float home tonight,' and he's like, 'Oh, you and your crazy-ass ideas," Taylor recalls.
He humoured her, but after an hour at the float home, he was won over by the idea of living on the lake.
"Just being down here, it's so beautiful," says husband John Connor standing beside his wife in front of the two-bedroom float home. The couple moves in this week.
Up until last year, Doucet says it was "next to impossible" to finance a float home, and she had to turn to private lenders. That changed when she found a mortgage broker (who can arrange insured mortgages) with TD Bank in Vancouver — a city in which floating homes are more popular.
But there's a potential snag. "[Being an insured mortgage], it means that they're at a higher interest rate, and you need to have 35 per cent down," she explains.