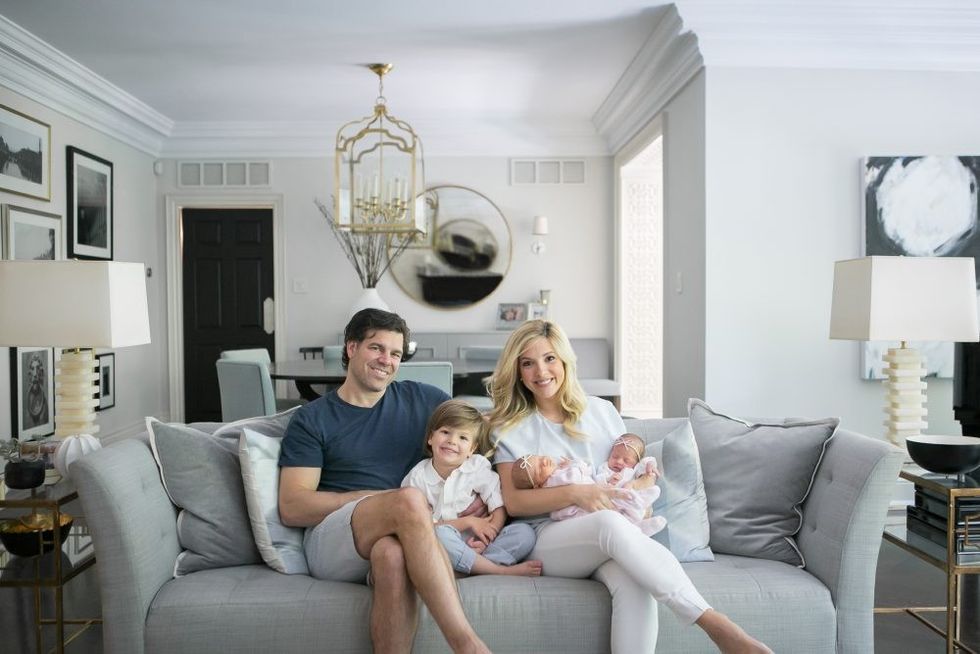 Amanda Alvaro with her husband Mark, son Asher and twins Vivi and Elle. (All photos courtesy of Kat Siddall, Thru Kat's Eye Photography)
Meet Amanda Alvaro. (And prepare for an appropriately long introduction.)
---
She's the co-founder of Toronto-based award-winning PR agency, Pomp & Circumstance, the founder of Artbound, a Canadian charity responsible for building arts schools and programs in developing nations, and she sits on the board for Rethink Breast Cancer and Canadian Art.
Amanda's a regular commentator on CBC's popular political program, Power and Politics and can be found on the speaking circuit for topics like women in business, politics and arts education.
She's also an avid adventurer and traveller. Plus, to top this all off, she's a devoted wife to her husband Mark and mom to three kids under the age of five: son Asher and twins Vivi and Elle.
I met Amanda over six years ago. She invited me to join a panel about dating in a digital age that she was both hosting and moderating at her then-agency. We formed a fast friendship — something I'm certain everyone does when they meet her. Her energy and joie de vivre are infectious.
And now, we invite you into her breathtaking Rosedale home — the backdrop to many a party and gatherings.  
Home is wherever my __________ is.
Home is wherever my family is.
Over the years I've been to your various homes (your Summerhill condo then your condo in the Four Seasons Residences). Tell us about the natural progression of places you and Mark have lived. And what ultimately brought you to your current home in Rosedale?
When we first lived together, we were in a Summerhill condo that was perfect for singles who wanted to be close to great shops and entertainment. Our needs grew when we found out we were expecting. So we chose a bigger Yorkville condo that offered more amenities for a growing family.
We probably could have stayed forever, but we wanted our son to have a backyard and more space. So after a VERY long search, we finally found our dream home in Rosedale.
What attracted you to this home and this area?
We knew we wanted the convenience of being close to downtown and the shops and restaurants that we love. But we also wanted the feel of a neighbourhood for our kids. And the house offered a big backyard to host our big clan of family and friends.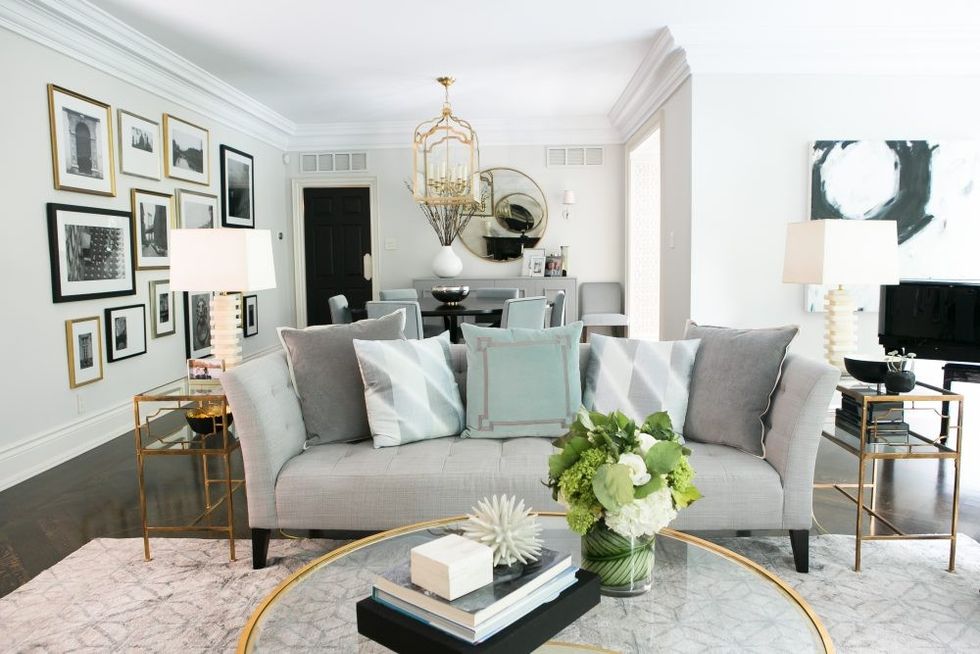 Did you work with an architect or interior designer for this home?
Allison Wilson and Tiffany Leigh of Sarah Richardson Design assisted with the design of the main room. Mark and I designed the rest.
Walk us through your home.
When people come to our home on Ancroft Place they often remark that they didn't know the little community of homes existed. Set against the ravine that backs on to Bloor Street, it is a nook in south Rosedale that is hidden. We love the sense of discovery of this tiny neighbourhood when you arrive.
The house itself reminds me of a classic semi-detached brownstone. It features a main level that was designed for big family gatherings and features floor-to-ceiling windows that look out to the ravine backyard and flood the room with light.
This is the area we spend all our time. Either around a big round dining table or cozied up in the adjacent sunroom.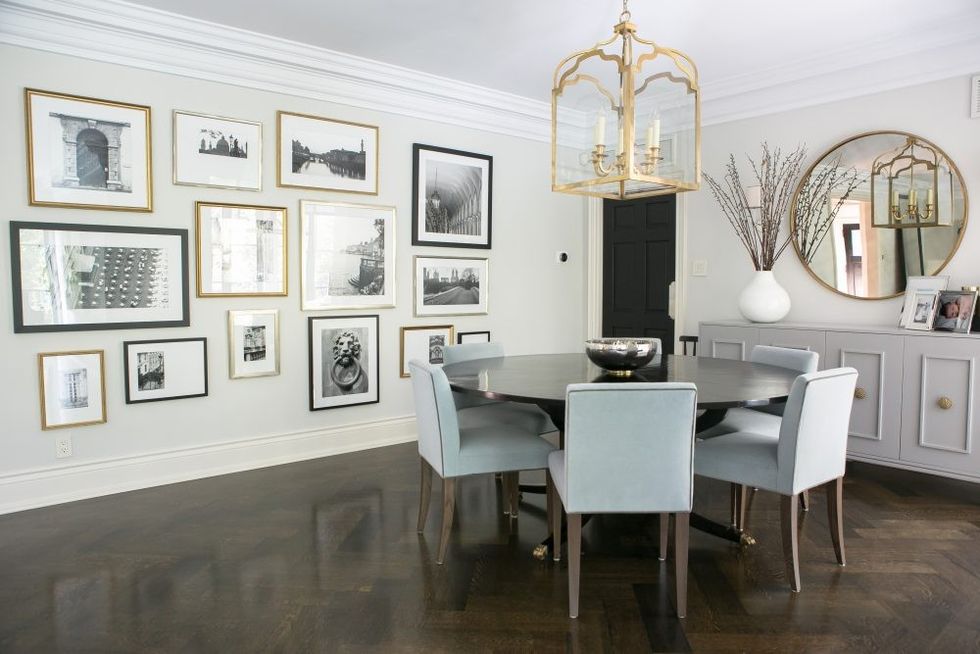 How would you describe the style and vibe?
We're not super modern.
We like a more classic style that's really welcoming. Light colours — grey, white, pale pinks and blues. With lots of mixed metals — gold, silver, brass.
I want people to feel comfortable in our home. It could double as either the backdrop for a night of board games with friends, or a more sophisticated cocktail party. The most important thing for us was that the home gave us space to host our friends and family. 
Talk to me about your personal style.
I like clean, simple and pretty monochromatic.
As you can imagine, this is a constant challenge with three kids and all the loud, colourful gear that comes with parenthood. So we try to find storage options that minimize the baby mess: big baskets, pretty grey and white toy storage boxes that blend more seamlessly with the decor.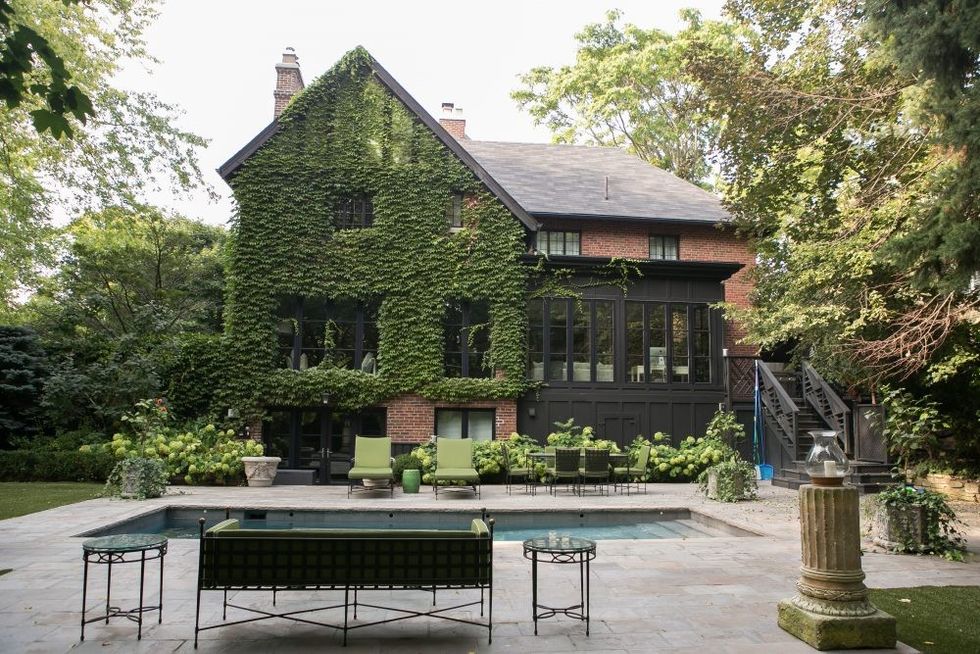 What one feature can you not live without in your home?
The backyard.
The feature of the home is the yard. Almost impossible to find this close to downtown Toronto, it was the most enticing feature for us. A yard with a pool made to entertain.
Our home is happiest when it's full. And in the summer, we fill the backyard every weekend with friends and family for big barbecues, while the kids swim and parents sip cocktails. It's my favourite time of year and my favourite place in the world to unwind.
How did you go about designing the twins' nursery?
I wanted something serene and girly. It isn't a huge room so we anchored it with a pretty and bold print wallpaper that acts as the feature. Everything else is a palette of white, grey, pink and gold.
I bought a simple white dresser from IKEA and then swapped out heavy gold bow handle that I sourced from the UK. Little details that make the room unique and special.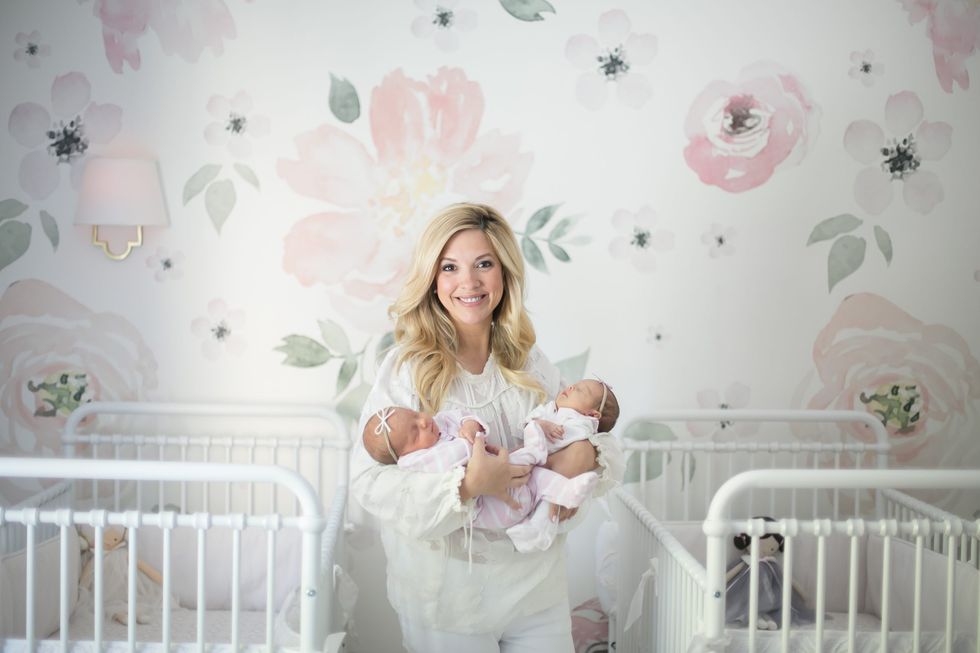 How about Asher's room? Did he have any say in the design?
When the girls were born, Asher moved to the library office. It is a beautiful room done in mahogany. At first, I thought there was no way we could make it feel right for a then three-year-old and I was reluctant to paint all the wood. But we ended up designing it like the interior of an old boat. Now it's one of my (and his) favourite rooms in the house.
You and your whole brood are always travelling and are rarely ever in one place. Have you ever thought about Airbnb'ing your home?
We haven't. Yet. But we like to Airbnb all over the world, so never say never!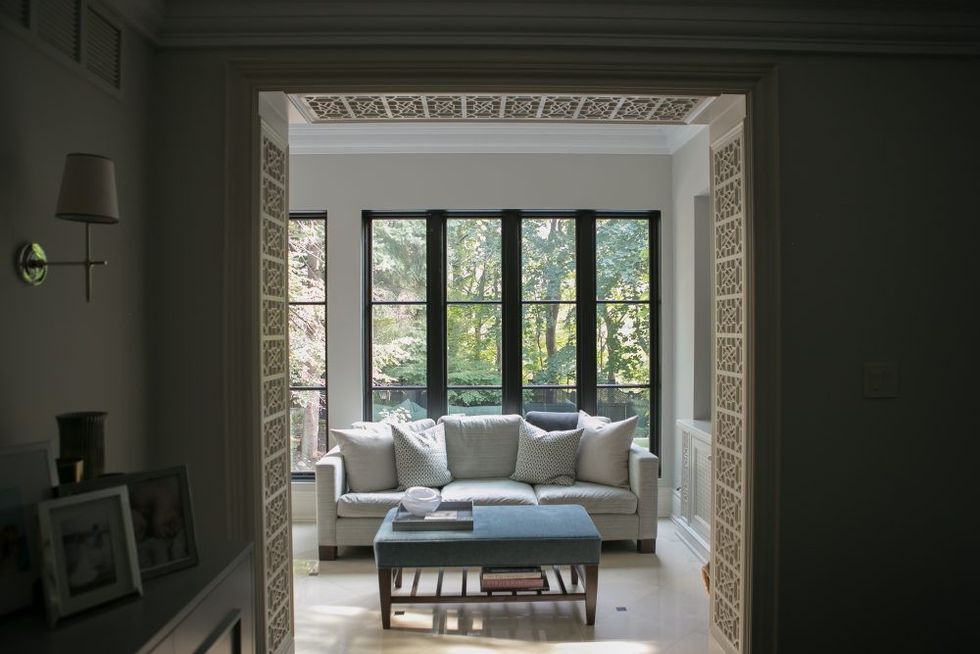 Fave room in the house?
The living room. There's a little nook beside the piano with a velvet chaise lounge chair, perfect for reading and taking in the light-filled space.
Are there any velvet-roped rooms, so to spreak, in which Asher and the girls aren't allowed?
Nope. The house is a home, through and though. It's theirs as much as ours. So they roam free, sticky fingers and all!
How do you stay grounded when you're running a company, a charity, doing weekly on-air appearances, hitting up events, and travelling all over the globe — with three little ones to boot?
Home is how I stay grounded.
Despite my love of travel, there's nothing better than waking up on Saturday mornings and making a big pancake breakfast for my little tribe.
Because we're so busy, my husband and I relish the moments when we quiet down with the kids. Snuggle up for movie nights, listen to music in the sunroom with a glass of wine or lounge in the backyard on a sunny day. It's our haven. Our joy.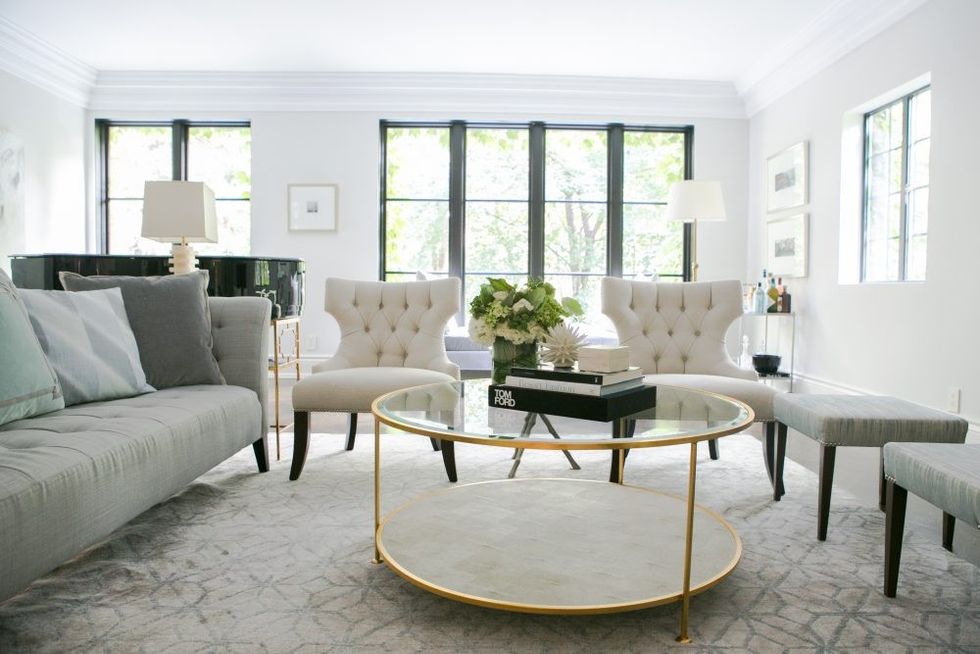 Is this your forever home?
Unless we move to Maui, this is the one. It's the perfect home for us.
You're known to be quite the host. What has been your favourite event or function you've hosted in your space? And what did you do to get it event-ready?
The best event we held so far was a big, raucous Mexican fiesta in our backyard to celebrate a big birthday!
I worked with my go-to Caspar Haydar Design to bring it to life — complete with a mariachi band, taco and ceviche stations and Bacardi mojitos to keep the party going late into the night.
Industry Profiles