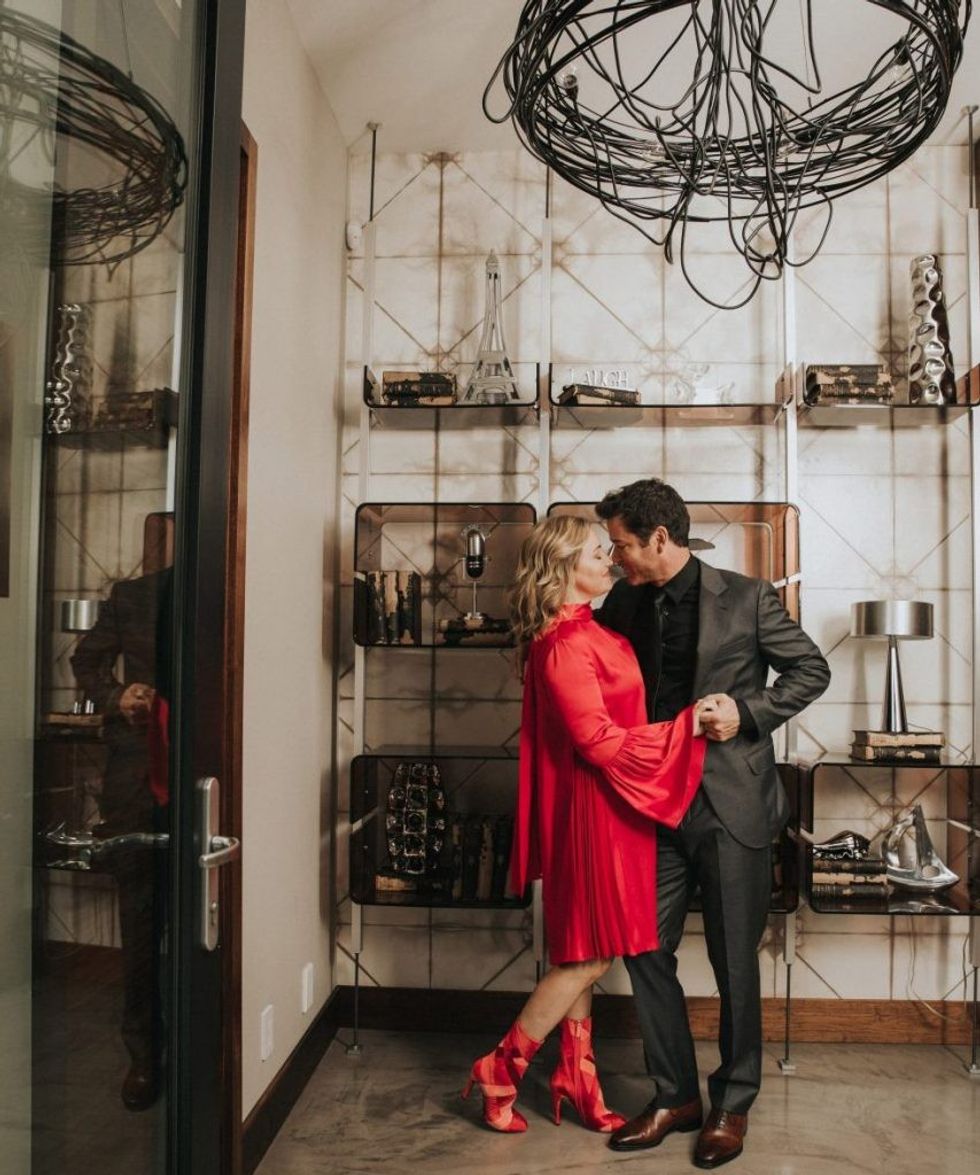 Yannick Bisson and his wife Shantelle invite you into their home and their personal stories.
For more than 10 years, Yannick Bisson has entered Canadian (and international) homes, landing in living rooms on the small screen in the role of William Murdoch, a police detective in CBC's award-winning show 'Murdoch Mysteries.'
---
Now the actor invites you into his family's home.
The proud father of three, and husband to his high school sweetheart, Shantelle, has a killer crib in Toronto. Of course, we made sure to discuss everything from his lifelong love affair with his wife (30 years!!), to how they designed their home, to why they've minimized their tech use, and beyond.
So, come on into the Bisson home, sit back, relax, and enjoy the conversation (that is filled with surprises) …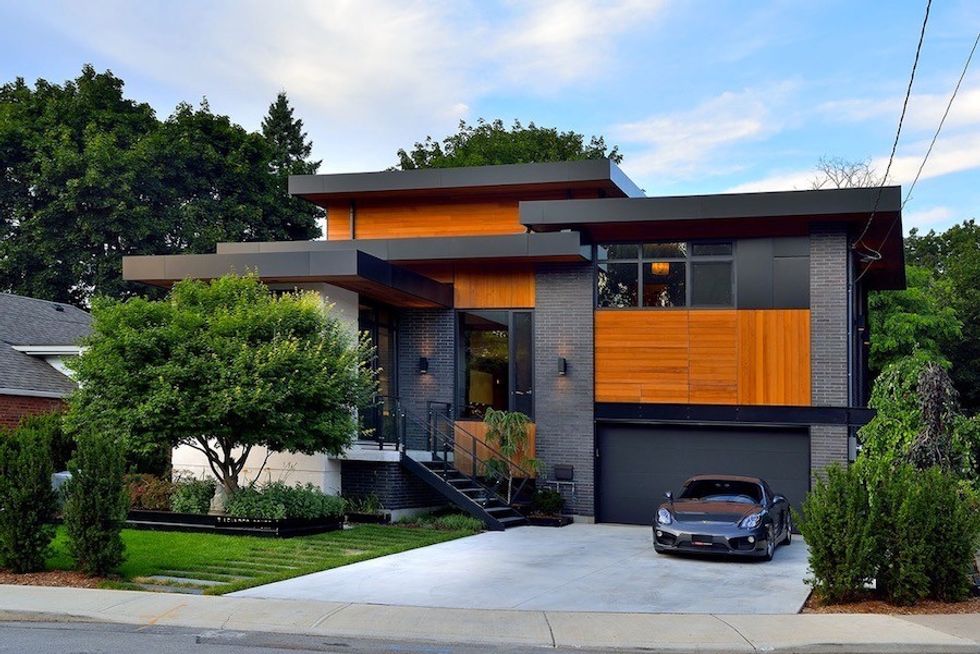 Home is ___________.
Home is truly where the heart is.
How many places have you cohabited over the years?
I've lost track now … But at last count, it was about 23 different places.
How did you both meet? Tell us a bit about your love story.
Shantelle: We first met at my high school. I went to school with a guy who had been in 'Hockey Night' with Yannick. They remained friends and Yannick would come by the school to hang out from time to time. We never talked or spent any time together. But I knew who he was as he was already quite a successful actor.
One year, I was performing in our school spring talent show. There was an acting agent and a casting agent there. They approached me at the end of the show and asked if I had ever thought about acting. I told them I had, and signed with her within a few days. Flash forward a couple of years later and I was late to an audition because I had picked up a friend from the airport. By this point, I knew that Yannick and I were represented by the same agency — he did not. I also knew that we were going into the commercial audition together — he didn't know this either.
So when I rushed in, apologizing to Yannick for being late, he thought I had thought he was waiting specifically for me — which he thought was quite cheeky ... When we went into the room together, it all started to make sense. We had to play boyfriend and girlfriend ...
We kissed and that was it.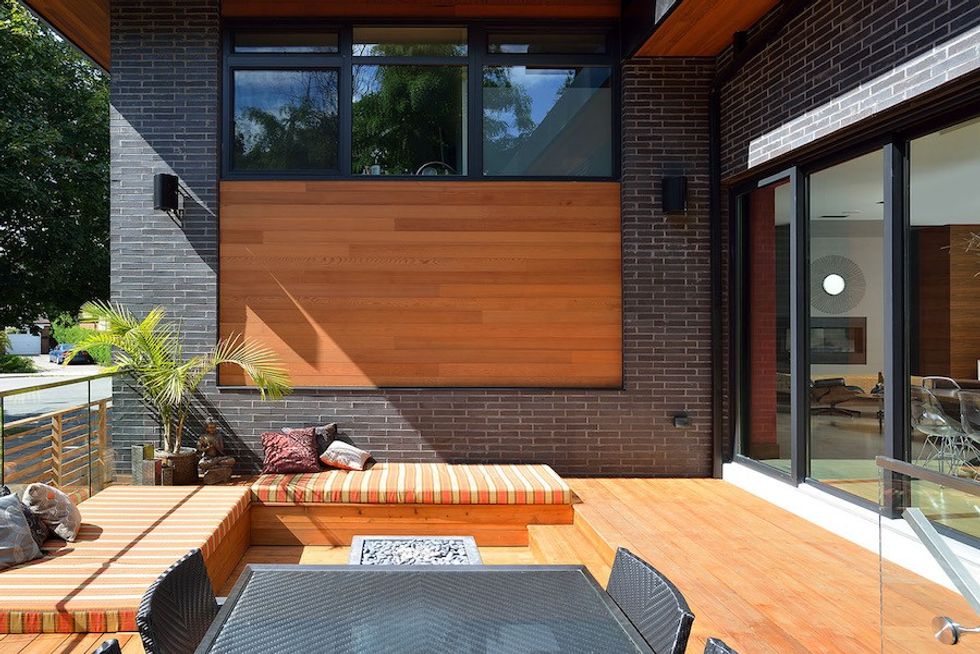 Two days later we went on our date. Except for a momentary blip on our journey to happily-ever-after, we've been together ever since.
Since we were both acting, we made the same pact many dual-acting couples do: Whoever lands a job, if it takes us away from home, then the other will let go of their career in order to keep the family together. This happened rather quickly for us as we had our first daughter at 19, and he had to shoot a series in New Zealand when she was 20-months-old — and I was pregnant with our second daughter.
Early on in our relationship, with all the moving around we did (due to work), we were forced to tap into our ability to make any space a home. Then when acting work dried up for both of us, Yannick took his love of architecture and building and worked building custom homes.
When the acting Gods turned their favour to us once again, we had the blessing of being able to build our home from the ground up. And now, we're building a cottage from the ground up. We keep saying "this is the last project," but I don't know if that will ever happen for us since we both share a passion for design and making our space our oasis.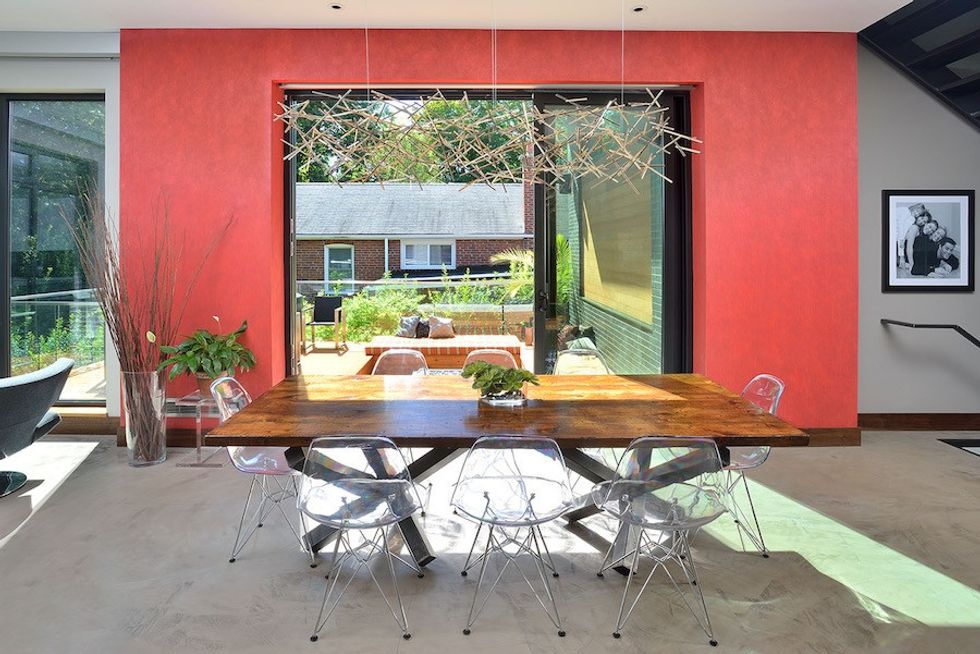 What drew you to this house and neighbourhood?
Yannick: Shantelle's grandmother lived in a tiny East York house for many years. When we were looking to unload a property and downsize another, I took a drive through that area hoping that it was undervalued and had potential for profit. We found one such house with an elderly couple who were selling. It was on a quiet, secluded cul-de-sac and a ravine. What could be better?!
How would you describe the style and vibe of your home?
Yannick: Our Toronto home is very modern, clean and linear with multiple levels to break it up. We've also gone to great lengths to warm it up with natural wood and textured surfaces.
Shantelle: I would describe the style and vibe of our house as comfortable modern, and not "too dear." There is nothing in our home that you could spill a glass of wine on that would give us a heart attack. We like our homes to be inviting, not intimidating. We want everybody who comes through the front door to feel like they could — and are welcome to — stay forever.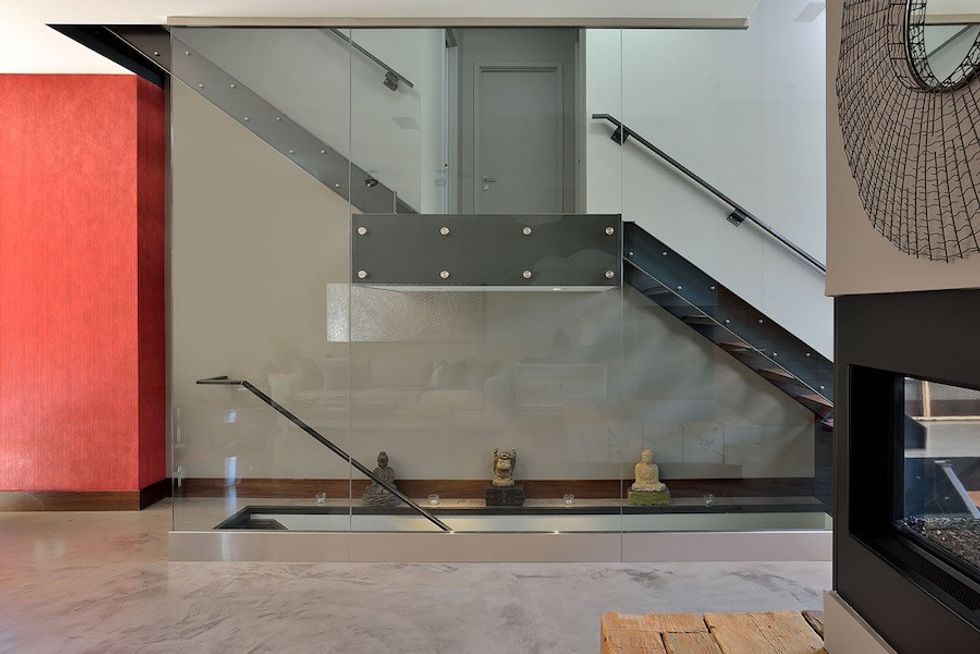 Did you work with an architect or designer on your home?
Yannick: We worked with the amazing Eric McClelland of Fleur-de-lis and Gordon Ridgely Architects, who has now passed.  We're proud to say that our home is one of his very last projects.
Walk us through your home.  
Yannick: A big part of the goal was to have a "grand" entrance. But when you have to cram a two-piece bath, front closet and a fireplace, it's very tricky. Shantelle had the brilliant idea to put the powder room immediately by the entrance. This made it very unobtrusive. So much so that people often miss it.
There's a large wall space taken up by a beautiful antique Roche Bobois wall unit that came straight out of a '70s shag pad. Then comes the huge walnut veneer closet that rises 11 feet. The fireplace is to the right of it and acts as a room divider, a bench on three sides and, of course, a source of heat. Either side of that leads you into the living room and the rest of the main floor.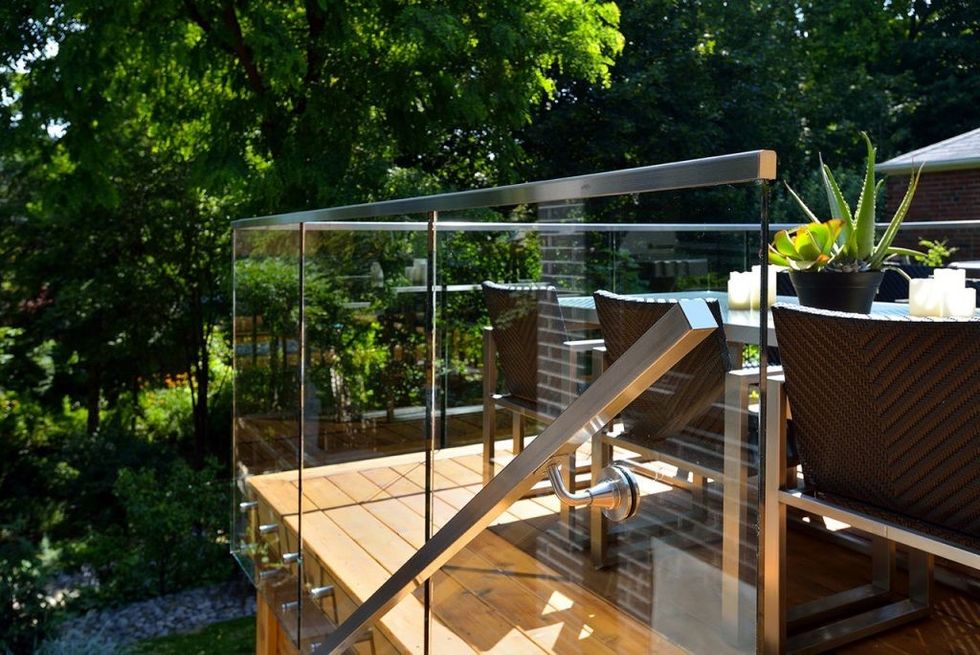 What are a few unique features in your home?
Yannick: Hydronic radiant floors throughout, beautiful custom walnut accents throughout, and beautiful Tiltco floor-to-ceiling windows. Also a glass wall feature between the main and mid-floor features a cantilevered landing, custom three-sided fireplace that I designed and added antique wood beams to myself.
Fav room in the house?
Yannick: The main living-dining space is the heart of this house and what I look forward to most when I'm away for any length of time. Every chair on that floor is extremely comfortable. There's a very good reason for that!
What one thing can you not live without in your home?
Yannick: Excellent view, excellent climate control, excellent mattress, and Shantelle.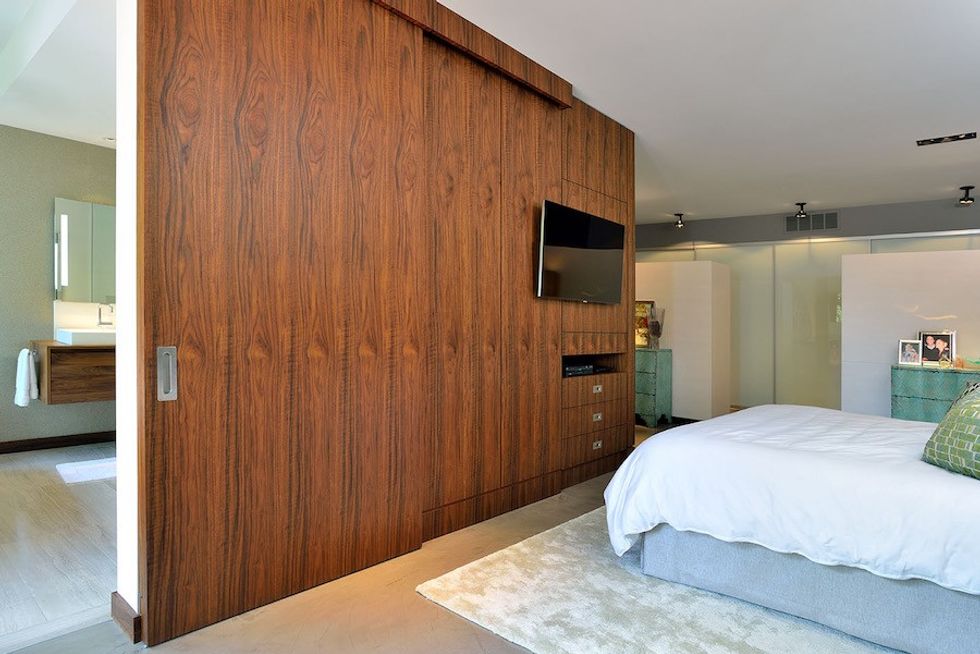 Are there any "velvet-rope" rooms, that the dogs are trained not to go in, or that you only use for specific occasions?
Yannick: I'd love to have a gate to keep our dogs out of the bedroom, but when I'm not there all bets are off!
Shantelle: Our house is an all-access home. It was built for all of us to enjoy, including the dogs. In fact, our upper fire pit area, right off the dining room, has officially become "their" deck. They hog the cushions and can be found out there as long as the sun is shining, regardless of the temperature.
There is one zone off-limits for our daughters — or at least it was while they lived with us — and that's my master bathtub. It was the first thing I bought, even before the house was torn down. They used to have to ask my permission to use it.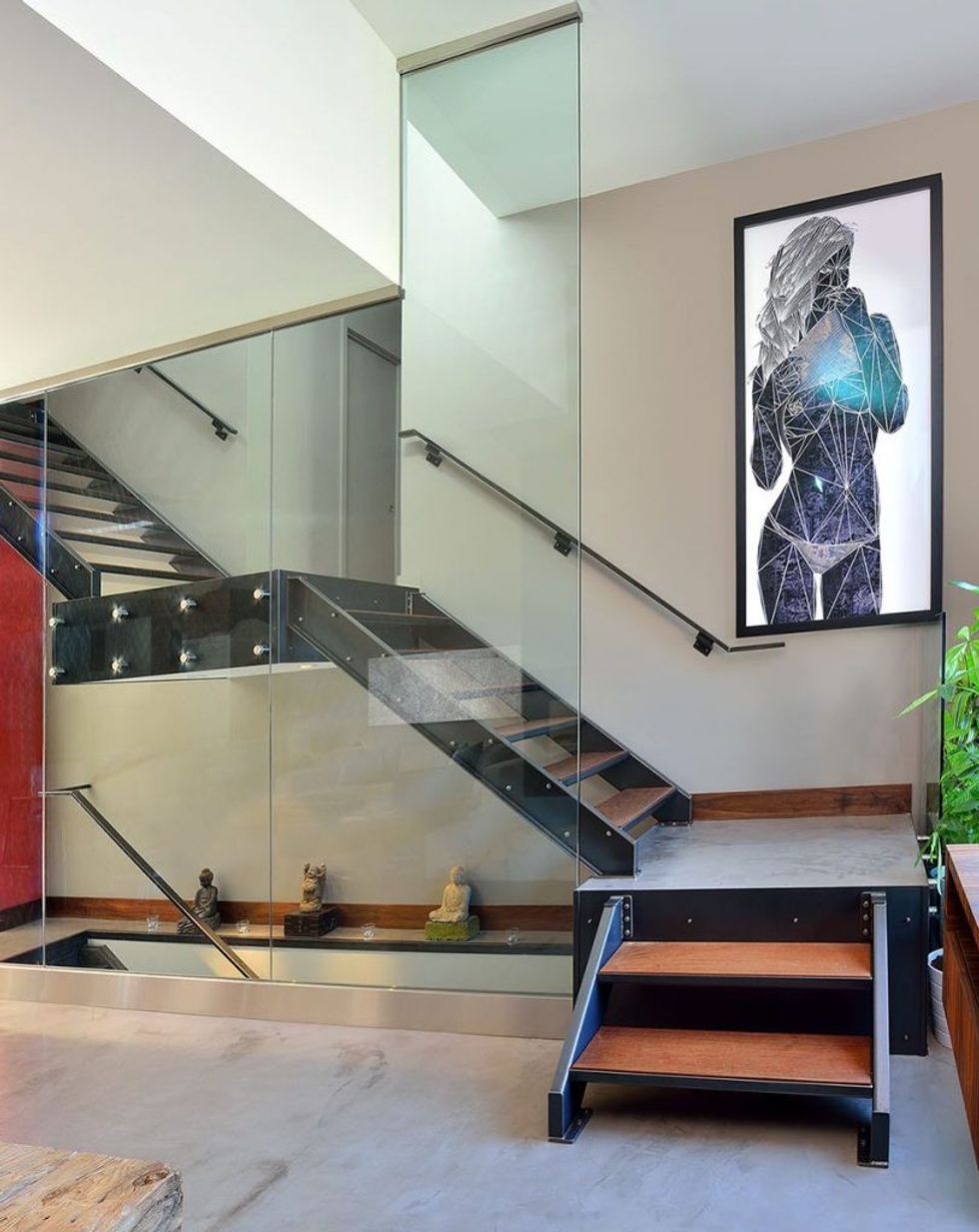 Talk to me about your personal style and how you went about personalizing the home?
Shantelle: Yannick and I actually share very little in what design elements we like, so the entire house was a compromise. Meaning we both had to give to get. I like wrap-around porches, hammocks, porch swings and pillars — none of which we have.
So, it was super important for me to be comfortable in this space that we incorporate a lot of natural elements like walnut baseboards, wall panels, doors and the fireplace bench. We also warmed the house up by applying textured wallpapers on certain feature walls.
I saw this video of you guys where Shantelle talks about that gorgeous bathroom tub, and having the toilet in a separate part of the washroom, which I love. Any other unique tidbits like that?
Shantelle: A super-cool, temporary design element to the home, was we built a "floating room" in the walk-out level basement. At the time we built the house, all three of our girls still lived with us, which meant all four designed and called for bedrooms were in use. But we still needed a guest room, since long gone were the days that our daughters in their twenties were interested in sleepovers, while we had company come to visit.
To solve this problem our designer built this floating guest bedroom. The walls to the room were not fixed into the structure of the house. They were essentially resting on the floor, ready to come down once our girls moved out. Once this happened and the walls came down it practically doubled our TV room, opening the entire space. It was a brilliant fix, and something I still feel super cool about having done.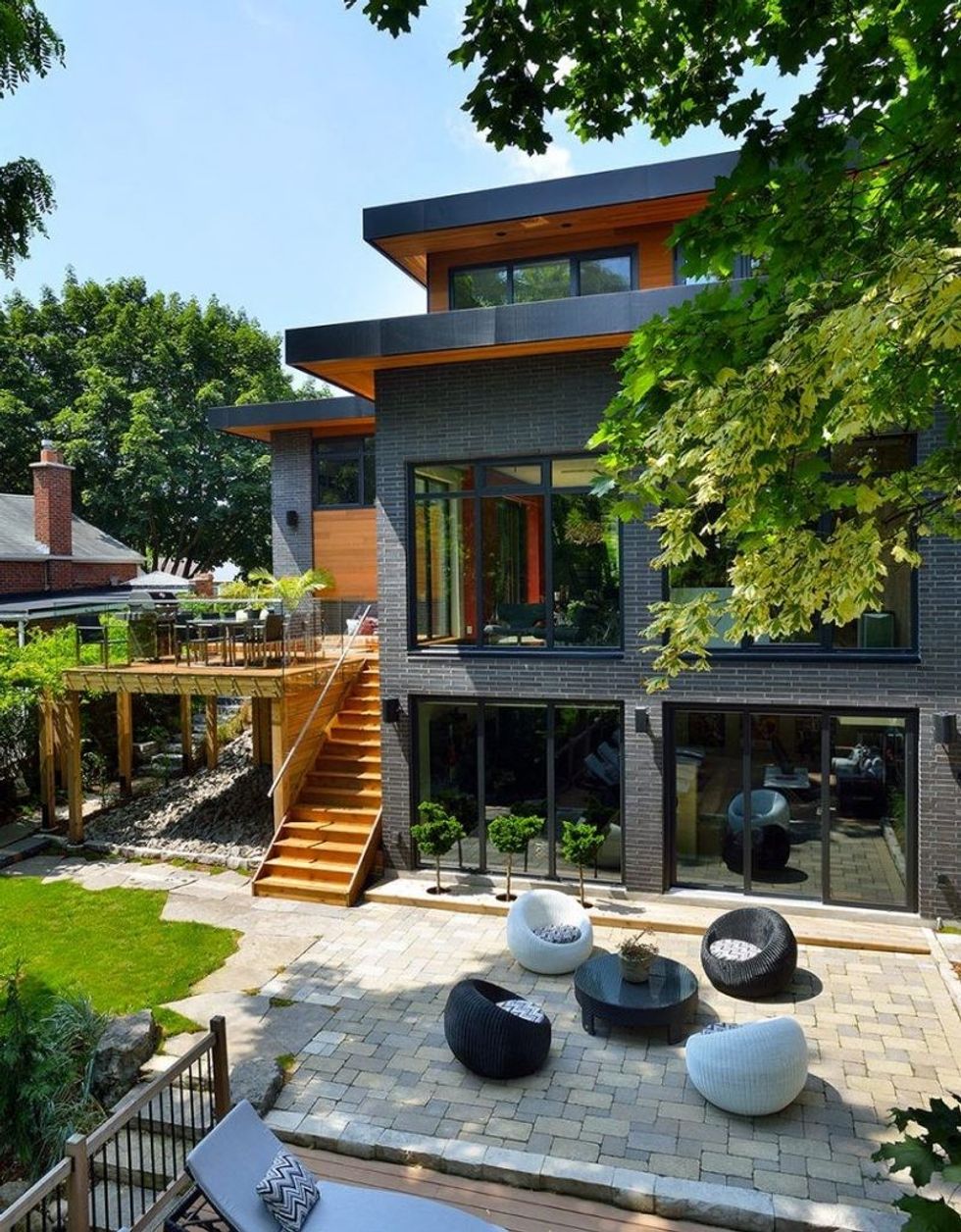 I hear you guys sourced a company to help consult and design the wiring of the house. Tell me more about that.
Shantelle: We actually don't have an automated house. I've done a great deal of research, and read so much literature on how WiFi/smart homes are actually making us sick. In fact, Germany has removed WiFi from all their schools, but I digress.
We opted to keep the house as low-tech as possible to save our health. So, the most high-tech tools we have is our outdoor in-ground spa, which can be operated from our iPhones and an iPad. And we have Sonos. That's it. Even our alarm system can't be accessed by our phones. And we even put our WiFi on a timer so that it goes off during sleeping hours.
Yannick, you're so involved in the arts, how does that play a role in the art on your walls and the feel of your house?
My grandfather was a sculptor and artist. He was a school teacher and taught art to many of his students as well. One such student was Jean-Paul Riopelle. This has stuck with me.
I feel that as a people we must be connected to the arts on as many levels as possible and we should value the artist as much as we do every other member of society that we "need." I like to see art everywhere I look, even if it's a bunch of sticks.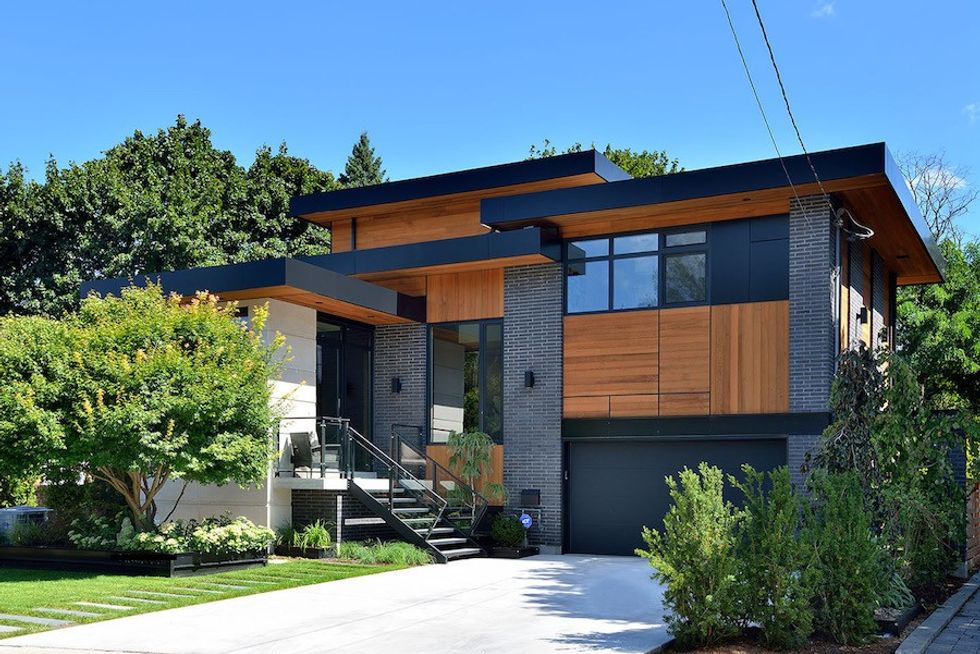 Yannick, between what I imagine to be long days on set, and your travels, do you actually manage to spend any time at home? How do you ground yourself?
My time seems to be very early in the morning when no one else is awake. I set myself up in one of the window chairs. From there I can enjoy the morning light directly ahead and then swivel the chair to take in all of the main floor of this house. That makes me so, so happy.
Are there any must-haves in your fridge, and cupboards in your kitchen?
Yannick: Chocolate, tequila, macadamia nuts and espresso.
Shantelle: And everything has to be facing the same way: Labels out, so when you open the fridge, and the pantry you're reading the label right away. I only cook with All-Clad pots and pans, and Scan Pan frying pans. I'm also obsessed with my Lodge cast iron pans, and Chrissy Teigen's Cravings cookbook!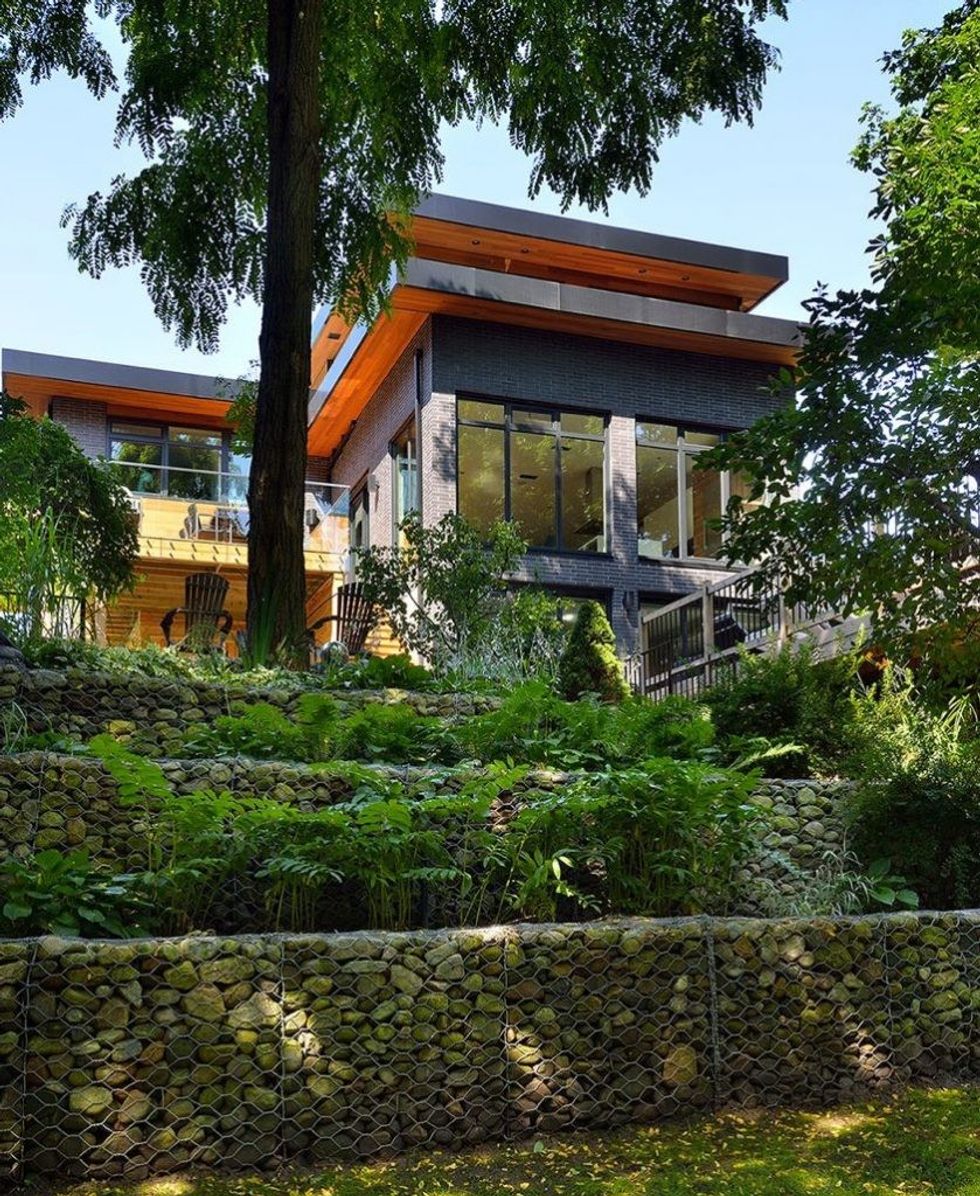 You guys are known for being great hosts. What's the most notable fete you've hosted at your home and can you tell me a bit about it?
Shantelle: We've had so many ... I'd have to say it depends on who you ask. We have friends who want my fish tacos any time they come over. Then some want Bobo's Tacos. Bobo's Tacos are the recipe of my best friend Barbara Springfield, her tacos are so famous that her husband Rick even had a vintage sign made for their kitchen wall saying just that.
I love making any of my meals that allow my girls to get in the kitchen and help me with, such as my beef stroganoff, or my Tony Soprano's — which is my spaghetti bolognese with meatballs served on an open-faced garlic cheese sandwich. Or when I can be cooking while those I love, friends and family are keeping me company, sipping drinks at the island while I do my thing.
Industry Profiles