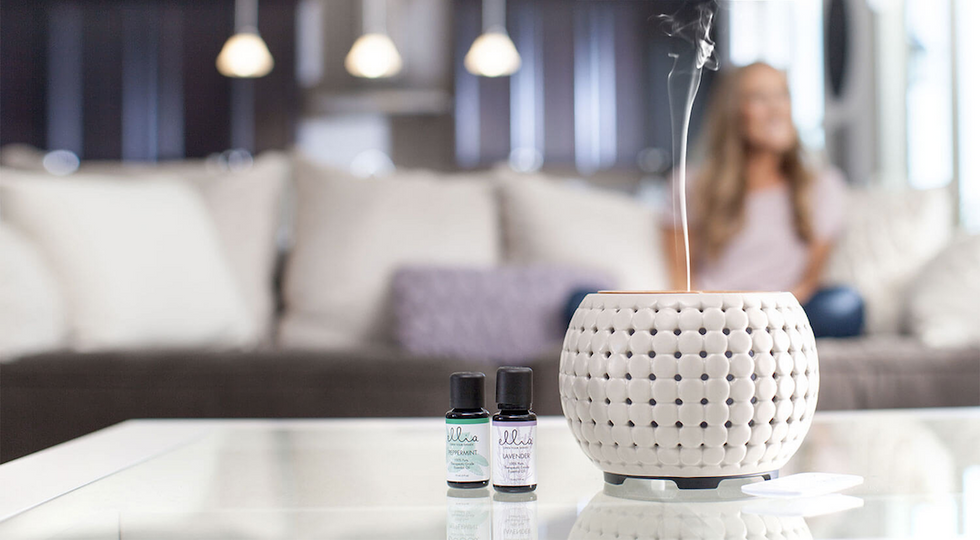 Out with New Year's resolutions and in with relaxation. This can help: Ellia's Gather Ultrasonic Essential Oil Diffuser.
It's that time of year when New Year's resolutions become old news and often fall by the wayside. So, how's that New Year's resolution coming along?
---
Well, if you're human, you might've fallen off the bandwagon already — especially if your goal this year was either to lose weight, get fit, be less stressed, or sleep more.
Why does chocolate cake have to taste so good? Who wants to walk, run — or even get outside in this weather? How will you find time to de-stress when credit card bills have just piled up?
Don't worry. Let's tech out some apps and devices solutions that can help you improve your life from the comfort of your own home.
Get moving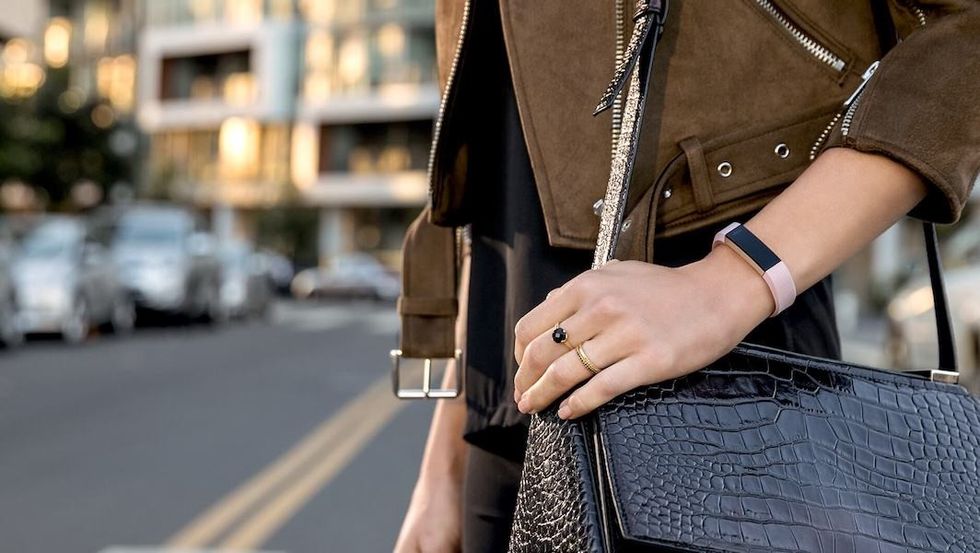 Move it with the Fitbit Alta HR.
A wearable activity tracker (or smartwatch) can help monitor and motivate. The Fitbit Alta HR ($199), for example, is a slim and stylish wristband that tracks your steps, distance, calories burned, and heart rate. It also gives you friendly reminders to move. As extra incentive, this Fitbit includes automatic exercise recognition, which gives you credit for being active. Plus, optional smartphone notifications keep you connected throughout the day.
You can tailor your look as well, with interchangeable metal, leather, and classic bands (sold separately).
Get motivated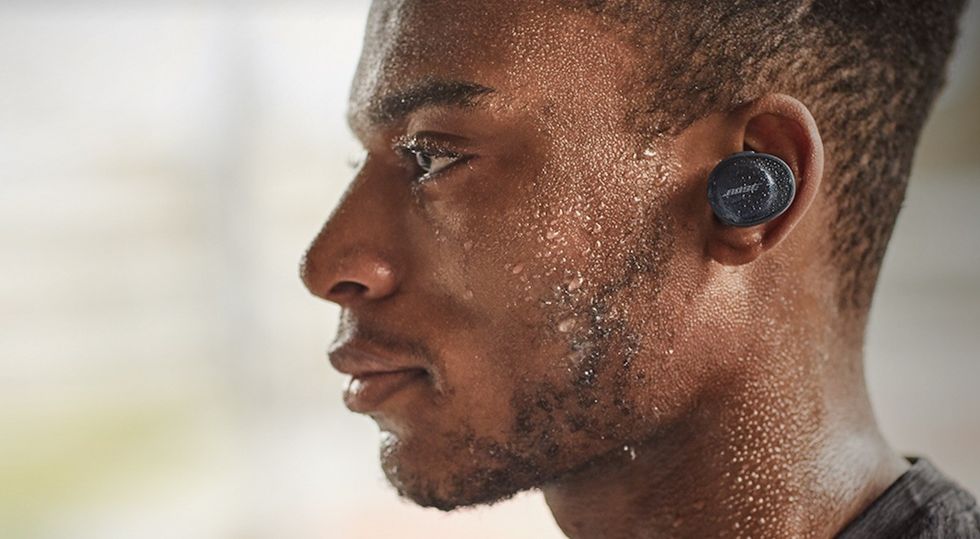 Get in your zone with Bose SoundSport Free headphones.
Music is a proven motivator. Available in black or blue, the Bose SoundSport Free headphones ($329) were created specifically for exercise. They're wireless in-ear buds, with secure tips, and they're sweat- and weather-resistant. Along with clear and well-balanced audio from your music — plus the ability to play or pause tracks and access your phone's Siri or Google Assistant — you can take calls through the right earbud.
Battery life on these Bose earbuds tops 10 hours between charges. Misplaced them? There's also a handy "Find My Buds" feature on the companion app, which shows you the last time and location you used them.
As for apps, MyFitnessPal and Lose It! (iOS and Android) are two of the more popular calorie-counting tools. So you can log everything you eat throughout the day. While features vary a bit, you can select foods you've consumed from the app's huge library of foods and scan barcodes to add packaged foods. This way, you'll know how much more you can eat during the day, based on your caloric intake. (And yes, if you exercise, it frees up more opportunities to eat.)
One of the newest self-improvement apps is MoveWith (iOS only - from $9.99/month after free trial). This takes a bit of a different spin on motivating you. It uses audio to help your "body, mind, and soul," says the company.
From high-intensity cardio, strength, and running workouts, to mindful yoga and meditation, this app gives you all the benefits of a motivating and instructional coach in your ear, along with relevant music to get you in the zone. Simply choose what you want to work on, select your personal coach, and away you go. MoveWith says they add new audio workouts each week.
Sleep better … Zzzzzzzzzzzzzzz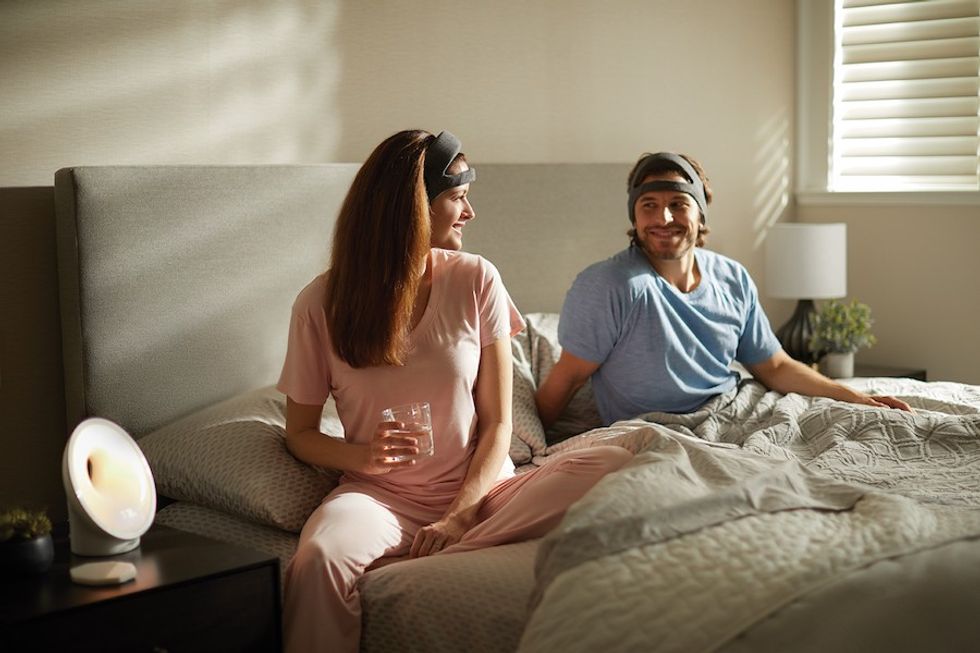 Get some rest with SmartSleep.
Most activity trackers don't just monitor exercise, but sleep behaviour, too. So if you were to awaken, you'd know when and how long you were awake. The abovementioned Alta HR automatically goes one step further by showing your time spent in light, deep, and Random Eye Movement (REM) sleep.
If you have any challenges with your memory or concentration, it could be due to a lack of sleep. And you're not alone. Announced at CES, Philips says it has developed an even better wearable to address the fact that nearly 40 per cent of people ages 25 through 54 get less than the recommended seven hours of sleep per night. Enter the new Sandman, SmartSleep ($399 US).
SmartSleep has two small sensors that detect periods of important "slow wave" sleep. Once this is sensed, it produces customized audio tones in real time that are said to enhance the depth and duration of slow wave sleep.
Philips studies have found significant success among those who used SmartSleep for two weeks. They say it results in being more alert and energized throughout the day, and will improve memory. For now, try to remember that the product will be available this spring.
When it comes to apps, Sleep Cycle (iOS, Android) leverages your smartphone's built-in microphone and accelerometer. This detects your movements as you sleep, using sound and vibration analysis. The app then analyzes the data to determine if you are in light sleep, deep sleep, or a REM dream state. Given this data, it wakes you up at an optimal time (within a 30-minute window that you set). In the end, the app attempts to awaken you during your lightest phase of sleep. This way you'll start your day feeling rested and refreshed.
Be less stressed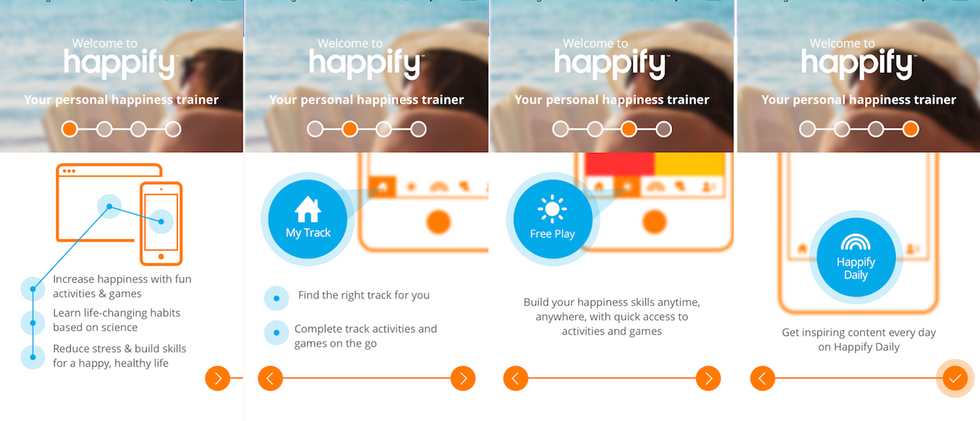 Get appy and happy with the Happify app.
Mindful and meditation can be difficult tasks, but there are actually a few apps to help you with this.   
Built for busy people, Simple Habit (iOS, Android) is an on-demand platform. It offers simple five-minute lessons, featuring more than 1,000 meditations guided by mindfulness teachers from around the world. You can also pick a lesson by Series (Drift to Sleep, Sharpen Focus, Meditate in Nature), and by Teacher of your choice (check out Australia's Kate James, with her soothing voice and helpful instruction).
More than 50 sessions are free, with the option to upgrade to a premium version for $16.99/month or $129.99/year. It's also available through a desktop website, and Simple Habit will remember where you left off.
Need a boost to become happier? The free Happify app (iOS and Android) offers various games and activities to perk you up, on demand, wherever life takes you. Simply fill out a brief questionnaire to instruct the app on your specific stressors, and it will select a relevant program for you.
Relaxation can also lead to happiness. And there's relaxation hardware for that.
Crafted from ceramic and wood, in a basket-weave design, Ellia's Gather Ultrasonic Essential Oil Diffuser ($129) fills your space with the natural scent of essential oils (three samples included, and start at $14.99 after that). Set it and forget it -- with 10 hours of continuous runtime – or use the bundled remote to turn it on and off. This aromatherapy gadget also features a colour-changing light, and a library of relaxing and uplifting sounds.
Toronto