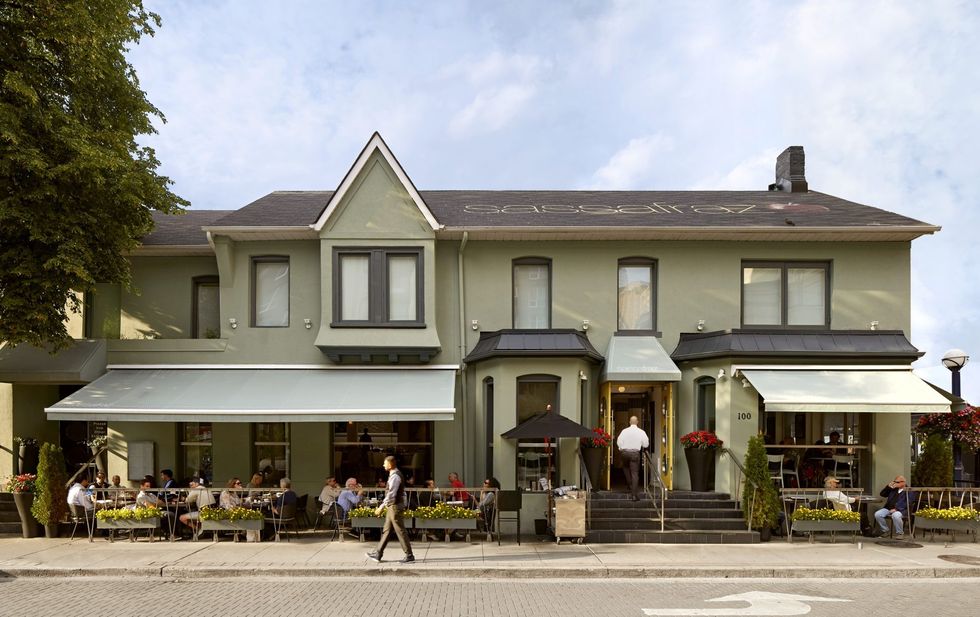 (Photo courtesy of Design Agency)
Here's everything you need to keep you in the know …
---

Toronto
Toronto's Bois & Cuir know that when it comes to putting oneself together, the fashionable-set don't just throw on a dress or suit and call it a day.
This beautiful, hundred year old home near Cabbagetown has an historically correct, restored brick façade juxtaposed with three stories of dramatic glass.
Anyone who thinks condo architecture in Toronto hasn't improved over the last few decades should take a look at 330 Adelaide St. E. Though it seems to have come straight out of the 1960s, maybe '70s, it actually dates from the late '90s.
For nearly seventy years, Wycliffe Homes has maintained a reputation in the GTA as a caring, customer first builder.
During the first week of October, Sassafraz — the once go-to restaurant for A-list celebs and a certain societal set — hosted a party to not only celebrate their 20th anniversary but to showcase their all-new menu and, most notably, their two-years in the making re-design.
A new day. A new month. A new chapter.
Well we might have got a break from Toronto road closures on the Gardiner last weekend, but they're back with a vengeance for the first week of November.
This is the second week we're back to regularly scheduled TTC subway closures on Line 1 after about a month's break.
Canada
The Ontario Real Estate Association is making more than three dozen recommendations to the provincial government on how it should update the rules governing realtors, including allowing for a more open bidding process for buyers and sellers.
Pot is legal and it feels as though not much has changed. However, while the future may be green, just how legal pot at home will impact the real estate industry remains a bit uncertain with buyers and sellers.
Property listings website Mongohouse is striking back at the Toronto Real Estate Board, claiming that it has suffered losses in excess of $50,000 after it was forced to abruptly shut down its website earlier this month.
U.S.A
Canadian real estate prices are more tame, but a correction may still be in the cards. The Federal Reserve Bank of Dallas (Dallas Fed), a branch of the US Federal Reserve, released exuberance indicators for Q2 2018. Exuberance is lower than it was last year, but we're still nowhere near a healthy market.
For some celebrities the scariest thing on Halloween is a list of their home addresses that is making the rounds online.
Four years ago, adorable duo Anna Faris and Chris Pratt invited us into the backyard of their lovely Mediterranean-style mansion in the Hollywood Hills to watch Pratt take the Ice Bucket Challenge.
International
Earlier this year, Toronto Storeys discussed how Meghan Markle would want to turn Nottingham Cottage into a home for her and Harry, but it looks like there will be some changes to the housing roster with a baby on the way.
The internet blog squad love their trendy organization fads almost as much as they love one pot recipes. From Kon Mari to Bullet Journals, Pinterest is a veritable treasure trove of people using optimistic, proactive words, to describe different ways to throw out your stuff.
The fast-paced advancement of computing technologies and concurrent boom of data have combined to increase the capabilities and efficiency of the analytics industry.
Real Estate News