GTA
Real Estate News
The Average Detached House in Toronto Has Officially Crossed the $2M Mark
Looks like we're in for another unseasonably hot winter market; the latest GTA numbers are in and, while activity still lags last year's frenzied levels, it was the second-strongest February on record, with sales surging from January.
The Toronto Regional Real Estate Board (TRREB) reports a total of 9,097 homes traded hands last month — a 16.8% year-over-year decline, but up a whopping 61.4% from the previous month.

A Desperately-Needed Rebound
Bustling sales certainly got a boost from an infusion of sorely needed supply: a total of 14,147 new listings came to market, more than doubling (109.4%) January levels. While still down 6.6% on an annual basis, as the decline was less steep than sales, that's helped improve overall inventory, tipping market conditions ever-so-slightly toward balanced. The month closed with a total of 6,985 homes for sale, more than 2,000 higher than last month, and hopefully signalling that overall supply is on trend to healthier levels.
READ: Is the Toronto Housing Market Really Starting to Cool?
However, the number of homes for sale is still a far cry from leveling out the market; the sales-to-new-listings ratio (trend) remains well ensconced in sellers' territory, at 72.2%. That's means yet another month of double-digit price increases, as the average GTA abode now fetches $1,334,544 — a year-over-year increase of 27.7%, and up 7.3% month over month.
"We have seen a slight balancing in the market so far this year, with sales dipping more than new listings. However, because inventory remains exceptionally low, it will take some time for the pace of price growth to slow," says TRREB Chief Analyst Jason Mercer. "Look for a more moderate pace of price growth in the second half of 2022 as higher borrowing costs result in some households putting their home purchase on hold temporarily as they re-situate themselves in the market."
READ: Sold for $500,000 Over Asking? Sounds About Right
By home type, the greatest volume of sales is still occurring in the pricey detached segment, with 3,928 sales led by activity in the 905 markets. The average price of a single-family detached home rose 31% to $1,797,203 overall, and has officially breached the $2M-mark in the City of Toronto, at $2,073,989 (23%).
Condos, meanwhile, are hovering near the $800,000 threshold, with the average price coming in at $799,966. A total of 2,722 units sold, with 1,842 of those transactions concentrated in the 416 market.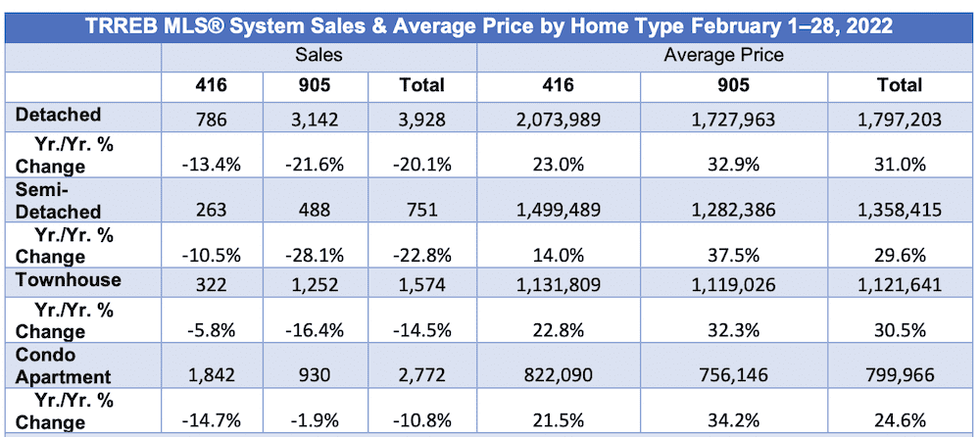 Despite the improvement in supply and slightly slower sales than last year, today's buyer is unlikely to feel any relief, says TRREB President Kevin Crigger. While there are several headwinds set to slow sales later in the year — namely rising interest rates — buyer competition is only expected to increase.
"Demand for ownership housing remains strong throughout the GTA, and while we are marginally off the record pace seen last year, any buyer looking in this market is not likely to feel it with competition remaining the norm," he says. "Many households sped up their home purchase and entered into a transaction in 2021, which is one reason the number of sales were forecasted to be lower this year and a trending towards higher borrowing cost will have a moderating effect on home sales. Substantial immigration levels and a continued lack of supply, however, will have a countering effect to increasing mortgage costs."
This is all to be of strong focus for policymakers and politicians as we enter election season; following the recommendations set forth by the province-appointed Ontario Housing Affordability Task Force, it will be interesting to see whether — if any — of their 55 proposals will be put into legislation before Ontarians head to the poll.
"We are close to provincial and municipal elections in Ontario. We know that housing affordability will be top of mind," says TRREB CEO John DiMichele. "Parties and individuals vying for political office must concentrate on bold and creative policies that will support increased and diverse housing supply to account for the current deficit and future population growth as immigration accelerates. History has shown that tax based policies pointed at foreign buying and speculative activity, which seem to be the political preference, have had very little impact on the market simply because this type of activity accounts for a small share of overall market activity."