If there's one term in the real estate lexicon that's become increasingly meaningless in Toronto, it's "asking price." More often than not, it's not what's being asked for at all.
---
In today's market, an asking price and a sold price are frequently two entirely different things. And it's not that a house selling over asking is anything new. But the frequency with which it's happening -- and the dollar amount over the asking price that's being offered -- is causing buyers, sellers, realtors, and virtually anyone else around to take notice. Although it would be nice to write off these well-over-asking sales as outliers made popular as anecdotal fodder, the numbers tell another story.
Toronto realtor Scott Ingram has tracked week-by-week the number of homes selling over asking in Toronto. Looking just at February, roughly 80% of all freeholds and 75% of all condos sold over the asking price. Although these numbers are marginally higher than Toronto has seen in previous years (including during the frenzied buying periods of 2017 and 2021) the biggest difference are seen when looking at how many homes are going at least 20% over asking.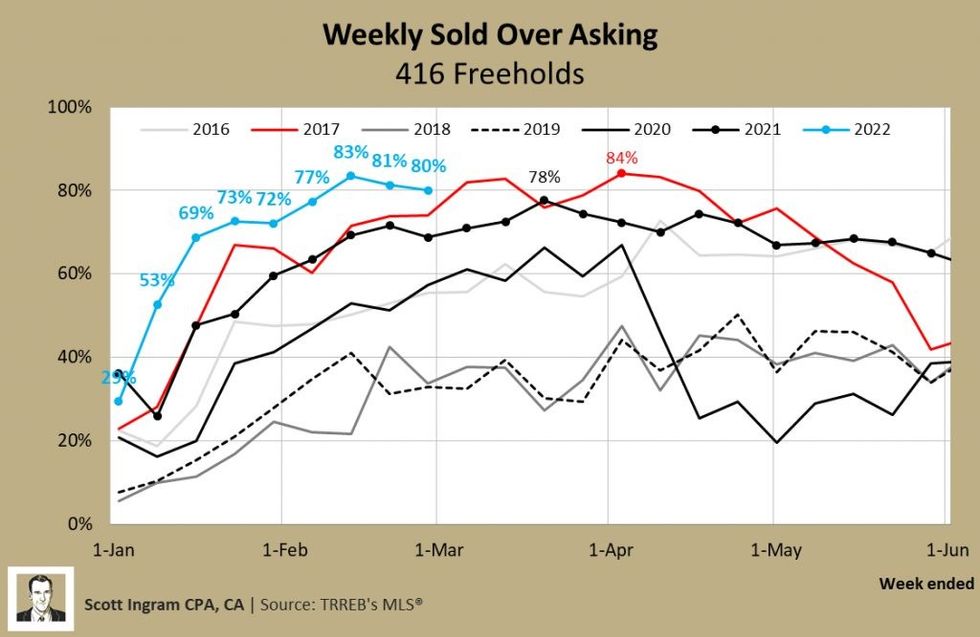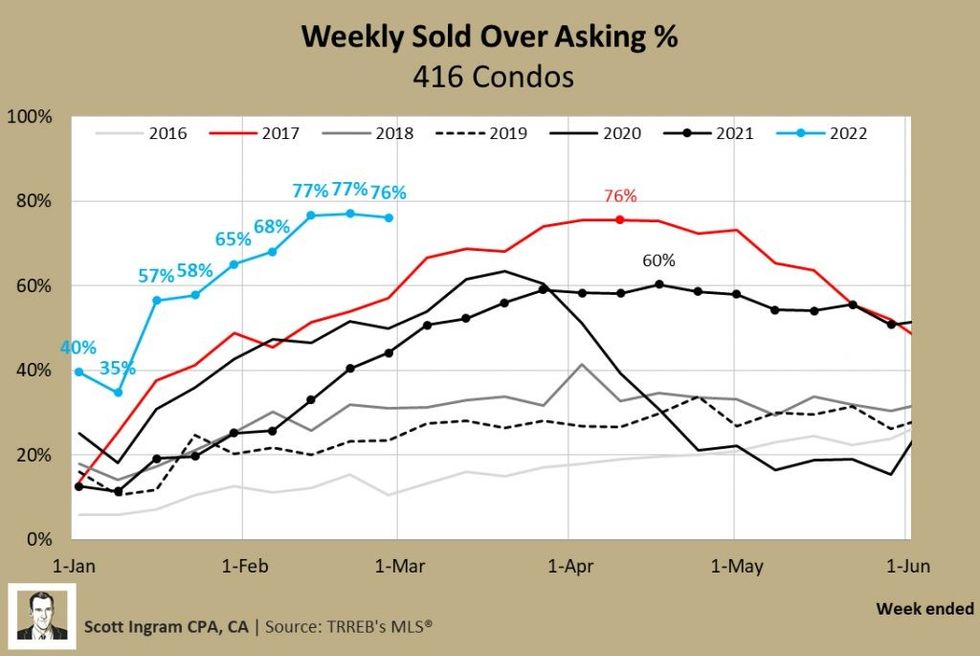 It's not just that these homes are selling somewhat over -- they're selling significantly over. In the first week of February, 48% of freeholds went at least 20% over. In that same week in both 2021 and 2017, closer to 25% were selling that high. Jumping back to that same week in February 2022, 23% of condos went at least 20% over asking, compared to 2021 and 2017 where less than 5% of condo sales had done the same.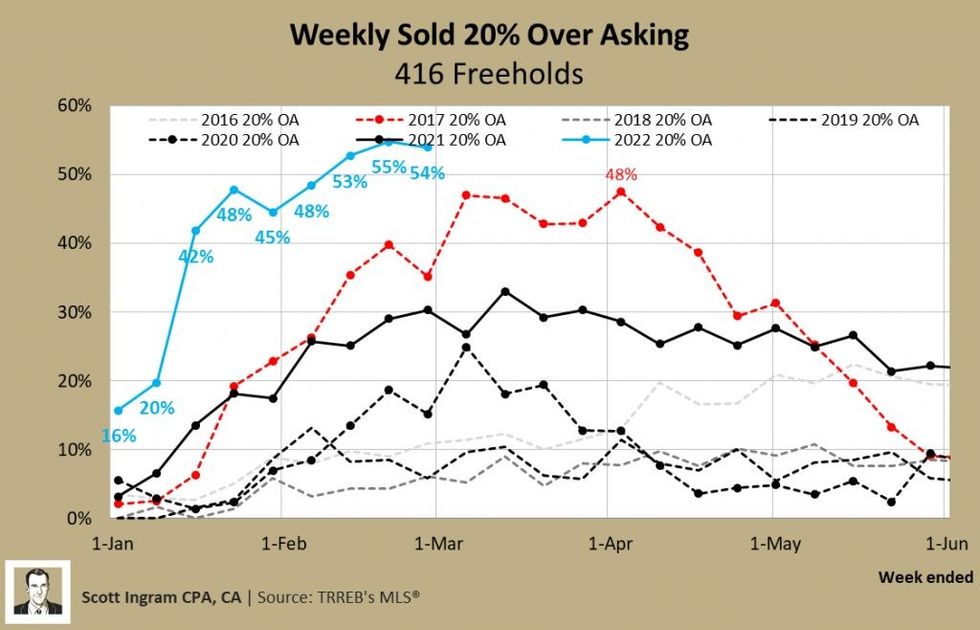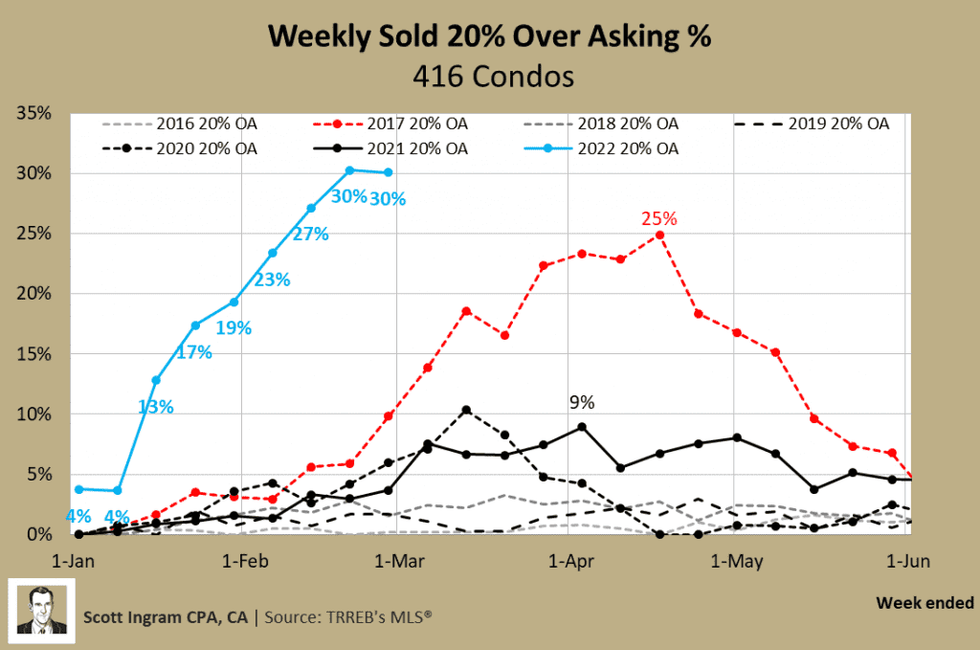 Of course, many homes are going much higher than 20% over. In the last week of February alone, nearly 30 homes across Toronto sold for more than $500,000 over the asking price. One of those homes, a four-bedroom at 18 Clyde Road in Scarborough, sold for a staggering $971,000 -- or 57% -- above asking.
And unfortunately for buyers, it's not the only home of late to go that high over. A house a 66 Nealon Avenue in Toronto's Broadview North neighbourhood was scooped up after just two days on the market for $3,650,000 -- a whopping $1.2M, or just under 50%, over asking. A few days later, a yellow-bricked two-bedroom at 75 Macpherson Avenue in the Annex snagged an offer $1M -- or about 38% -- over the asking price.
The Go-To Marketing Strategy
Although heightened interest in home buying, coupled with a limited inventory, is largely responsible for pushing home prices up, intentionally pricing a home well under its market value has become a standard marketing practice in the city thanks to the red hot market.
"People are just listing bigger discounts now. It used to be people might discount it a couple hundred thousand. Now it's like four to 500,000 is kind of normal, depending on the price point," Ingram said. "When people think it's a seller's market, or it is a seller's market, that's when the strategy comes out more. If things were dead, you're not going to think people are going to be lining up to give you 20 offers on a place, so it's only something to do when things are hot and you think you can get a bunch of people to the table on offer night."
Toronto Realtor Shane Little says the tactic of intentionally pricing under a home's value has proven itself effective for drawing more attention and consequently more offers.
"It's human psychology. If you create a buzz around a listing, if you create a lot of activity, if you create a bidding situation, nine times out of 10, people do end up paying more for that property. It does end up selling quicker. They get in a competitive environment."
Unsurprisingly, a seemingly low price on a home can draw in aspiring buyers who may not be prepared for how high over asking it will eventually go.
"I find most people have to lose out on two or three before they kind of get the sense that okay, you know, this is where things are going," Little said. "It really has become part of a marketing piece and ... a piece of the the selling strategy. It's not necessarily a reflection of the actual value of the property.
"There's some some disappointment out there. But I think the important thing is when we're talking with our clients and we're sitting down with them, you are educating them on where these properties should trade based on what sold."
With the listing price not holding much meaning, both Little and Ingram say that the only way to accurately estimate a home's value is by looking at recent comparable sales.
But is There an End in sight?
The real estate market known to fluctuate from month to month and year to year, which begs the question: will these wildly sold-over-asking prices come to an end any time soon?
"I would say right now, no," Little said. "I think if we did see some buyer fatigue and we saw people kind of getting fed up with that, maybe. But the reality is right now we're in a low-inventory market, we're in a seller's market, and people are still very much wanting to buy homes in Toronto. And I think as long as that's the case, I see it's continuing to be the the trend."
In today's market, both sellers and realtors are looking to get the absolute best price they can, and with underpricing offering them that, it's not likely to stop in the immediate future.
"I think part of the reason people are doing this under listing so much now is they're afraid to leave money on the table when new records are being set every week," Ingram said. "People don't want to sell themselves short, so they're like, 'okay, you know, this house down the street sold for $1.8M last week and mine's pretty similar. They listed at $1,399,000 and it sold for $1.8M, so they seem to have success doing that so I'm just going to do $1,399,000 too."
But when, or if, the market eventually cools off, it's likely that the underpricing tactic will cool off right alongside it.
"I think right now we're just running hot and will come back down," Ingram said.
Real Estate News