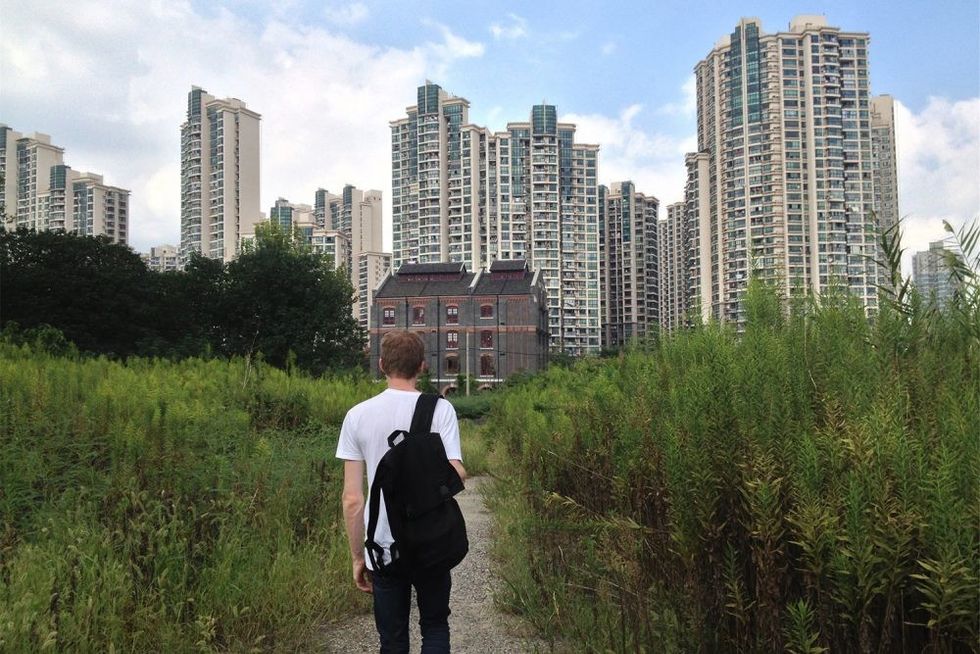 Real estate for Millennials can be a daunting topic, right?
---
You're finally ready to talk about that big scary thing that you've been avoiding for the last 20-something years: Real estate and buying your first home.
I know, you're yelling at your computer: "It's so broad! So complicated! I'm too young to think about that stuff!"
But you're also a little bit intrigued.
I'm not a homeowner, I don't have a mortgage, and I'm only just now thinking about the idea of moving out.
A quick Google search is too overwhelming — too many articles about Toronto's crazy real estate market, not enough explaining what the heck this whole thing is about.
So, in the quest to become more informed and prepared for the inevitable future of moving out of mom and dad's place, I sat down with some people to pick their brains on everything they think I should know.
I asked everyone from my family to real estate professionals to a first-time condo owner for their best advice and discovered what I (we) need to know to get started:
My Mom And Dad: Entrepreneurs And Homeowners Of 22 Years
1. Thoroughly check the market. Make sure you've researched the area where you're looking to buy (or rent).
Is there a subway station nearby for accessible transportation? Or a highway to get to work? When the time comes for kids (I had to remind her I was 22), is there a choice of good schools? Basic things that will make your life easier.
2. Compare the prices of similar spaces: A one-bedroom and one-bath located on King St. may be far more expensive than a one-bed, one-bath located somewhere with less of a demand.
3. Also, when looking into the size of your space, make sure to take into account whether or not it can accommodate your life and potential life changes. Think ahead: Will you have a boyfriend or a dog joining you? Will there be room for you all?
4. Look for places with utilities and amenities included in the price, like gas, heat, water, and electricity. These are the ones you'll need for basic living, so make sure to inquire. If they're included, that could be a bonus.
Next, you want to think about the luxury amenities, such as a free gym, pool, and parking.
5. MAKE SURE YOUR MORTGAGE RATE IS LOW.
What's a mortgage rate? The rate of interest your mortgage lender (usually a bank) will charge you.
*More on what an actual mortgage is below.
Brother: Entrepreneur, Actively looking To Rent Downtown Toronto
1. "Simply put: rent, don't buy." (This was a sentiment echoed by many disgruntled Millennials who can't afford to buy a place in Toronto's current market.)
2. Rent equals one week's pay. He acknowledges that general rule of thumb may not be entirely realistic in Toronto's market, but he says it's still a good rule to live by.
3. Make sure to do the math. Think about
renter's insurance
(in case you burn the place down making mac and cheese), rental price, what you'll need for first and last pay, and whether you will you need someone to co-sign.
A co-signer may be required if you have poor credit. So this is someone who can basically guarantee that you will pay what is owed. If you don't pay, this person is obligated to make your payments.
4. Always try to see the place you're looking at in the daylight. That way it's easier to see every single thing. And when you do, make sure to use or touch everything relevant to make sure it's in working condition.
Ask about the appliances, open the cabinets, turn on the taps in the bathrooms, flush the toilet. All that fun stuff your mom told you not to do when you accompanied her to open houses.
Amit Nofech-Mozes: Portfolio Manager At Dash Property Management, Current-Renter With A Pre-Construction Investment
1. Really understand a mortgage.
What is a mortgage? Money that is borrowed from the bank to buy your home that is paid off over a fixed period of time.
The bank wants a down payment of usually 20 per cent or more. If it's between five and 20 per cent, you're required to get mortgage default insurance in the case you cannot make your monthly payments. This puts you at risk and should be avoided if at all possible.
The bank will also charge you an interest rate.
Example: If you borrow $100,000 over 10 years, you have to give back $833 a month until the principal amount is paid back.
2. A fixed mortgage is better than a variable one for those on a fixed income, which is perfect for most students and Millennials, because it can't vary and you won't be subject to increasing payments that you won't be able to make.
While a variable rate that is tied to the interest rate is usually less, it's way riskier than a fixed rate.
3. The challenge for most people is earning enough to generate savings to fund a large down payment. And earning enough to meet the monthly payment without being stretched too thin.
His advice to minimize these challenges?
Increase financial literacy skills in the general population and encourage people to work to cut expenses. The more money you can save a month or put towards your mortgage, the better off you'll be. And when it's done, you can save up for a retirement, rather than banking on your home to retire.
Jeremy Hurwitz: Leasing Representative At RioCan And First-Time Condo Owner
1. Be fully cognizant of who built the building, when it was built, and who is currently managing it.
As a condo owner, but also as a renter, you can run into a number of problems with elevators, specific units, and various common areas if they're not built or maintained well.
2. If the developer poorly builds a condo, that means higher costs needed to repair or replace various items that are paid for by the condo owners. This could also affect renters because the cost to the unit owner will often trickle down to the renter.
3. Track common area maintenance fees over the length of the condo operating.
Renting