One of the most frequently discussed issues plaguing Canada's housing market is a persistent lack of supply.

According to the latest date from the Canadian Real Estate Association (CREA), there were just 3.5 months of inventory available in August, well below the long-term average for the measure of five months.
---
As inventory has fallen — in January there were 4.3 months, in December 2022 4.2 months — Canada's population has skyrocketed. In June, as inventory slipped to 3.1 months, Canada's population hit 40 million people, 1.2 million of whom immigrated in the last year.
Under the federal government's elevated immigration targets, Canada aims to attract 465,000 new permanent residents in 2023, 485,000 in 2024, and 500,000 in 2025. These figures don't account for non-permanent residents, like refugee claimants or those on a study permit, a group who accounted for 60% of last year's growth.
In an effort to explore what, if any, relationship exists between Canada's soaring population and its dwindling housing supply, Zoocasa analyzed population levels and national inventory levels over the last decade.
When the data began in 2013, national inventory sat at 6.2 months — well above the long-term average — while the population hovered around 34.8 million people. But, from 2019 to 2021, inventory dipped from 4.8 months to two months. Meanwhile, the population edged up from 37.3 million people to 38.0 million.
The changes are even more apparent on a provincial level, particularly so along the east coast. In Nova Scotia, there were 11.6 months of inventory in 2013, but just 3.3 months as of August 2023. Over the same time period, the population jumped from 942,598 to 1,037,782.

In New Brunswick, inventory has fallen from 12.1 months to 3.6 months over the last decade, while the population grew from 758,298 to 825,474.
"As both are comparatively smaller provinces, there were fewer homes to start with," Zoocasa noted of the two Maritime provinces. "So increased demand had a greater impact."
Prince Edward Island and Newfoundland and Labrador offer even starker examples of Canada's inventory woes. In the former, inventory dropped from a high of 16.3 months in 2014 to 5.6 months in August 2023, but the population only increased by about 30,000 people. In the latter, inventory fell from a high of 16.4 months in 2018 to 6.3 months in August 2023; the population didn't even increase by 4,500 people.
Meanwhile, in Ontario, inventory stood at an already-low four months in 2013, but has since fallen to 2.5 months as of August 2023. At the same time, the population shot up by nearly two million people. British Columbia's inventory has been nearly halved over the last decade, falling from 8.2 months to 4.4 months, while its population increased from 4.6 million people to 5.4 million.
Curiously, while Manitoba's inventory has ebbed and flowed over the years, it sat at three months in both 2013 and 2023, but the population expanded by about 174,000.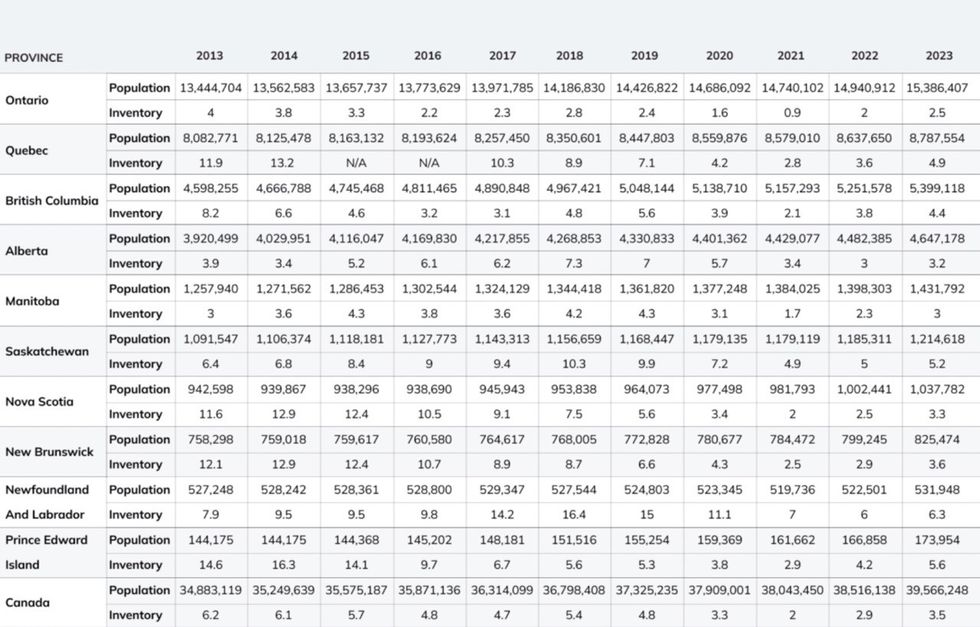 Zoocasa
While Canada's growing population has no doubt had an effect on its sliding inventory levels, the provincial discrepancies allude to the fact that there are additional factors at play.
One particularly glaring issue is a decline in residential construction, caused in part by high building costs, weakened home sales, and a lack of skilled workers. Housing starts, which had been trending downward from August 2022 until June 2023, are expected to revert back to a decline towards the end of this year and into 2024.
Experts, including economists, industry leaders, and government officials, have "touted a need for a far greater number of homes to be built," Zoocasa noted.
In order to restore affordability to Canada's housing markets, the country needs to build approximately 3.5 million new homes by 2030. However, if immigration continues at its current heightened pace past 2025, and starts continue to trend downwards, the housing supply gap could widen to 4 million units come 2030.
Real Estate News