---
As predicted by economists, housing starts declined across Canada in May as labour shortages and high costs weighed on new construction projects.
According to new data from the Canada Mortgage Housing Corporation (CMHC), the seasonally adjusted annual rate (SAAR) of housing starts fell to 202,494 units in May, a 23% decline from April.
Total urban starts declined 24% month over month to 182,842 units. Although there was a slight increase in single-detached urban starts, which rose 6% to 42,952 units, the gains were offset by a significant drop in multi-unit urban starts, which fell 30% to 139,890 units in May. The monthly estimate of rural starts was 19,652 units, a 1.6% drop from April.
The trend played out on a local level, with Vancouver, Montreal, and Toronto all experiencing modest increases in single-detached starts but sizeable declines in multi-unit starts. Total housing starts in the cities fell 45%, 35%, and 28%, respectively, from April to May.
The most significant monthly declines were seen in Kingston (88%), Kamloops (95%) and Lehtbridge (95%). Meanwhile, total housing starts rose 110% month over month in Guelph, 386% in Chilliwack, and 409% in Abbotsford – Mission.
Provincially, only Manitoba, Alberta, and Saskatchewan recorded gains in May, with total housing starts rising 74%, 36%, and 3%, respectively. Prince Edward Island led the provincial decline, with a 79% drop from April to May, followed by Ontario (-39%), British Columbia (-34%), and Quebec (-23%).
"The decline in housing starts is due to constraints in new construction, including labour shortages and higher construction and borrowing costs, which is considerably affecting multi-unit starts," said Bob Dugan, CMHC's Chief Economist. "Despite this, starts have only declined to the relatively high levels observed prior to 2020."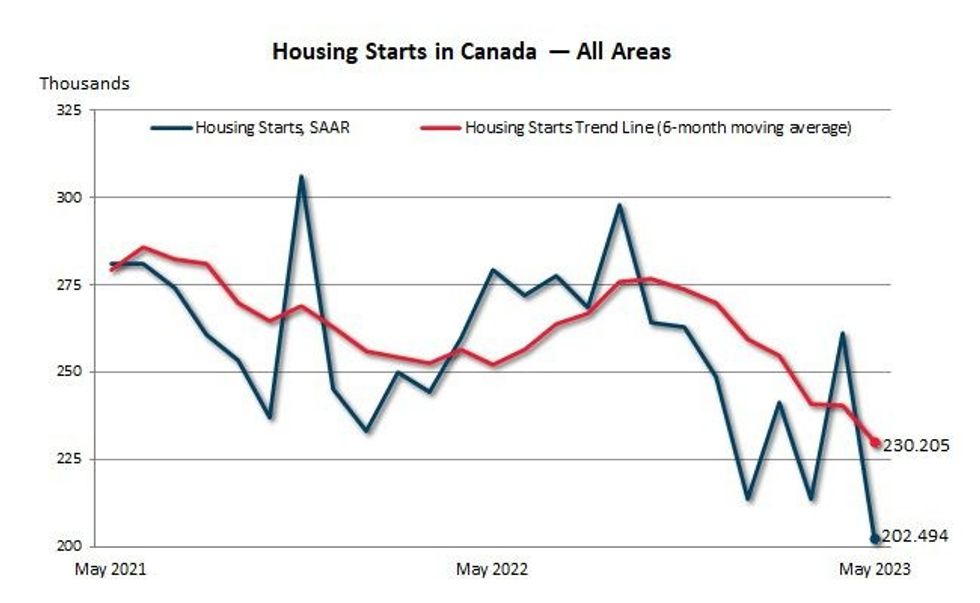 Canada Mortgage and Housing Corporation
Continuing along the downward trajectory that began in November, Canada's six-month trend in housing starts fell to 230,205 units in May, a 4.2% decline from April.
The data is in line with expert's expectations; TD Economist Rishi Sondhi attributed the decline to falling home sales over the course of 2022, the effects of which are now weighing on construction activity, as well as a drop in permit issuance, which has fallen to 2019 levels.
As housing starts continue to decline, home sales are on the rise. According to new data from the Canadian Real Estate Association, national home sales rose 5.1% on a monthly basis in May and were up 1.4% annually, marking the first national year over year increase since June 2021.
While Randall Bartlett, Senior Director of Canadian Economics at Desjardins, expects resale activity to cool in the months ahead as interest rates continue to rise, the downward trend in housing starts and overall lack of supply will worsen the affordability crisis, "putting upward pressure on home prices and rent alike."
Real Estate News