Despite elevated interest rates and diminished purchasing power, Canadian home sales continued to rally in May.
---
According to new data from the Canadian Real Estate Association (CREA), released Thursday, national home sales edged up 5.1% in May from the month prior. Although that gain was less than half of what was observed in April, actual (not seasonally adjusted) monthly activity ended up 1.4% above transactions recorded in May of 2022, marking the first increase in that metric since June 2021.
As well, says CREA, sales trended upwards in 70% of all local markets, with the Greater Toronto Area, Montreal, Greater Vancouver, Calgary, Edmonton, and Ottawa all included in that group.
"The rebound has been evident for a number of months at this point, but May really drove the point home with year-over-year comparisons for both national sales activity and national average home price back in positive territory," said Larry Cerqua, Chair of CREA. "That being said, the degree to which a recovery will be able to play out on the sales side as opposed to the price side will come down to supply, which remains quite low."
Shaun Cathcart, CREA's Senior Economist, commented to a similar tune, saying that while this rebound was certainly expected, inventory still poses a considerable challenge.
"The 2023 housing puzzle piece that was less obvious was the reluctance of existing owners to take advantage of a slower market to make a move because they don't want to mess with the ultra-low fixed rates they locked in during the COVID-19 pandemic. Without existing owners supplying the market with new listings, this housing demand rebound may play out more acutely than might have been expected on the price side this year."
While the number of newly listed homes increased 6.8% between April and May of this year, levels remain historically low. Given that sales and new listings were up by "similar magnitudes" in the month, the sales-to-new listings ratio saw little change on a month-over-month basis, ticking up to 67.9%. The long-term average for this measure is 55. (metfoods.com) 1%.
CREA's Thursday report also reveals that there were 3.1 months of inventory on a national basis at the end of last month, and that figure was below the 3.3 months recorded in April and down over a full month from the most recent peak observed in January. The long-term average for this metric is roughly five months.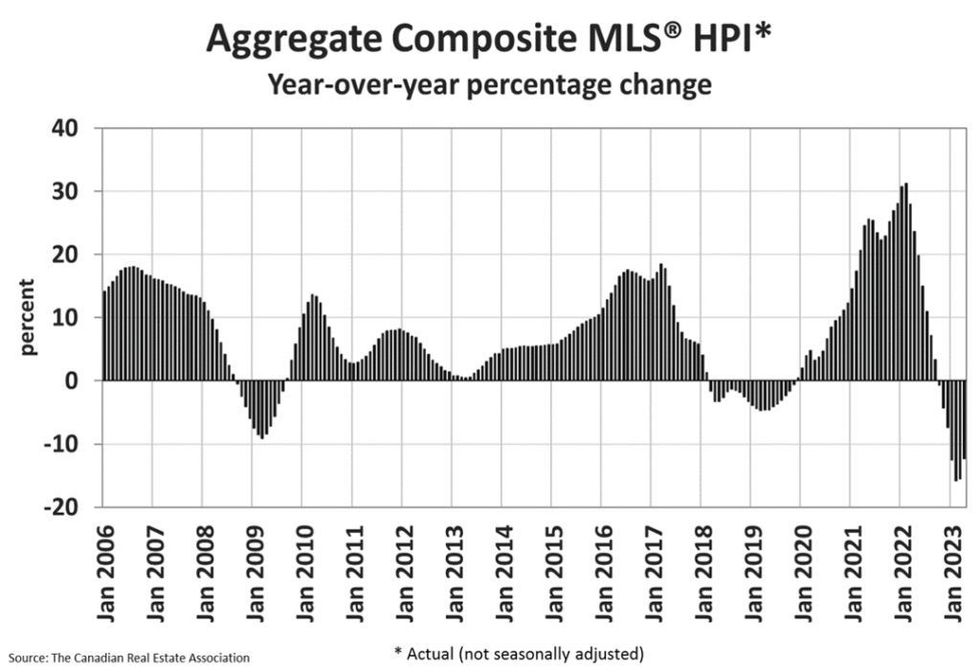 Meanwhile, the Aggregate Composite MLS Home Price Index saw a 2.1% month-over-month increase — a similar gain was observed in April — which is considered a large increase for a single month. The report stipulates that the overall increase was "very broad-based" given that price gains were observed in the majority of local markets. The index now sits 8.6% below year-ago levels, a smaller decline than in January, February, March, and April.
In terms of prices, the actual (not seasonally adjusted) national average came in $729K in May 2023, a rise of 3.2% from May 2022. This was the first year-over-year gain in this measure in 12 months, and marks a recovery of more than $116K since January 2023. CREA attributes price growth, in large part, to "outsized sales rebounds in the GTA and BC Lower Mainland." Taking the GTA and Greater Vancouver out of the calculation, the national average price comes in at close to a $150K loss.
Real Estate News