---
Following a sluggish March, housing starts shot up across Canada in April. But the upward trajectory may be short lived.
According to the latest data from the Canada Mortgage and Housing Corporation, the seasonally adjusted annual rate (SAAR) of housing starts rose to 261,559 units in April, a 22% increase from March.
Total urban starts increased by 26% on a monthly basis to 241,585 units. The rise was led by multi-unit urban starts, which increased 33% to 201,621 units, while single-detached urban starts fell 2% to 39,964 units in April. The monthly estimate of rural starts was 19,974 units, a 6.3% decline from March.
On a local level, Vancouver (36%), Toronto (54%), and Montreal (43%) all recorded an increase in total housing starts. In the latter two cities, declines in single-detached starts were offset by sizeable increases in multi-unit starts, while Vancouver experienced increases in both segments.
Provincially, large monthly gains were seen in New Brunswick, Prince Edward Island, and Ontario, which saw total housing starts rise 178%, 99%, and 48%, respectively. From March to April, total housing starts increased 21% in British Columbia, rose 8% in Quebec, and jumped 4% in Alberta.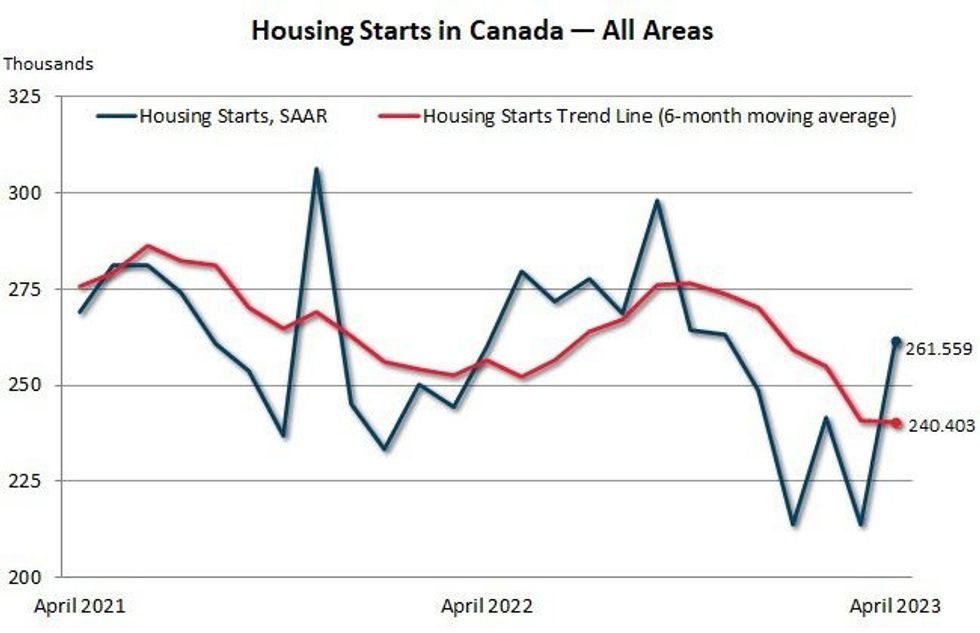 Canada Mortgage and Housing Corporation
However, economists are cautioning that April's increase is not a sign of things to come, but rather a "temporary blip."
Housing starts remain on a downward trajectory, with the six-month trend falling to 240,403 units in April, a 0.2% decline from March and more than a 7% drop from January.
TD Economist Rishi Sondhi said the decline is largely due to falling single-detached home sales throughout 2022, the consequences of which are now being reflected in slower construction activity.
Aled ab Iorwerth, CMHC's Deputy Chief Economist, expects housing starts to drop "significantly" in 2023, before seeing some recovery in 2024 and 2025.
"The expected decline is due to constraints in new construction, including labour shortages, as well as higher construction and borrowing costs for housing developers," ab Iorwerth said.
Real Estate News