In the midst of Canada's worsening housing crisis, a collective of industry experts has drafted a blueprint to build two million new purpose-built rental units in the next seven years.
The National Housing Accord, led by the PLACE Centre, the Canadian Alliance to End Homelessness (CAEH), and the Real Property Association of Canada (REALPAC), put forth 10 recommendations to the federal government that would restore affordability and protect vulnerable sectors of the population who bear the brunt of the crisis.
---
The recommendations are the result of a roundtable discussion between numerous industry stakeholders and experts, including The Minto Group, TD Asset Management, the Canadian Housing and Renewal Association, and Options for Homes Limited.
"We've been saying for years that we need to lock everybody — the non-profit sector, builders, developers — in a room until they come up with a plan to solve this crisis. And it dawned on us, why don't we just do that? So we got together and hashed out a plan," Dr. Mike Moffatt, Founding Director of the PLACE Centre, told STOREYS.
"We tried to do a lot of the heavy lifting [for the federal government.] We're hoping they like some of our recommendations and that we're able to start moving forward on them."
A lack of "accessible, climate-friendly, affordable, and market-rate purpose-built rental units" has led to a rapid rise in rents across the country, the most significant impact of which is felt by the lowest-income Canadians, including students, newcomers, and single-parent households.
Rising rents are also threatening economic growth and driving a new wave of homelessness — according to the report, the number of people who lose their homes due to unaffordability is now on the same scale as those who lose their homes due to large natural disasters.
For each of the past 13 years, the average monthly rent on a one-bedroom apartment has increased at or above Canada's 2% inflation target, according to data from the Canada Mortgage and Housing Corporation. Over the past seven years, rent on a one-bedroom has risen by 32%, while average weekly earnings have risen by less than 23%.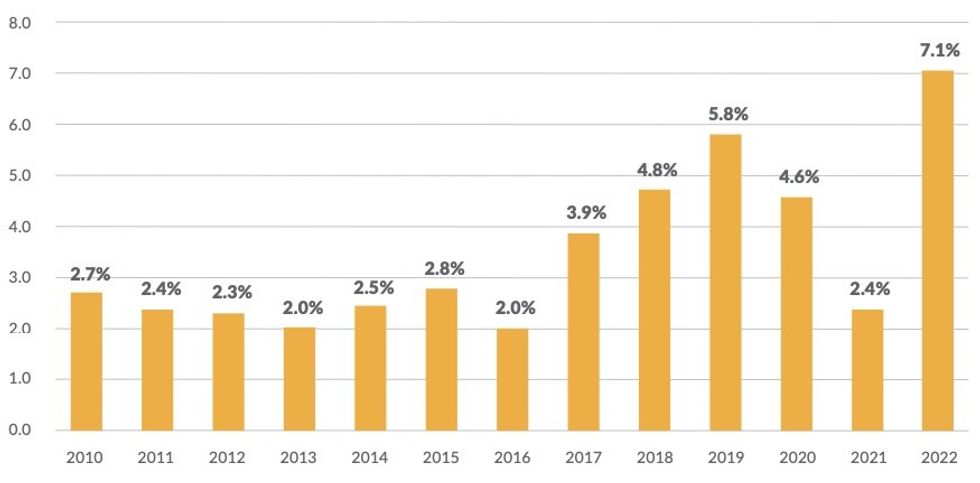 Increase in average rents for a one-bedroom apartment in Canada/The National Housing Accord
While the National Housing Accord notes that there is no one single cause for the rise in rents, one factor is that the population of renters is growing faster than the number of purpose-built rental properties.
In order to restore affordability, Canada needs to build 5.3 million homes between 2024 and 2030, two million of which need to be purpose-built rental units. This requires the tripling of home building over the next seven years.
To arrive at these figures, the National Housing Accord drew upon a June 2022 report from the Canada Mortgage and Housing Corporation (CMHC), as well as recent data on housing completions and purpose-built rental completions.
In order for this "ambitious" goal to be met, the federal government must work with its provincial and municipal counterparts, as well as builders, developers, the non-profit sector, and the higher education sector to prioritize innovation in homebuilding, address bottlenecks that are slowing down construction, and provide support to those who are experiencing homelessness.
The Accord's recommendations include creating an industrial strategy consisting of targets and accountability measures, creating a national workforce and immigration strategy on housing, and developing a robust innovation strategy that includes procurement policy and innovation centres for construction.
The federal government should revamp the National Building Code to drive innovation, and help reform CMHC fees and the federal tax system, including eliminating the GST and HST on purpose-built rental housing, to incentivize the construction industry.
The CMHC approval process should be streamlined, and include a catalogue of pre-approved designs to allow for the construction of purpose-built rental housing to be fast-tracked.
With the creation of a Homelessness Prevention and Housing Benefit (HPHB), immediate relief could be provided to up to 385,000 households that are at imminent risk of homelessness, and over 50,000 people could be helped out of homelessness. The Canada Housing Benefit should be replaced with a Portable Housing Benefit (PHB) that would better target individuals and families with the greatest housing needs.
The Accord also recommends that the federal government provide low-cost, long-term fixed-rate financing for the construction of purpose-built rental housing, and create a property acquisition program for non-profit housing providers to help purchase existing rental housing projects and hotels, and to facilitate office-to-residential conversions.
While some of the recommendations can be undertaken quite quickly, like removing HST and GST on purpose-built rentals, others, such as creating a national innovation strategy, will be more long-term, Moffat explained. Some, like a pre-approved catalogue of designs at CMHC, have been implemented during housing crises past.
"I don't think we should understate the challenge of building these two million homes. But absolutely it's something that Canada can do. It's necessary. Because the alternative is worse," Moffat said.
"If we don't solve this affordability crisis we're going to have more of the same. We've seen homelessness increase substantially over the last decade or so. We need to turn a corner. And the only way we're going to do that is by building more housing."
The recommendations address six core challenges the National Housing Accord has identified as preventing the construction of affordable purpose-built rental housing.
These include a lack of coordination between all levels of government, builders, developers, the higher education sector, and the non-profit sector, and insufficient labour, materials, equipment, land, and capital to get homes built.
Projects must be economically viable for for-profit builders and developers, productivity and innovation must improve, and the regulatory environment must speed up, safely, while still protecting the environment.
There are housing needs that can't be met by the market. These gaps create a need for governments and not-for-profits to build everything from supportive housing units to student residences.
In addition to the aforementioned core challenges, the recommendations, namely the calls to create the Homelessness Prevention and Housing Benefit and replace the Canada Housing Benefit, address the need to support low-income renters.
If all the challenges are addressed, and all the recommendations adopted, Moffatt is optimistic that Canada can build the two million purpose-built rentals needed to restore affordability.
While there are still more conversations to be had, he is already seeing inklings of interest from the powers that be.
"It feels like something has changed, at all orders of government. I think there's a recognition that may not have existed a year or two ago that some bold thinking and action is going to be needed to push this forward," Moffatt said.
"We're hopeful that the federal government can take the lead that we did, where we had people who don't always agree come together and find common ground. Let's hash it out. We've got a blueprint here, let's work together and make this happen. Let's get rid of the finger pointing and the questions about whose responsibility is this, and just recognize that it's up to everybody to fix this housing crisis…. It's going to be really hard. It's a big audacious goal. But we've got to do it."
Real Estate News