---
The dramatic loss of housing affordability seen across Canada since 2021 reached its worst-ever level at the end of 2022, but the situation may be on the verge of improving.
In a new Housing Affordability report from RBC, Assistant Chief Economist Robert Hogue revealed that the bank's aggregate affordability measure hit 62.8% in Q4 2022, its highest level since tracking began in 1986, spurred heavily by an increase in interest rates.
The measure, which rose for the ninth-straight quarter and is now up 21.5 basis points since late 2021, tracks ownership costs as a percentage of median household income. An increase in the measure represents a loss of affordability.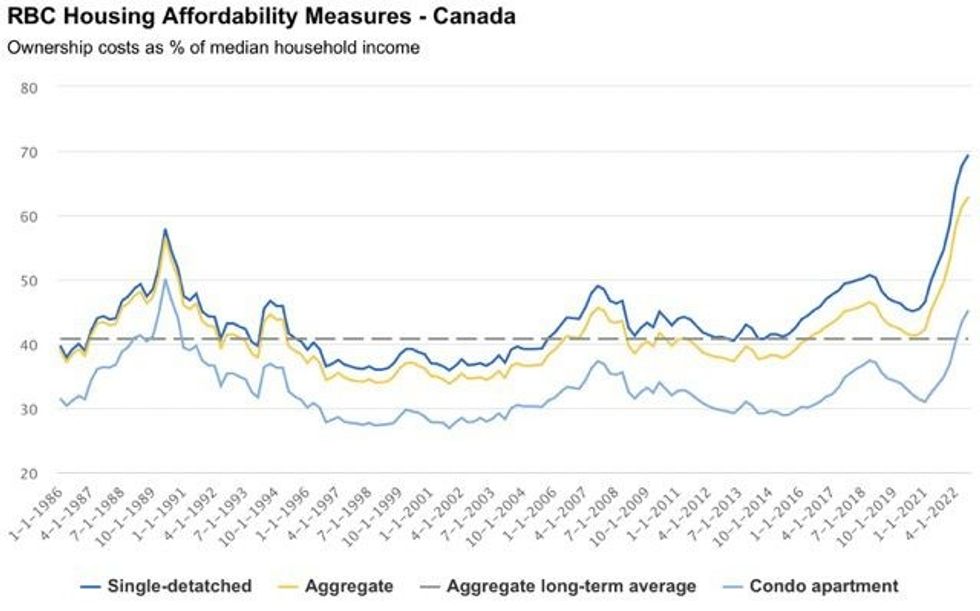 RBC Economics
However, the unsettling situation will not linger for long. The staggering loss of affordability seen since 2021 has led to a domino effect in the market, with resale activity declining and prices following suit.
Although lower property values have yet to offset the impact of higher interest rates, ensuing price drops will have a more substantial effect for buyers, Hogue noted, as the Bank of Canada (BoC) is likely done raising rates.
While RBC's base case scenario predicts a material overall improvement in affordability in 2023 -- the aggregate measure is expected to drop to 56.5% in Q2 -- a full recovery will be a lengthy process. In addition to lower interest rates, Hogue said marked income growth is necessary for improvement.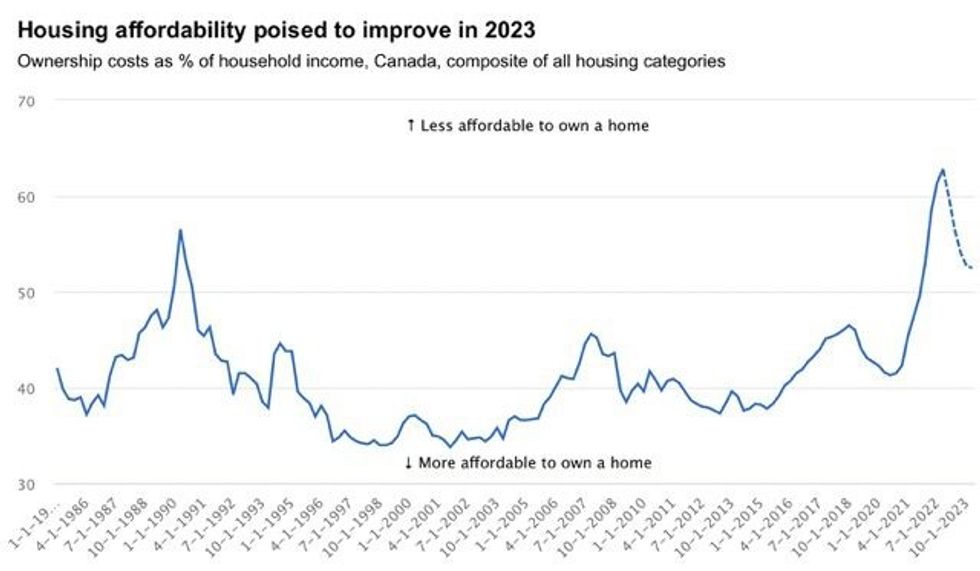 RBC Economics
So, for the time being, the majority of buyers across Canada will continue to be faced with a "very challenging" environment.
On a local level, affordability hit its worst-ever level in a number of major markets in Q4 2022, including Vancouver, Toronto, and Montreal. With the exception of Edmonton, ownership costs are weighing heavier on virtually every other market.
The situation is particularly dire in British Columbia's largest city, where Hogue said owning a home "has never been so unaffordable anywhere in Canada." Vancouver's affordability measure of 98.1% "exceeds everything we've recorded over the past four decades." The rate of deterioration did slow in Q4, though, mainly due to declining prices.
Meanwhile, Toronto's housing market is in the midst of a "full-blown affordability crisis," with ownership out of reach for many. A typical home in the city sucks up 85.9% of the average buyer's income, while carrying the costs of a condo takes up 51.3% of household funds.
Activity is "deeply" depressed in both markets, and nationally. Excluding the lockdown periods, home resales are at their lowest level since the 2008-2009 financial crisis. While the downturn may have moderated significantly over the last few months, it's only because there's little room left to fall.
As such, RBC expects a bottom will form this spring, and, provided the BoC doesn't deliver a surprise interest rate hike, prices should follow a few months later.
Real Estate News