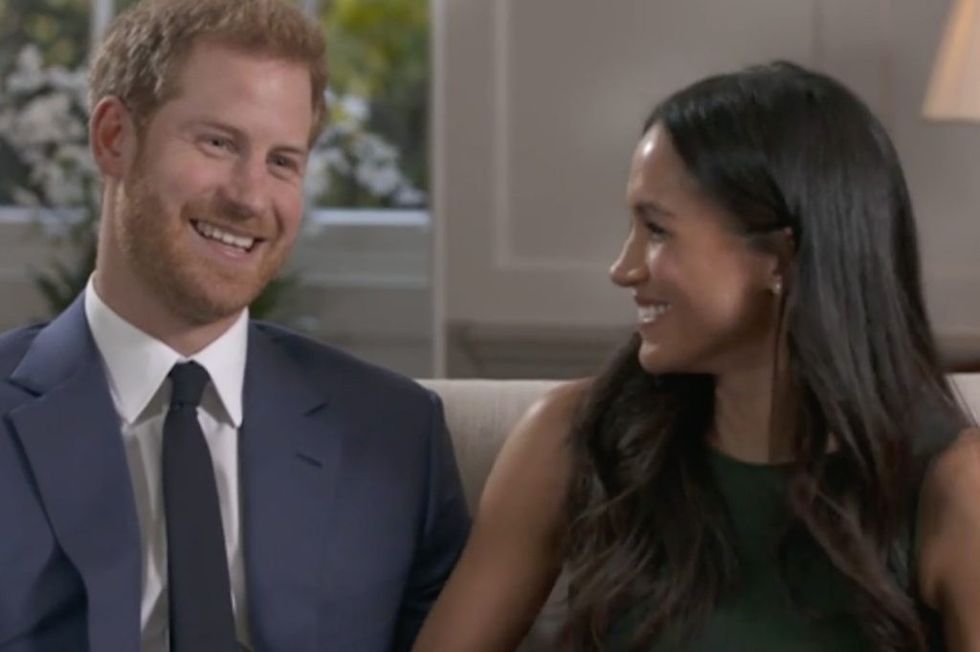 (Still photo courtesy of BBC video below)
So far as I can tell, I conducted the "last" interview with Suits actor/humanitarian Meghan Markle before the news leaked that she was dating the world's current most-eligible man, Prince Harry.
---
The quotes I recorded that afternoon, sitting in a big booth at Toronto's Soho House, girl-chatting over champagne, were immediately lifted, misattributed, spliced up and deployed by the florid British tabloids, the fervent American tabloids, and "respectable" press alike.
This gave me a teensy peek into the pap fishbowl her life was quickly becoming. No detail too small to be microscopically analyzed — from the deeper meaning of her messy bun to the glory that will be her elderflower-doused wedding cake.
Nott Cott might be the coziest little spot at Kensington Palace. But it is a big jump from the West Annex.
There is a sub-industry devoted to scrutinizing her old Insta account (she was tickled the day of our meeting to have topped one million followers, hence the champers), as well as her also-shuttered shiny lifestyle project The Tig.
The two social outlets were an effective self-promotion exercise, filtering her off-duty persona into an approachable, laid-back homebody with a few exotic vacation snaps. And hey, no-biggie, famous friends casually dropped in among the stacks of colour-coordinated coffee table books, fuzzy throws, rescue dogs, piles of peonies and vague random inspirational quotes.
Indeed, every inch of her old Toronto digs, a completely normal Annex house on Yarmouth (from the Turkish towels used as throws to make the white sofas dog-safe to the big green egg in the back garden) has been read like tea leaves for what they say about how she will grow into her wifely state role with a swank new title.
And most importantly, of course, for how she will decorate her new palaces.
When Duchess Kate was a newlywed decorator, the intrepid press interviewed every shop assistant she interacted with to find out which reclaimed French chateau tiles she had selected, or the pastel shade ranges of the kilims she had ordered for the country house bedrooms.
Kate was charged with a doozy of a double reno: some £4.5 million to update Apartment 1A at Kensington Palace (Princess Margaret's old rooms, still pink and turquoise and probably echoing with the sounds of the beau monde gathered there in the '60s), as well as major construction on the stately Anmer Hall, a gift from the Queen on her Sandringham Estates.
For now, Meghan (title TBD) and Prince Harry are already shacked up at Nott Cott. The cute little Christopher Wren-designed, 1,300-square-foot, two-bedroom cottage on the grounds of Kensington Palace that also served as Kate and Wills starter home.
If you are as demented as me, you will rewatch the video of their engagement interview to try to peek at details of their living room. Basically, it is cream, is all I uncovered.
Until the queen bestows upon the couple a spare dukedom, a bigger suite of apartments and a country manor, this will be a good place for the self-professed "California girl" to start to incorporate her breath of fresh air and sunshine.
Likely Meghan will lean on her Insta-recorded preference for crisp, white walls and furniture, cozy textured throws, loads of greenery and clean-lined modern classic furniture. (Saarinen marble table, Eames chairs — though whether they are originals has not been confirmed at press time — nothing shocking, but guaranteed good taste.) Also, a gilded mirror and the pop of a plum accent wall in her Insta, show how she might mix things up.
Note that, like Kate, she has access to vast storerooms of family antiques and art to help her hone the right high-low balance. She also will have an array of home furnishings suppliers with royal warrants keen to stock her up.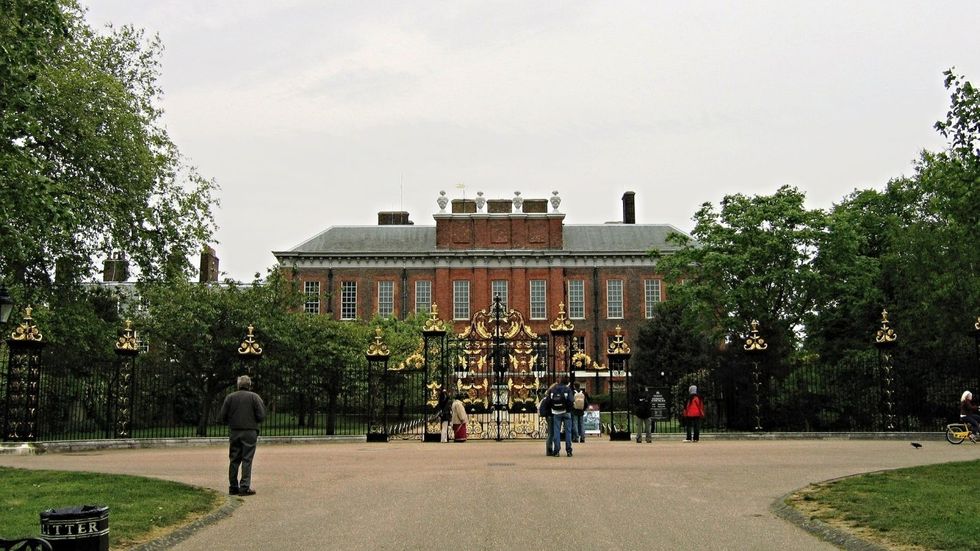 Nottingham Cottage at Kensington Palace
Here is what I took away from meeting Meghan in person.
The occasion was the November 2016 launch of her second capsule collaboration with Canadian clothing chain Reitmans, a bit of fun fluff on another celebrity clothing line. She wants very much to please and seems to be able to adapt to her surroundings nimbly.
That day she wore a pair of slim, vegan leather pants from her clothing line, and a very Canada-in-November expensive plaid shirt, half-tucked with artful insouciance.
From pap shots, we saw how she nailed athleisure gear, hip sneakers and parkas for her dog-walking and yoga runs.
In the early days, when the romance was first outed, she kept to her own look, with rebellious "normal" touches like ripped jeans and boyfriend shirts.
Since Harry put a ring on it over roast chicken at Nott Cott, Meghan has accepted the restrictions and expectations of a public figure. She has managed to hit home runs with her consistently clean-lined monochromatic palette, favouring neutrals such as cream and navy.
Again, she proves herself a modern, high-low gal, mixing what the Brits call High Street (and we call fast fashion) with designer gear.
The Meghan design sense and fashion frenzy aren't going anywhere.
The men in the royal hierarchy are generally given a free pass (save for enforced shorts-wearer Prince George), and occasionally oddball outfits and kilts as seen on eccentric king-in-waiting Prince Charles.
The boys, William and Harry, tend to get away from scrutiny of their nondescript off-duty gear and elaborate military uniforms for dress up.
The royal aunts and uncles and cousins in the double digits of succession have to withstand the scrutiny of big events, but generally can go to Whole Foods without starting a run on copycat fashion sales.
But like Diana, Kate and Charlotte, Meghan's style will be emulated.
It is her home, the safe place inside palace walls, where she can let her hair down and attempt to be a normal wife in a normal couple for a brief part of each day. Thus, the decoration of her sanctuary will be a decorating opportunity for her to meld her Hollywood style, her under-the-radar Toronto years and who she is becoming.
It is weird, considering she is an actor with a body of work available at the stroke of a key or two, but already Meghan has become seen-and-rarely-heard, that bizarre state inhabited by people photographed often. Such people tend to become iconic.
Can you summon the voice of Princess Diana, or Jackie Kennedy or Kate Moss? Or even Duchess Kate? The queen's voice, in contrast, has been emblazoned into our psyche, she has always got the mic, and that is a deliberate thing as those of us who are devoted to The Crown now understand.
But Meghan is likely to speak mostly from here on in with her clothing, and her gestures choreographed to follow protocol.
The system will gradually demand more and more conformity. The bun will be less messy. She will be less likely to break free and hug children on the rope line.
But Meghan has much more life experience in the real world than the rest of the royal lot. She has hustled on game shows, drowned her sorrows in wine and ice cream in bed, living to tweet about it.
It would be a shame to have all that vividness and voice erased.
The best home design comes from people who have had rich experiences, who bring pieces from each chapter of their growing, changing persona.
One hopes the homes she will build with Harry will a place where she can perhaps be herself.
Insiders