---
On the heels of a year overshadowed by a real estate market downturn, the Toronto Regional Real Estate Board (TRREB) released its latest data for the Greater Toronto Area (GTA) last week. Interestingly, TRREB reports that the average selling price for all of 2022, clocking in at $1,189,850, was actually 8.6% above the average for 2021.
Despite that jump, the month-over-month trends paint a far more dismal picture of the year. GTA home prices peaked in February before steeply dropping off until early summer, and more or less flattening for the remainder of the year. Between November and December, prices fell around 2.6% to $1,051,216.
The year starting out on such a high note certainly informed 2022's overall average, says Jason Mercer, TRREB's chief market analyst.
"On a month-over-month basis, you were seeing the average price decline, but it was declining from a very high level," Mercer tells STOREYS. The average selling price in January was $1,242,793, up 28.6% from the year prior. In February, that average climbed an additional 7.4% to $1,334,544. "Because it had been declining from such a high, we didn't actually start seeing year-over-year decreases in the average price until the late summer, early fall."
Toronto realtor and chartered accountant Scott Ingram notes that the weighting of transactions in 2022 was also "abnormally front-end loaded."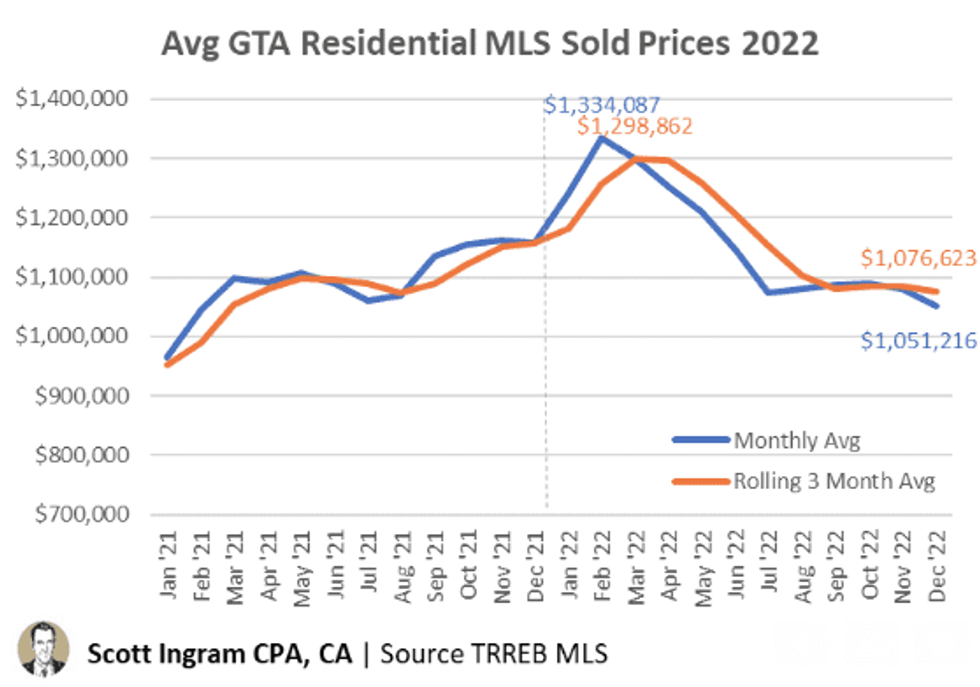 High transactions at high dollar values and low transactions at low dollar values kept the average price for 2022 higher, says Ingram.
In an email to STOREYS, Ingram writes, "You can see how big a share of this year's average prices were influenced by the first three or four months of the year. Most transactions happened when the highest prices were happening. Conversely, in 2021, the two big price months were November and December when volumes are lower so they have less of an impact on the overall 2021 average."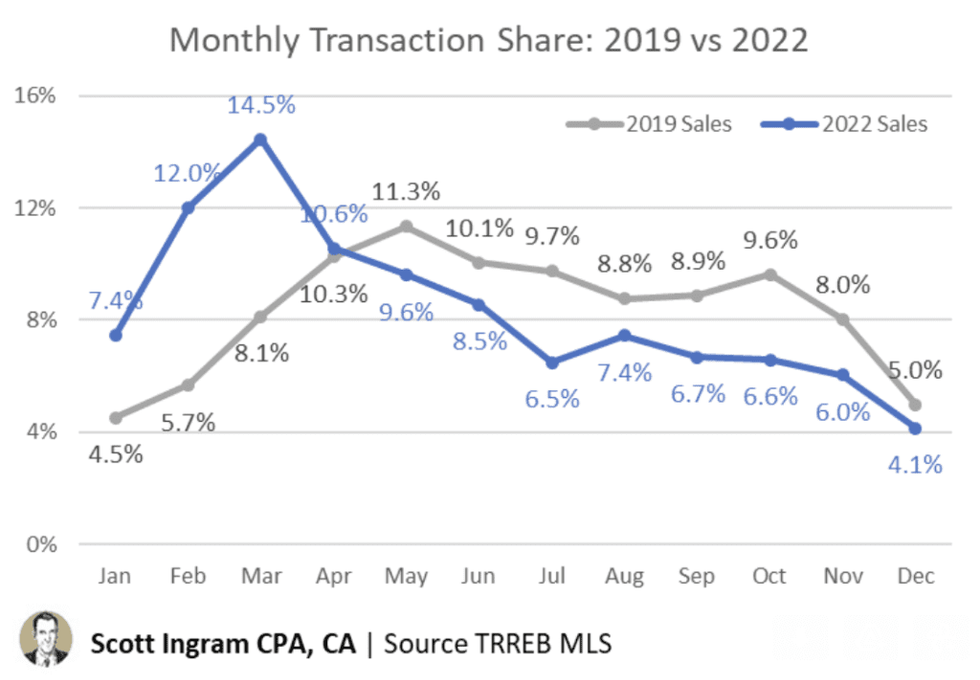 Ingram says 2019 was "a more 'normal' year for seasonality."
The GTA's housing market also saw a pronounced slow-down in sales over 2022, a trend that can be traced back to March, when the number of sales dropped off 15% from the month prior to 7,929. By December, just 3,117 sales were recorded in the region, down 31.4% from November and 48.2% from the year prior, while the total number of sales recorded over the entire year, at 75,140, was down 38.2% from 2021's total.
"We started to see the impact fairly quickly of interest rate hikes, starting in March, and then actually accelerating in terms of scale and scope," says Mercer. "What happened then is you saw an increasing number of buyers moved to the sidelines."
Despite an unmistakable decline in buying activity, Mercer says that chronically low inventory -- reflected in a comparatively low proportion of active and new listings, down 169% and 21.3% from 2021, respectively -- had a bolstering effect on prices.
"Even though demand was off, as we started to see interest rate hikes, the supply being so short did provide support for pricing more so than if we had seen a spike in new listings over the course of 2022," he says.
Mercer continues that, based on the year-end trends, home prices in the GTA "may be reaching a bit of a bottom."
"That's important because, as we move through 2023, would-be homebuyers that have put their decisions on hold are going to be taking that as a signal. And if they continue to see a bit of a flat trend in pricing, they may start to come to the conclusion that now might be the time to move back into the market."
Richmond Hill