The suburbs used to be just ripples -- a population dropped in one place, the impact rippled out, growing lighter the further it went.
---
But that was the GTA of the past. The drops are too big now. They don't get lighter.
"The Toronto area is going to grow [its population] by 50% in the next 30 years -- it's huge," says Guillermo Penalosa, founder and chair of 8 80 Cities. "It's one of the fastest growing areas in the developed world. From the climate change, environmental view, the only place for people to live is in the existing footprint, whatever we already have."
Density is the critical priority, Penalosa says, pointing out that too much of the Toronto area is still zoned for single-family homes -- a nightmare amid a housing market gasping for new supply.
RELATED: What Does the Future of GTA Living Look Like? To Start, 20,000 Neighbours…
Nearby cities standing to gain this human bounty -- Mississauga, Brampton, Vaughan among them -- are getting ready. They're investing in urban lifestyles, large-scale mixed use, green gathering places, culture, arts, street life, night life. In other words, they're building downtowns.
In the awkward adolescence of a busy suburb becoming a city, developing a core is imperative, says Rob Spanier, placemaker and president of Spanier Group.
"One of the issues that was happening is that cities weren't developing themselves [in a way] to think about downtowns," he says. "If you thought about a city not having a fire station, or a police station -- how could a city not have a downtown? At a certain scale and population, it is a central nervous system for that community. And so I think downtown-as-essential-service is key."
Equally important, Spanier says, is finding that unique identity, that sense of place that animates the vibrancy and texture of a community. How will Vaughan differentiate from Mississauga? What will draw visitors to Brampton? Where are the iconic street corners? Where does the community gather, where do restless teenagers go?
It's an elusive quality that can't be created by endless towers and national chain retail.
"It's really about: what are Brampton, Mississauga, and Vaughan going to do to actually make their mark?" Spanier says. "Ten years from now, if they get it right, people will say, 'Look at that mosaic of downtown Toronto -- but man, take a look at what Mississauga is doing. Take a look at what Brampton is doing -- look at Vaughan, and Markham. Look at all of these great places... they're all unique and different.'"
"I mean, Toronto could phone it in for the next decade and still do okay, but if [the other cities] phone it in, they're going to fail."
'Each has a role to play'
What does this mean for Toronto's downtown? Nothing will ever compete with the core, says Mansoor Kazerouni, global director of buildings at IBI Group.
Toronto has all the economic, employment, education, and cultural institutions of any world-class city -- and Kazerouni believes it's done an "incredible" job of diversifying and reinventing its offerings in vibrant neighbourhoods.
He also says regional transit connecting nearby municipalities to Toronto's core is what fuelled their urbanization (see: the VMC). It's as if big city energy was contagious.
"I see it as a highly synergistic relationship" between Toronto's downtown and the surrounding cities, Kazerouni says, "where each has a role to play relative to the other. But obviously, there are opportunities for these cities to evolve in those directions by integrating some of these aspects of urban life."
Kazerouni has his fingerprints on many big builds in these up-and-coming centres, with appointments to urban design advisory panels for Mississauga, Vaughan and Markham -- roles that worked with developers and municipalities to shape new projects.
"What we've seen so far is a great amount of residential-slash-mixed-use development in the surrounding cities," he says. "I think it's going to take a while to develop on that scale of institutional, cultural, educational, sports, retail and entertainment developments that make a city complete and thrive. So I see these surrounding cities having an opportunity to build relative scale of these kinds of facilities, because that's what really rounds off the urban fabric and creates a rich, livable, mixed-use city."
Toronto's Ongoing Renaissance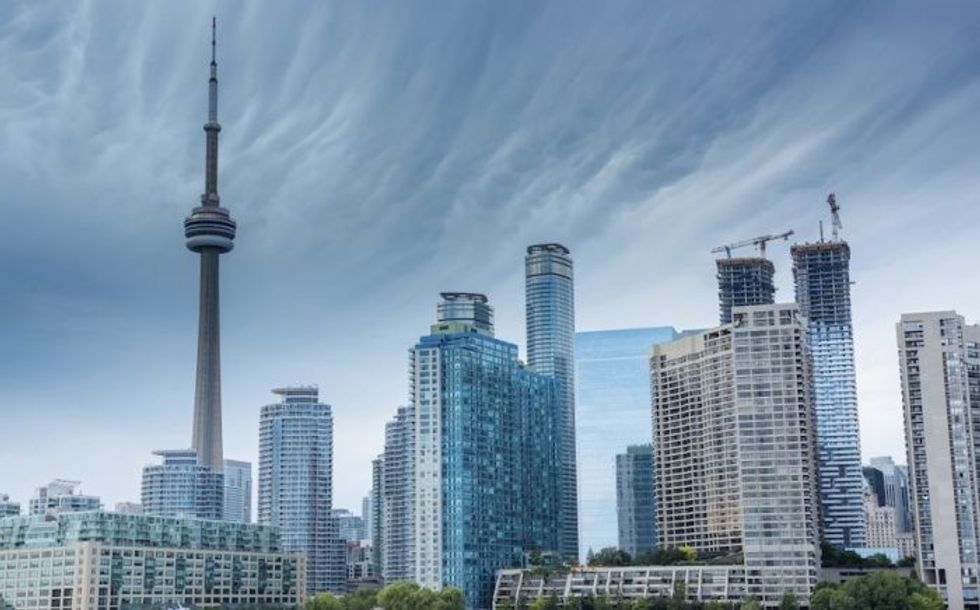 Penalosa sees many opportunities for the GTA, but believes too many of them are missed.
The pandemic, for instance, was a chance at transformative change for cycling and parks -- he says Toronto didn't do enough. And he ticks off "irresponsible spending" for major projects such as the Gardiner rebuild and the Eglinton LRT going underground. Penalosa even disliked the Rail Deck Park idea -- too expensive.
RELATED: COVID Has Offered an Unprecedented Opportunity to Reimagine Toronto
"I remember Mayor Tory, we met in Montreal, and he asked me, 'Gil, why don't you like the Rail Deck Park?'" he says. "I said, no, I like it -- but what I don't like is putting $1.8 billion of public money into Rail Deck Park. With $1.8 billion you can do one park, or you can put $1 million into 1,800 parks. Or you can put $10 million into 180 parks. There are many options out there."
Penalosa wants a greener Toronto, a city of parks with connected and protected cycling routes. He loves the idea to close half of University Avenue to cars and create a massive linear park in the middle of the city -- a relative bargain, he says, at the proposed $300 million cost.
"Personally, I would pour $500 million into the ravine strategy," Penalosa says. "And I would make the most magnificent ravines. I think that is a huge opportunity -- the ravines in Toronto are 17% of the land area, and 17% is huge. It really connects the wealthiest and some of the poorest parts of the city. It's magnificent and it's beautiful. We could turn it into the most magnificent assets that Toronto would have, I mean, people would come from all over the world."
The COVID-19 pandemic proved how much we rely on outdoor public spaces and activity for mental and physical health, Penalosa says. And there are more urgent threats to cities everywhere.
"I do think that this is a critical moment for climate change -- worldwide, countrywide, and citywide," Penalosa says. "We need to realize that the cost of doing nothing is not nothing. It can be very, very expensive to continue doing the same things that we were doing."
Given the chance to reinvent Toronto, Kazerouni and Spanier would focus on connectivity and technology, and the human experience that underpins it all.
"If there's one thing that the pandemic has brought to the forefront for me, it's been the role of technology and the connective tissue that it has provided in keeping us connected at a certain level," Kazerouni says. "And I think that level of connectivity that makes our cities smarter, more intuitive. We are connecting every element of our city, so that it is more responsive, so that it creates more sustainable, more holistic ways of living."
"I think Toronto's in a position of ongoing and continued Renaissance, which is what great cities of the world do," Spanier says. "And what that means is making the city an extremely active, extremely programmed, extremely human-connected experience, from retail to restaurants to services, from civic to cultural. The idea of placemaking and creating places I think is paramount. And I think that Toronto has done an incredible job getting there, but there is more to come."
Real Estate News