The 8.6-km extension of the Toronto Transit Commission (TTC) subway line, which added six shiny new subway stations north of Toronto and into Vaughan, was a game-changer.
---
Its 2017 completion set the stage to redefine the relationship between Toronto and its increasingly coveted outskirts, both spatially and from a lifestyle perspective. The subway extension ends at its crown jewel: the Vaughan Metropolitan Centre station.
But the sprawling station is much more than a regional transportation hub. It's the centerpiece of Vaughan Metropolitan Centre (VMC), a modern urban centre that encompasses all of the amenities of a metropolitan lifestyle. Here, flexibility and freedom are at the forefront – from convenient local businesses and office space, to the ability to reach Union Station in less than 45 minutes via TTC (42 minutes, to be exact).  
City building is in full-force in Vaughan's emerging downtown core, with residential and commercial towers rapidly coming to life in the suburban city's future central business district. The result will mark an extraordinary transformation for the area -- one that moves well beyond a bedroom community of big-box stores, low density, and vacant land that characterized it for years.
The City of Vaughan predicts that this innovative new downtown will house 25,000 residents and employ more than 11,000 people by 2031. It will become a hotel, convention, and entertainment district in its own right, as it puts Vaughan on the map like never before.
Aside from plentiful residential and commercial draws, the forward-thinking VMC is designed to facilitate a balanced urban lifestyle, with abundant green space, walking trails, and biking paths throughout. For example, front and centre to the community is the upcoming Edgeley Pond and Park, a multi-faceted green space that will double as a stormwater management facility.
An appreciated shift away from the often-uninspiring chain restaurants that typically characterize Toronto's suburbs, VMC will bring world-class urban dining to the area – many within walking distance for its future residents. The surrounding Vaughan region is already home to celebrated restaurants of all cuisine types – from elevated Italian or Indian fare, to traditional Thai cuisine, and elevated takes on traditional pub options.
For many, the emerging transit-centric community of VMC symbolizes one thing above all: access. Access to Vaughan living minus the need for a car, seamless access to Toronto's downtown core, and further access to exciting new real estate opportunities that provide a built-in sense of community.
Well-known developers Menkes and QuadReal, for example, joined forces to bring innovative living spaces to the VMC in the not-too-distant future. Their first development, Mobilio, launched last year and will be ready for occupancy in 2022. The family-friendly project features 18, 15, and 13-storey condo buildings and townhomes that will house 1,100 units.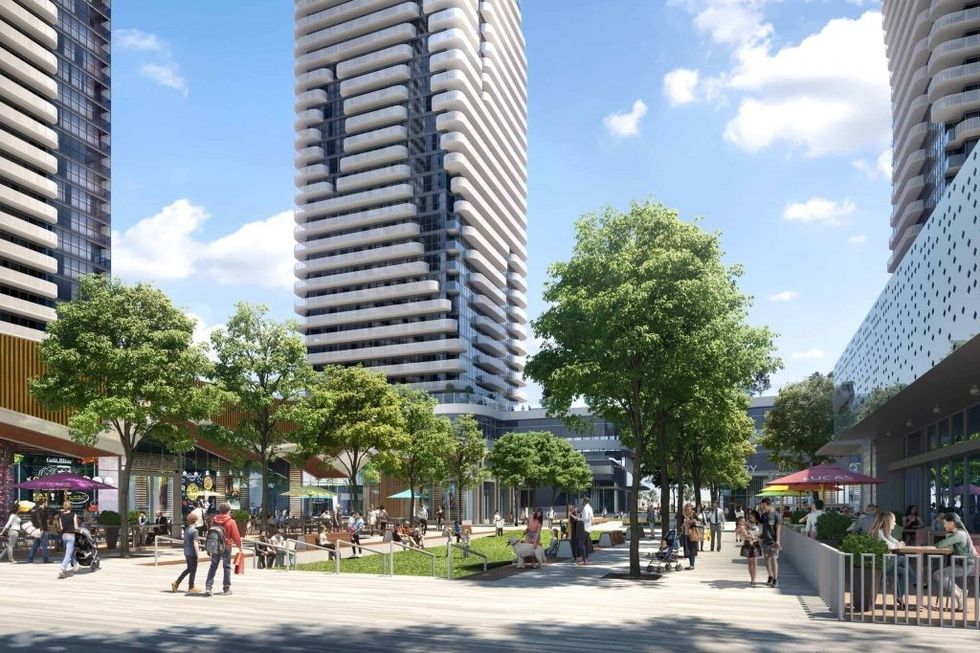 Meanwhile, the pair's latest VMC development, Festival, was named Canada's top-selling project in 2020. Set in South VMC, the master-planned city centre will aptly reflect the community's work-life balance focus, with amentities that include music and art rooms, sun lounge, oasis pool, relaxation and look-out lounge, party room, social club, multimedia lounge, sports bar, kids play room, barbeque area with fire pits, outdoor theatre, and outdoor dog area.
The surrounding South VMC neighbourhood will grow to house 430,000-square-feet of diverse retail and restaurant space, a school, 45 acres of park space, a community stage, a promenade, and 17 kms of trails and bike lanes, once everything is built.
From the sounds of it, the contained and connected VMC community – once fully completed – will offer the friendly appeal of a small-town Main Street, but with the style and sophistication of a modern, multi-layered city. And – evidenced by the success of Festival, whose first round of pre-construction suites sold out in just weeks – prospective buyers are definitely taking notice of its red-hot real estate opportunities.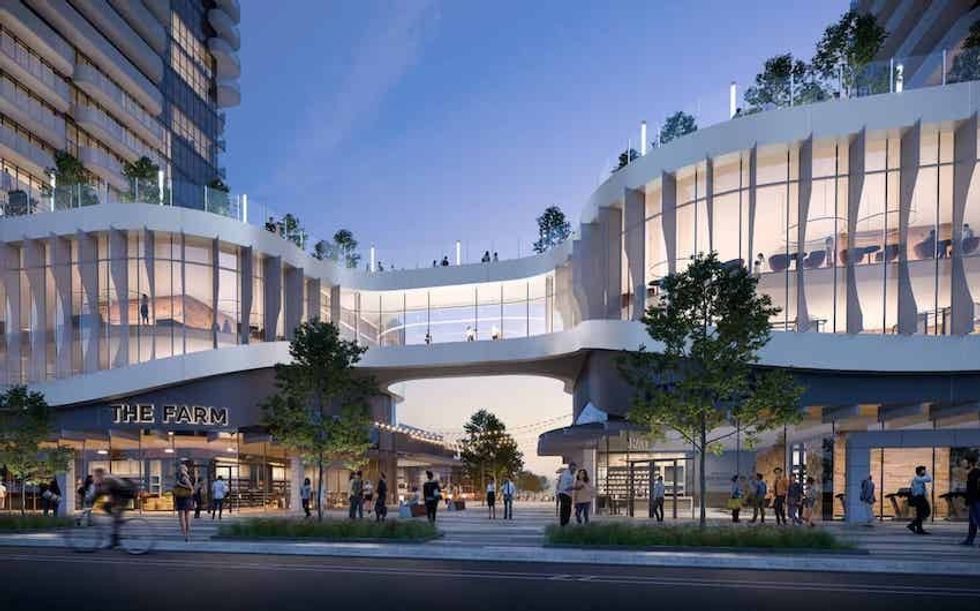 During a time of record-high home costs in Toronto, this new urban centre holds undeniable appeal for those who have been priced out of the big city, but crave a city-centric lifestyle that doesn't cut any corners. And, while there's no need to leave to find a cosmopolitan vibe, thanks to the reliable VMC subway station at its doorstep, Toronto's lights and skyscrapers are never too far away.
To learn more, and to register for your piece of the Festival pie, visit festivalsouthvmc.com.
Future Developments