It seems that suburbs everywhere want to turn themselves into cities.
This isn't hard to understand, but that doesn't make the process any easier.
---
Just take a look at new Mississauga, or what Toronto council's first chairman Frederick Gardiner once called "multiplication by subdivision." Though not incorporated until 1974, Mississauga, with a population of more than 720,000, is now the sixth-largest city in Canada.
But is it really a city?
READ: Bold Transit Expansion Boosts Mississauga's Urbanization
Until recently, Mississaugans themselves would have answered with an emphatic no. Indeed, that was why many of them lived there. They wanted to escape the city – namely Toronto – for something newer, neater and nicer. And the lure of low taxes, inexpensive housing and a place of one's own made Mississauga an attractive alternative.
But by the end of the first decade of the 21st century, cracks were appearing in the happy suburban façade.
[adrotate banner="34"]
The revenue-raising methods perfected by the city's legendary and long-serving mayor, Hazel McCallion, were drying up. As Mississauga was built out, the development charges that allowed Her Worship to keep property taxes to a minimum were slowly but surely evaporating; between 2007 and 2016, development fees fell from $51 million to $27 million, a drop of almost half.
For this, and other even larger reasons, the sunny suburban dream has turned ever darker.
In addition to the increasing futility of commuting and growing fatigue with a life defined by cul de sacs, malls and the highways in between, the spectre of global warming hovers ominously over suburbia. Though cities aren't exempt from any of these pressures and despite their messiness, they are inherently more sustainable – environmentally, socially, economically, culturally and intellectually.
Little wonder, then, that Mississauga Mayor Bonnie Crombie is so anxious to urbanize.
READ: 10 Restaurants Perfect for Savouring the Endless Flavours of Mississauga
"I want Mississauga to become a smart, sustainable, livable, walk-able city," she declares. "I want a vibrant downtown where people choose to go. I want transit.
"Some communities will resist," she admits. "But most Mississaugans are embracing this. It's a real shift. It's the new Mississauga. We don't build single-family homes any more; we build condos and town-homes."
City Hall a Masterpiece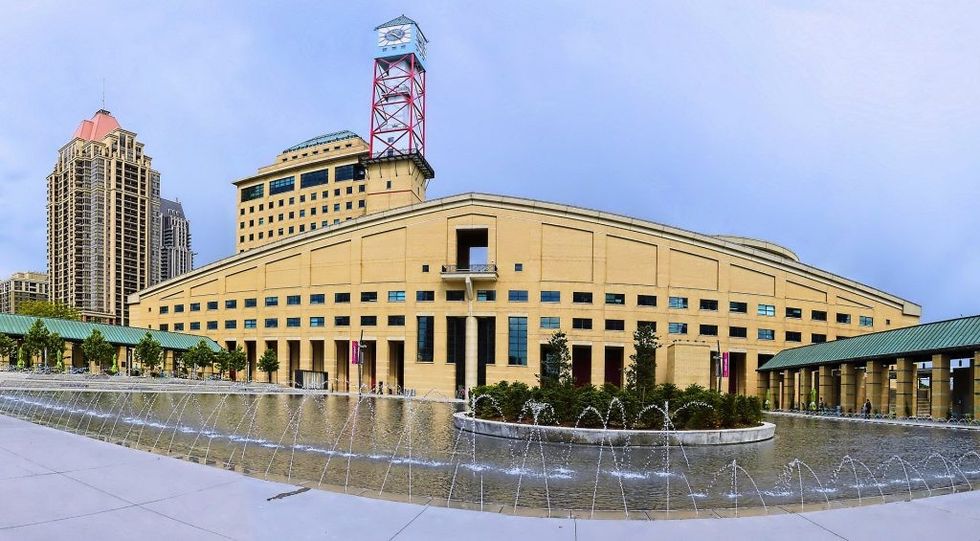 In fact, one could argue that Mississauga's urban tendencies first revealed themselves back in 1987 with its extraordinary city hall. The post-modern masterpiece, designed by Jones and Kirkland, met with stiff resistance from locals. But it gave Mississauga a centre, a heart, and the starting point for the emergence of a civic identity.
One could argue that when Hazel McCallion presided over the 1994 launch of an international design competition for what became the Marilyn Monroe towers, Mississauga's desire to shuck its suburban roots were already out in the open. The contest was won by a Chinese firm, MAD, which has since gone on to become one of the most sought after architectural practices in the world, renowned for its innovative and nature-inspired work. Its voluptuous towers quickly became a Mississauga icon and, more important, a signal of the city's new found ambition.
Photo by VanveenJF on Unsplash
READ: The Exchange District: Creating a Heart for Mississauga
After that came Celebration Square which, as its name implies, is Mississauga's happy space. And let's not forget Downtown21, the ambitious 2010 master plan that envisioned "a Downtown that will be walk-able and human-scaled with juxtapositions and surprises, arts and culture, grit and polish, rich in information, convenient, stimulating, flexible, wired, innovative, productive, universally accessible, sensual, and able to do more things in less space."
But as the city's former planning commissioner Ed Sejecki said way back in 2012, "The key to the transformation of Mississauga is transit."
To that end, preparatory construction began in fall 2019 on Hurontario St., where an LRT line will eventually extend from the Port Credit GO station on Lakeshore Blvd. north to the Brampton Gateway Terminal on Steeles Ave. Though the line has been reduced 20 kilometres to 18 and 19 stops instead of the 22 originally planned, the results will be transformational. When completed, the Hurontario LRT will become the spine of a larger transit network that connects Mississauga's Transitway, MiWay and Zum systems.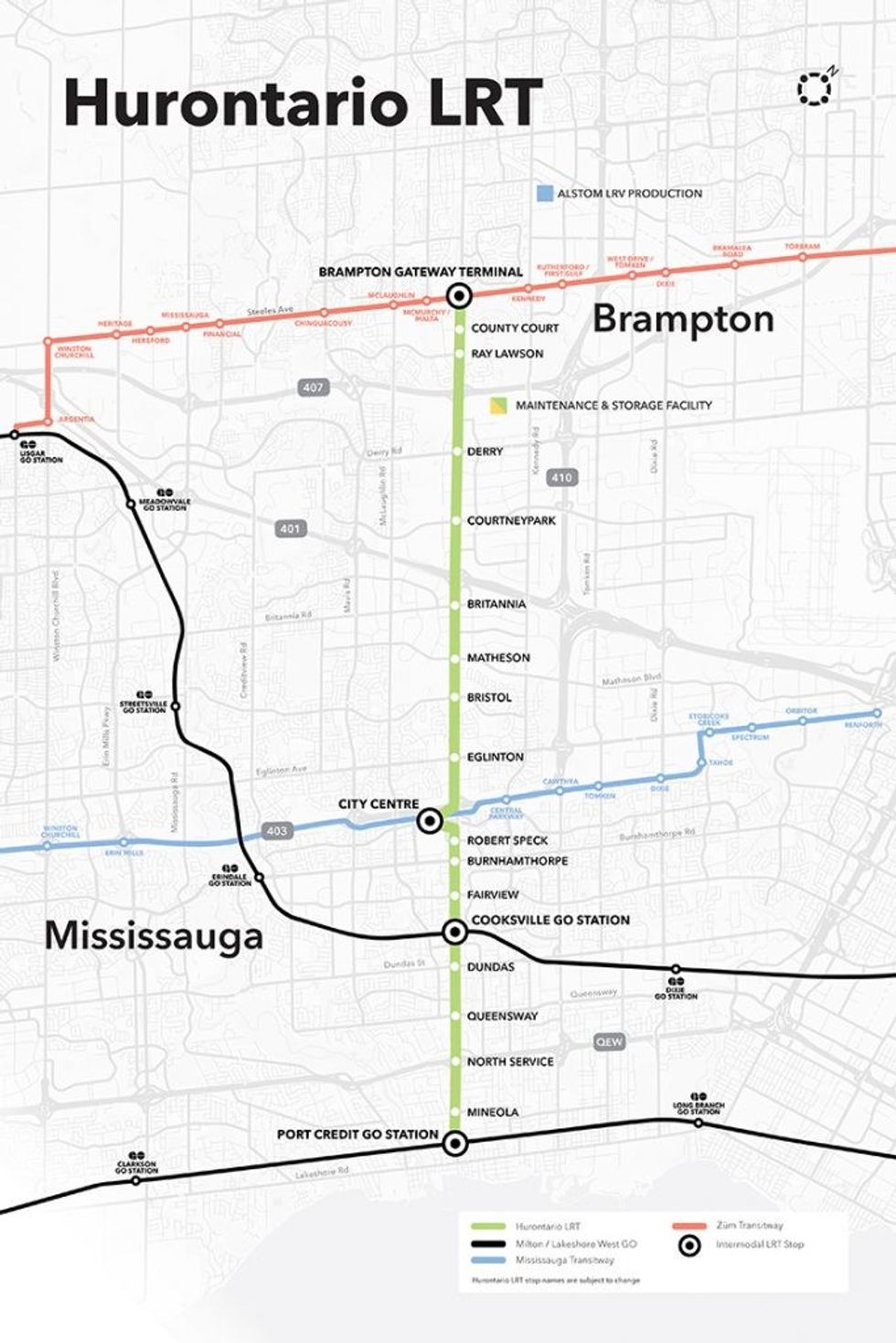 https://www.metrolinx.com/
READ: Crombie Says Mississauga Hurontario LRT Project Is Safe From Cuts
In a city planned around the car, this sort of change doesn't come easily. Everything about Mississauga was based on the notion that residents would drive virtually everywhere. It isn't just a place of wide streets and endless parking lots, but also of people accustomed to using them, people uncomfortable, even hostile, to the idea of public transit.
But even without the climate crisis, car culture has clearly taken us as far as it can. Congestion has rendered the proposition of one driver/one car obsolete. Fully 20 per cent of green gas emissions in Canada come from cars, trucks and SUVs. Mississauga, which boasts some of the highest vehicle-ownership rates in North America, is particularly vulnerable to its effects.
[adrotate banner="34"]
At the same time, densities are increasing. The critical mass required for the fine-grained topography typical of the metropolis has yet to be achieved, but Mississauga is on the way. The wish for compactness and connection remains elusive, but as Crombie points out, the crucial thing is that the majority of Mississaugans now share the dream.
Regardless of how that plays out, Mississauga's future will be more than worth following.
Mississauga