Developers, businesses and people living and working in Mississauga and Brampton have seen the future - and it's the  major benefits already coming from the Hurontario LRT Line.
"The Hurontario LRT continues to spur economic development along the Hurontario corridor," says Jamie Robinson, Director, Community Relations at Metrolinx.
---
With completion expected in fall 2024, the 18-kilometre Hurontario Line is a centerpiece of transit improvement for Mississauga. It will have 19 stops, connecting Brampton Gateway Terminal in the north end of Mississauga with the busy Port Credit GO station along the Lakeshore West line.
The economic development offices in both Mississauga and  Brampton have been tracking significant development applications in near the LRT corridor since 2014, Robinson says.
Since 2014, Mississauga's Economic Development Office has received applications for more than 15 new developments north of the intersection of Hurontario and Eglinton Ave, alone, within a 500-metre radius of the LRT stop, he says.
"These developments include condominium buildings, commercial buildings and townhouse complexes, with some developers even using the LRT in their marketing and renderings."
At the southern end of the new line, a huge new condo project is proposed on a site about 50 metres south of the Port Credit GO station, now occupied by four single-family homes and a triplex. The developer, Edenshaw Ann Developments Inc., has applied to build a 22-storey mixed use building with 313 residential units and three live/work suites. Right now zoning bylaw regulations allow only an eight-storey building on the site.
The new light rail line is a harbinger of huge population and business growth expected to spring up along the route. By 2041, nearly a quarter of Mississauga residents will live and/or work within a kilometre of the Hurontario LRT corridor.
"Development potential and the expected increase in land value thanks to the LRT is estimated to be between $200 and $420 million," Robinson said.
The overall expansion of public transit in Mississauga is also expected to make travel easier  both for Mississauga residents commuting to work in the GTA and for Torontonians travelling to Peel.
In October, Mobilinx was announced as the winning bidder to design, build, finance, operate and train the Hurontario LRT for a 30-year term.  One of the largest infrastructure projects in Ontario, design work has begun and construction will soon follow.
As a public-private partnership contract between Metrolinx and IO, the LRT will be operated and maintained by Mobilinx while publicly owned by Metrolinx.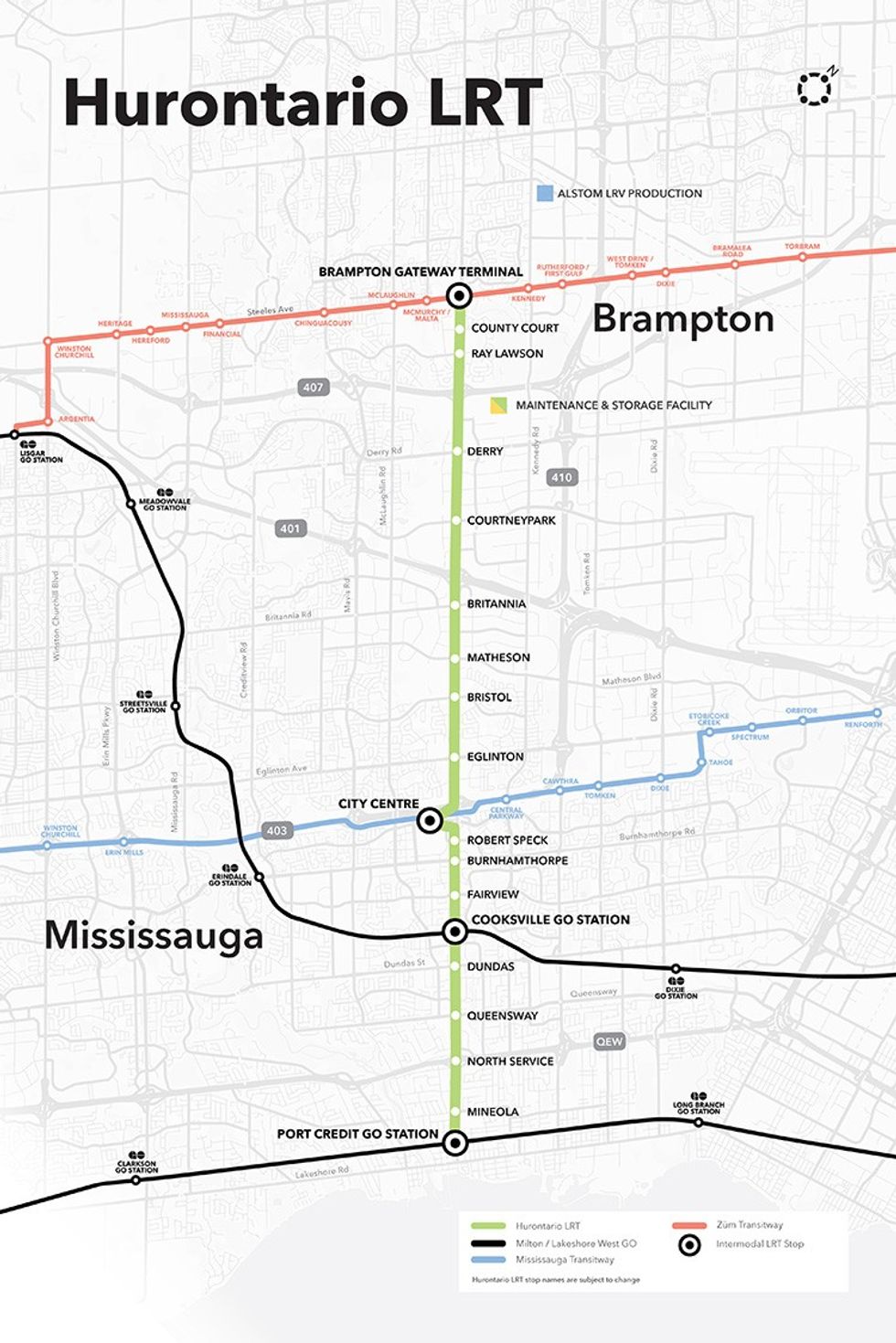 Mobilinx will take over the rapid transit, which connects Port Credit GO Station in Mississauga to the Gateway Terminal at Steeles Ave. in Brampton. Nineteen stations will connect people on Go Transit's Milton and Lakeshore West rail lines.
The  contract for the Hurontario LRT is valued at approximately $4.6 billion by Infrastructure Ontario and Metrolinx. Of that, $2.1 billion will be spent on the construction stage of the project.
The new line will spur desperately needed housing development in Peel. Date recently released by the Toronto Real Estate Board (TREB) showed that Mississauga and Brampton both continue to enjoy "sizzling" housing markets that are hampered by a continual lack of housing inventory.
Over 50 new condo towards are forecast to be built in Mississauga over the next 10 years.
GO service along Lakeshore West is being expanded from a rush-hour dominated commuter service to become full-day rapid transit at 15-minute intervals between Toronto and Mississauga and on to Aldershot in Hamilton.
Metrolinx is also building a new transit hub at the Kipling station where TTC's subway Line 2 ends and meets with Mississauga's MiWay and GO service. This will make it easier for customers to ride the TTC, MiWay, and GO Transit all from the same place, Robinson said.
"As part of that work, we are also providing customers with a new connection to the TTC station and bus terminal. This work includes reconfiguring the TTC's north parking lot," he said.
Travellers who do not use the Kipling station regularly say it's currently difficult to figure out how to access the station by car to drop people off or to park.
"When complete, the TTC passenger pick-up and drop-off area will be fully accessible," Robinson added.
The new bus terminal is being built in phases to minimize the impact on peoples' commuting. In addition to the parking lot and drop-off improvements, the upgrades include a new pedestrian bridge over the train tracks, complete with elevators, to connect the new bus terminal to the GO train platform.
Tunnels are also being repaired, and there will be an updated train platform with a new accessible boarding area.
The project will also improve access to the station for people arriving and departing by car, bicycle or on foot, including new traffic signals.
All the improvements mean that whether you're coming or going between Toronto and Mississauga, "you'll have more options to get you where you need to go," Robinson said.
It was also announced this week that within the Mobilinx consortium,  Transdev will be responsible for Operations, Maintenance and Rehabilitation. Throughout the construction and mobilization phase, Transdev will support its partners and advise them on all system operability aspects.
Mississauga