Exciting transit expansion projects now underway in Mississauga are an important enticement for those looking to call the GTA's second largest city their home.
And, of course, they are a boon for all those commuters traveling to and from Toronto.
---
Improved transit is a key element in the city's rapid urbanization and growth with close to 50 new condo towers forecast for Mississauga's City Centre area alone in the next 10 years.
The Exchange District Condos -- a four building high-rise development by Camrost Felcorp being built south of Square One at 151 City Centre Drive -- are a prime example of the increasing allure that Mississauga holds for those seeking a quality, international, urban lifestyle.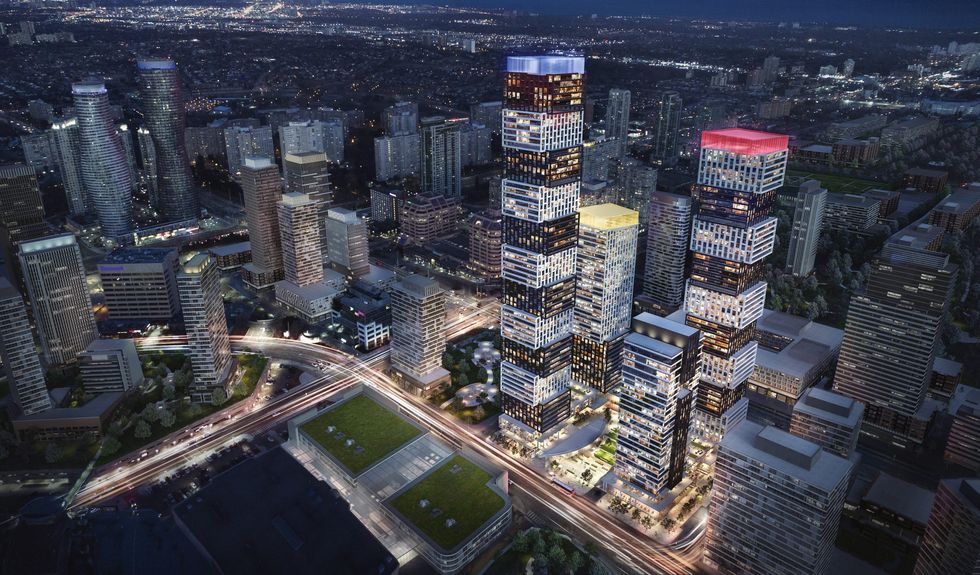 Camrost Felcorp Inc
Mississauga is becoming well known for its ambitious development projects, exciting condo boom and measured urbanization. Recently, it was ranked the most business-friendly mid-sized city in the western hemisphere in the 2019/2020 American Cities of the Future Report.
READ: 10 Restaurants Perfect for Savouring the Endless Flavours of Mississauga
And the major expansion in Peel Region's transit is most visible with the building of the new north-south, 18-kilometre Hurontario LRT Line.
Expansion Making Travel Easier
"The Hurontario LRT continues to spur economic development along the Hurontario corridor," says Jamie Robinson, Director of Community Relations at Metrolinx. "For example, since 2014, Mississauga's Economic Development Office has received applications for more than 15 new developments north of the intersection of Hurontario and Eglinton Ave, within a 500-metre radius of the LRT stop. These developments include condominium buildings, commercial buildings and townhouse complexes, with some developers even using the LRT in their marketing and renderings."
READ: Crombie Says Mississauga Hurontario LRT Project Is Safe From Cuts
Recently, Mobilinx was announced as the winning bidder to design, build, finance, operate and train the Hurontario LRT for a 30-year term. The LRT is one of the largest infrastructure projects in Ontario and design work will begin immediately with construction to soon follow.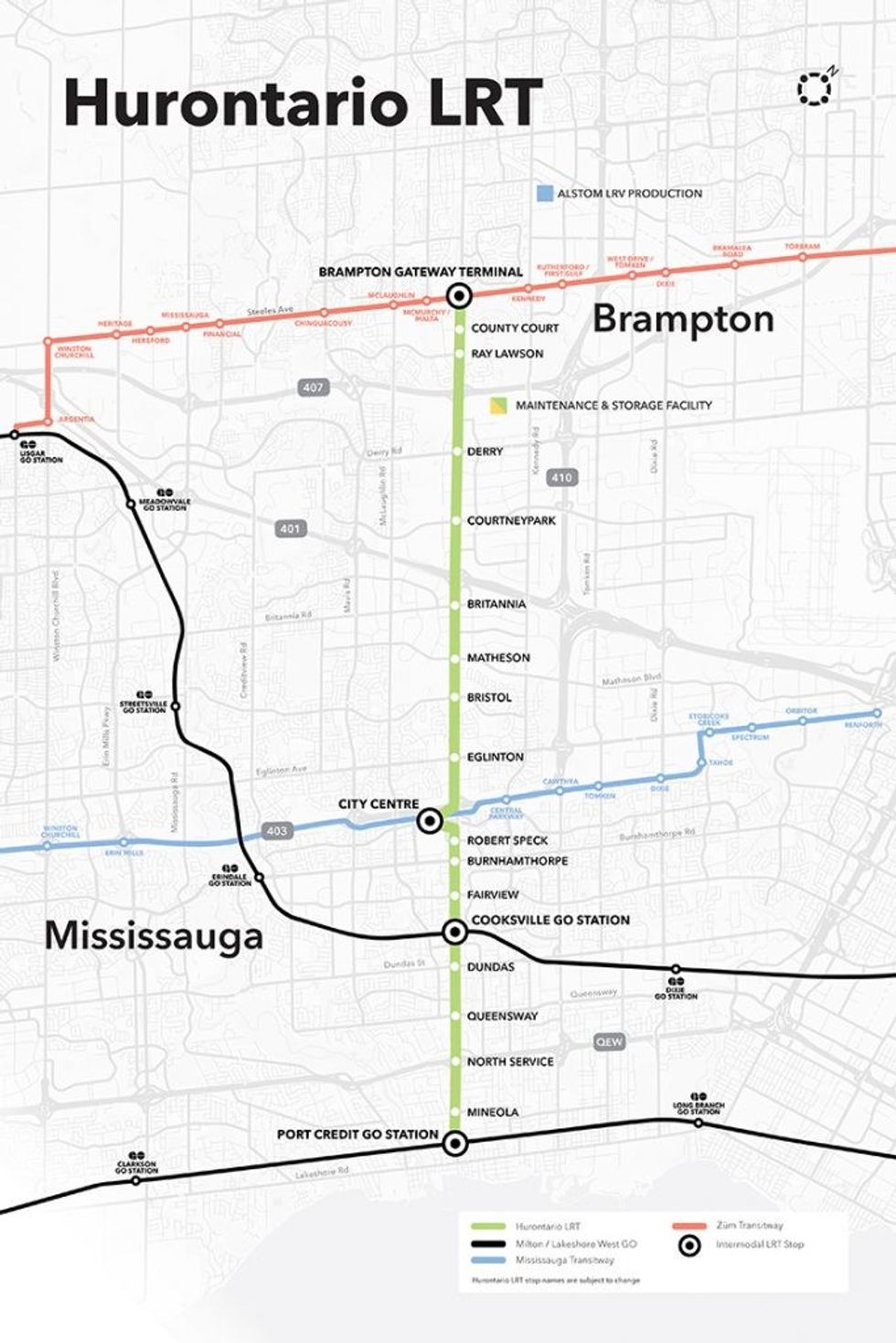 https://www.metrolinx.com/
By 2041, nearly a quarter of Mississauga residents will live and/or work within a kilometre of the Hurontario LRT corridor. Development potential and the expected increase in land value thanks to the LRT is estimated to be between $200 and $420 million, Robinson said.
A recent Ryerson University's City Building Institute study concluded that Canada's sixth largest municipality has the capacity to add almost another 200,000 housing units through intensification. The study also showed that Peel Region is slated to grow in population from 1.46 million people to 1.97 million over the next 25 years.
[adrotate banner="34"]
Other aspects of transit expansion in Mississauga are also key to making travel easier  — not only for current and future Mississauga residents commuting to work, but also for Torontonians traveling to Peel region. Speaking on CBC's Metro Morning, Mississauga Mayor Bonnie Crombie noted that, right now, regional transit, "picks people up in Mississauga and takes them to Toronto but the jobs go the other way."
According to the 2016 census, about 11 per cent of people living in Toronto (the old 416 area code boundary) work outside the city. In addition to commuting to Mississauga, Torontonians work in other areas such as Vaughan, Milton, and even further afield.
Full-Day Rapid Transit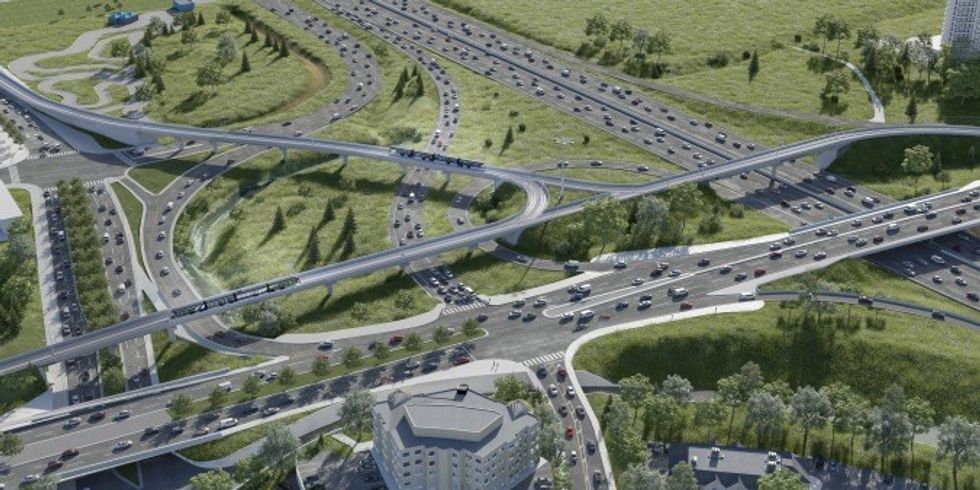 blog.metrolinx.com
GO service along Lakeshore West is being transformed from a commuter service that focuses on peak travel times into Toronto, to full-day rapid transit at 15-minute intervals from Toronto through Mississauga and on to Aldershot in Hamilton.
Metrolinx is also building a new transit hub at Kipling, where the TTC's subway Line 2 ends and meets with Mississauga's MiWay and GO service. This will make it easier for customers to ride the TTC, MiWay, and GO Transit all from the same place, Robinson said.
READ: The Exchange District: Creating a Heart for Mississauga
"As part of that work, we are also providing customers with a new connection to the TTC station and bus terminal. This work includes re-configuring the TTC's north parking lot. When complete, the TTC passenger pick-up and drop-off area will be fully accessible," he said.
The improvements mean that whether you're coming or going between Toronto and Mississauga, "you'll have more options to get you where you need to go," Robinson added.
Mississauga has also recently asked the federal and provincial governments to help fund three other significant projects that will boost the infrastructure needed for growth. The three projects have a price tag of $847.5 million.
Crombie accurately observed that infrastructure funding investments such as transit are "important and help us build strong, vibrant communities.
"This funding will allow us to build a transit and transportation system that is convenient, connected, and reliable for those who live and work here."
Mississauga